Dear All Members,
We would like to thank you for your support over the year of 2017. We wish you a happy 2018, and may this be a good year for all of you.


Ebotse Links will be turning 10 this year, as the club opened in 2008.
Its currently ranked 32nd in South Africa, as voted by the Complete Golfer in 2016. We look forward to the new rankings to come out later this year. We are hoping that we climb up several spots and crack the top 30 in the country.

In May we will be hosting the annual Professinal Golfers Association (PGA) Championships. This is all the PGA Professionals from all over the country that work at several golf clubs. So it's a good opportunity to show them what Ebotse links is all abou!


The U19 Inter-provincial was played at East London Golf Club in December and we are proud to announce that the EGU U19 team won the tournament for the 1st time in over 30 years. We had 4 juniors represent the team - Jordan Burnand (Captain), Jayden Schaper, Warwick Purchase and Ryan Van Velzen. Congratulations guys!

The Mid-Am Team played in the final on the 9th December against Kempton Park at Royal Oak. The team beat Kempton Park in a very close game.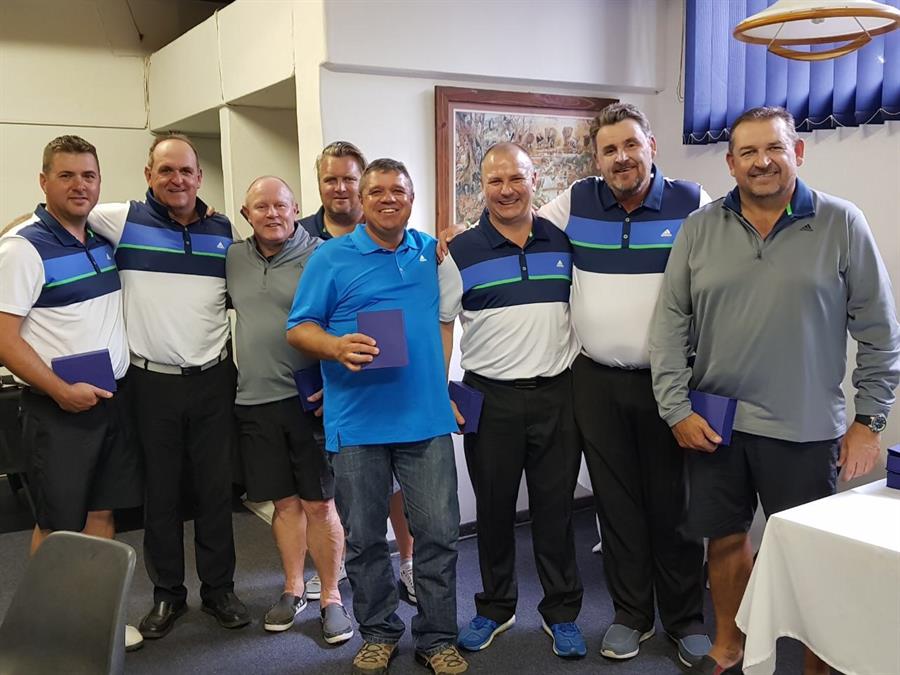 As you all may know, we have taken over the Halfway House and Coffee Shop. It has been an interesting month, but a good month. We thought we would share some figures with you:

There were around 2800 golfers that played at Ebotse Links over the festive season with around 800 golf carts that went out.

We sold 3200 bottles of liquor from the halfway house/coffee shop, with the best seller at 1180 bottles to Castle Lite, and its closest competitor was Klippies & Cola on 489 bottles.

For the healthier golfers, there were 908 bottles of water consumed in the hot festive days.

890 coffees were drunk by the early birds.

A total of 1133 Burgers, 912 toasted saamies, 41 breakfast buns and 405 1 tee & 2 tee breakfasts were devoured.

There was only 400 rounds difference between members and visitors rounds played, so we wish to thank all our members for their support over the festive season.


111 members took the opportunity on the "Pay it up special" in December, which means 555 rounds will be comped in the next couple months.

16 New Members have joined the club, as 5 members have resigned.

We would like to welcome all the new members, and for those who are leaving us, we wish you all the best on your future endeavours.

Please see our 2018 Membership Rates:
Click here to view the 2018 Membership Rates.
Click here to download the application form.



We have decided that we won't be increasing our Green Fees or Golf Cart fees for Members this year.

Members Green Fees – R235
Members Golf Carts – R280




A reminder that Club Champs 2018 will be held on the weekend of the 3rd & 4th March 2018.

If you wish to participate this year, please enter in the pro shop.

Entry forms have been in the Pro Shop for several weeks, if you wish to enter, please fill out forms in the Pro Shop. Entries close 14th January 2018. Draw will be done on the Friday, 19th January 2018.




If you wish to participate and represent for the club in 2018 please make sure to contact the following:

Handicap League – Attie Scott - 0826564240
Neil Woolcock – 0832755777
Senior League - Errol Civin - 082573 2351
Mid-Am League - Mark O'Brien – 0832282263
Scratch League - Dean Kupferman – 0824979688
Ladies League - Lynda Smit – 0825530151

League Fundraiser:
The league fundraiser will be held on the 3rd of February 2018.
We would like to raise funds towards the league expenses for the year, so the more support from all members that participate in league, the better.

For more information on how you can contribute towards this, contact:
Dean Kupferman – 082 497 9588
Craig Stickling – 072 379 8455
Hardus Maritz –
083 636 3526




Our annual Festival of Golf will be held during the week 6th – 11th March 2018.
More information will be sent out in the next week, so please keep your dates open for a fun week of festive golf and entertainment.

1st

- Jamie De Bruin

, Lex Van Wyk,

Wolfgang Wagner


2nd

- Hannes Taute,

AJ Marques


4th

- Walter Janse van Rensburg


8th

- Marco Gouveia


9th - Gerald Burton
10th -

Guy Zieseniss,

Sharon Marks,

Willem Meyer


11th

– Calvin Monk


13th – Johan Gerber
16th - Brian Farnham
19th - Jaun Snyman

21st

- Jaden Arnold


22nd

- Andre De Klerk, Gerhard Schmidt, Devaux Van Der Wath


23rd

- Donneo Catahno, George Karam


24th

- Vic Langkilde




25th

- Elmarie Brett




26th

- Walter Van Gool
27th - Johan Botha


28th

- Zamokuhle Nxasana


29th

- Lloyd Kieser, Theresa Ross


31st

- Stuart Carter