Hough's It
Follow this link
to the Captains Birthday Bash on Saturday March 10.


Angie Lanham-Love is the new 2018 Ladies Club Champion, after she prevailed over the rest of the field for the victory. She is seen below getting her trophy from Ladies Captain Yvonne Johnston.



Runner-up was Mary-Ann Summerfield, with Tracey Petersen taking top honours in the B Division and Laura Goodman claiming victory in the C Division.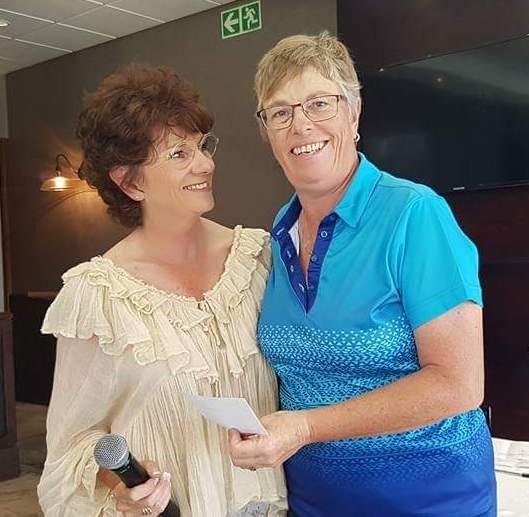 Club Champ runner-up: Mary-Ann Summerfield
| | | |
| --- | --- | --- |
| B Div winner: Tracey Petersen | | C Div winner: Laura Goodman |

In the Men's C Division, Warren Green was too good for Club Vice-Prez Harvey Chait as he wins his 1st Club major.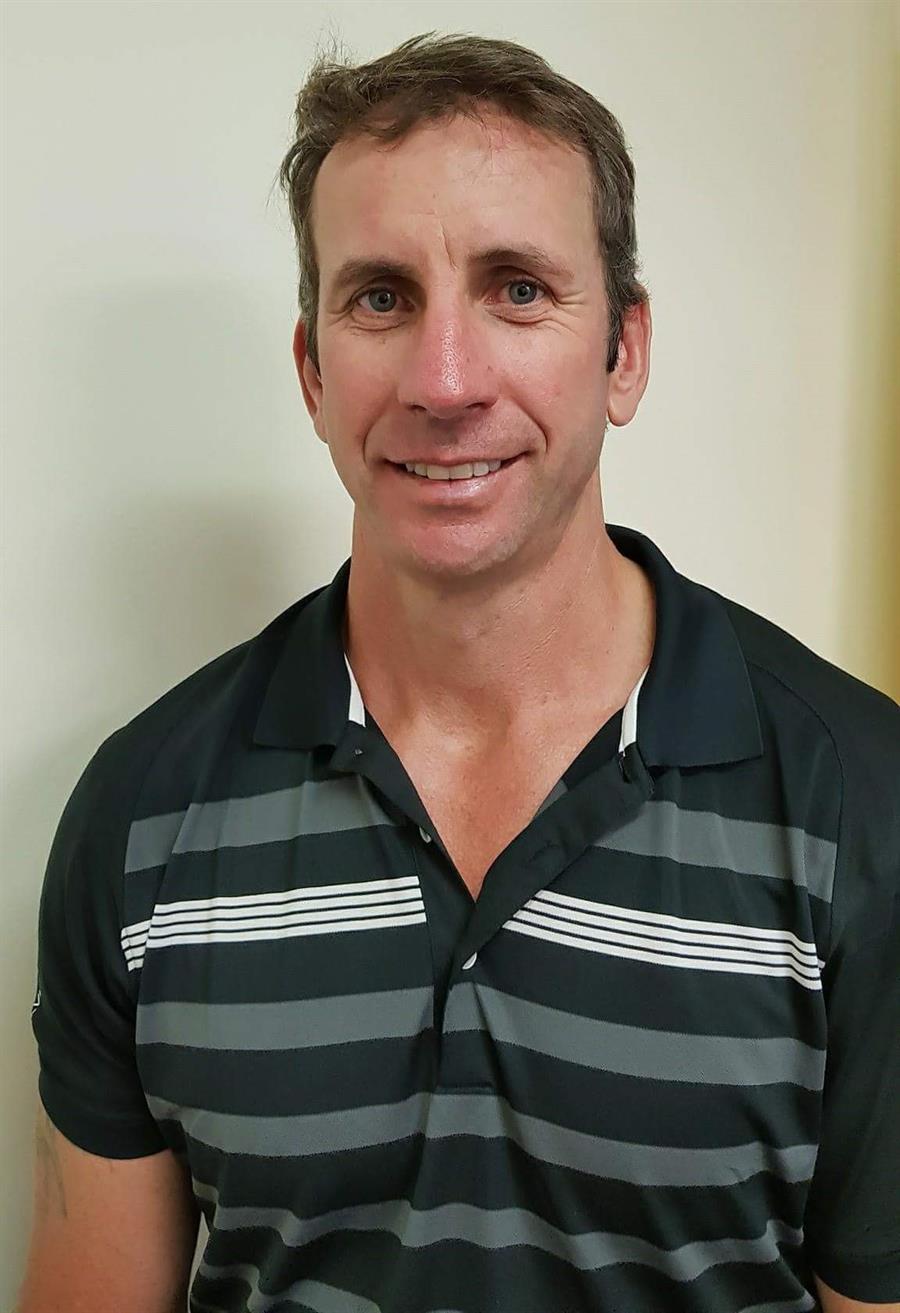 C Div winner: Warren Green

The annual club championship is a beast of a very different nature!

It's the biggest club tournament of the year, and conjures up feelings of proper Tour-style championship golf, and therefore brings with it a pressure never felt at any other time of the year. And strokeplay golf, where every single shot counts, is far more penal than the regular comps on every other weekend of the year, where you'll have a partner, or three, to help you out on those odd holes where your swing goes AWOL and you need a calculator to add up your strokes. Here you have no mulligans, and obstacles that have never before bothered you, all of a sudden loom large in your sights, and things always feel just a little bit different.

In the end, it's an internal battle with yourself, and the attempts to treat Club Champs weekend just like any other event of the year just never quite pan out that way.

There's a proper starter's tent on the 1st tee, there's fruit and water on the tee,
a different scorecard only for yourself and your marker, and
Rules officials driving around trying to make sure that you get the correct drops and take the appropriate relief.

And even the course is different: the greens are quicker, the rough is thicker, the tees are immaculately trimmed, and the pins seem to be tighter than normal.

So everything is different, which in turn adds to the pressure, and though some will embrace it, most will struggle with it, but hopefully accept that at least they tried, and recognize the lessons learned, and try and make corrections from there.


Next Saturday the 10th of March just happens to be the birthdays of both Club Captains, ie Yvonne Johnston and myself!

We're doing 2 shotgun starts at 7h15 and 12h15, and the format for the (normal) day's golf will be Betterball Medal, but there are some really decent closest to the pin prizes on all 4 short holes.

1. There will be the Pogir Insurance-covered R10k hole-in-one cash prize on the 7th hole.
2. Separate Men's and Ladies Bitcoin 101 prizes on the 9th hole.
3. Separate Men's and Ladies luxury Emor perfumes on the 14th hole.
4. A night at the 4 Seasons Westcliff Hotel for 2 people, with breakfast on the 16th.

Then, between golf and the dinner, which will start at 7pm, we're having a Singleton malt whisky, Tanqueray gin and 5 Skippas beer tasting, during which we'll do the prize-giving for the day's golf, plus we'll do the R50k lucky draw at exactly 6:30pm.

The draw costs R200 per ticket, with only 250 tickets being sold, so there's decent chance to win large. The draw sheets are in the shop, and they'll be available right up until 6:30pm next Saturday evening.

And then the club is putting on a Captains Birthday Bash to celebrate this unique captaincy timing, and with Yvonne actually turning 60, we decided to have a 60's theme, with hippies, flower power, peace signs and a DJ pumping out some music from that era that we can dance to.

There'll be lots of chow at different food stations, and wine and whisky on the tables.

You're invited with partners and/or guests, and you can reply to this mail to book.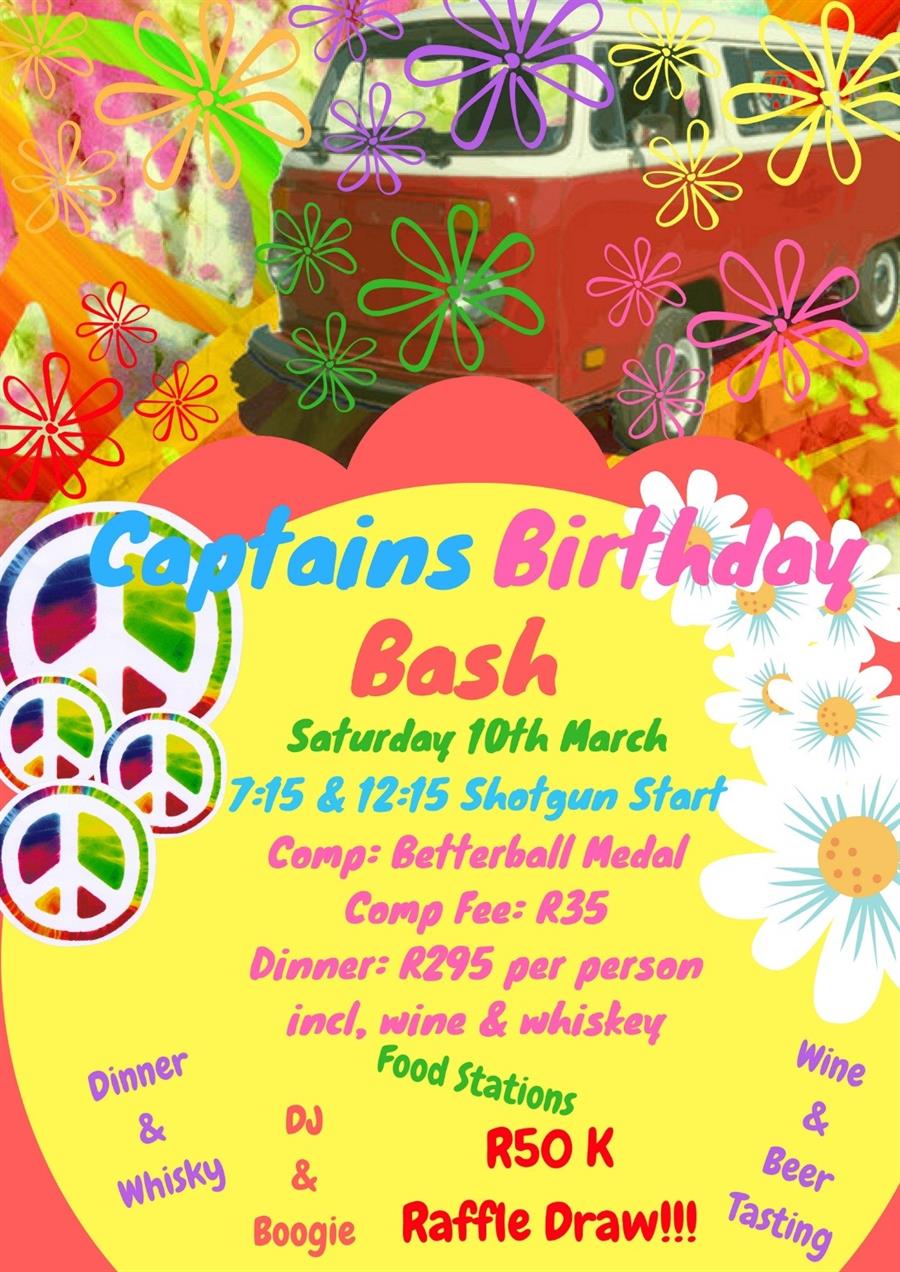 Houghton's league teams are on a roll at the moment!

The Men's Betterball League team had a great win on Sunday over Wanderers, with the Homies getting a 4 nil sweep over their opponents.

Then both Ladies teams had good wins as well, with the Sunday girls winning 5-1 last weekend against Randpark, and the Thursday Silver leaguers completely sweeping Bryanston 6 nil.

Well played guys and girls, and keep up the great work.




Last year's Player of the Year, Justin Thomas, continued his great form with a 1st hole playoff win against Luke List, who led the tourney most of the way, and JT now moves to World #3, with just a few decimal points separating him and Jon Rahm.

But no sooner had the event been put into the record books, then a mini-storm arose over Thomas' ejection of a fan who shouted at him for his ball to "get in the bunker"! Now Thomas has been a bit outspoken about the fans unruliness over the past few events, starting in Phoenix – where the crowds are very unruly – and continuing last week at Riviera – where Tiger had massive galleries walking with him, and things were getting testy at times.

And then no sooner had a backlash started with people learning of his getting the fan thrown off the course, and reminding him of where his support came from etc, then Thomas immediately backtracked and issued an apology, but there's no doubt that there's some amount of Tour Pros who are unhappy with the nature of the shouts, especially the timing of a lot of them, as some are coming mid-swing.

Keep your eyes peeled on this story!


1. This Thursday will see Titleist showcasing their new Bob Vokey SM7 wedges on our range. Their expert fitter will be at our short game area with demo wedges for you to try, and if you actually want to book an individual fitting, then let me know.



2. Then, we're having a sale of our Galvin Green clothing. It's 20% off all their apparel in the shop! You just have to feel the texture of the shirts and tops to know the quality.

That's about all for this week.

Hope you have a good one.

Kappy.