Hough's It


I must remind you of Rule 6-8, which deals with discontinuing play, and states quite clearly that 'Bad weather is not of itself a good reason for discontinuing play'.

Unless play has been suspended, or there is a danger from lightning, or you're seeking a decision on a doubtful or disputed point, or there is some other good reason such as sudden illness, a player must not discontinue play.

The penalty for breach of this Rule is disqualification!

We obviously get differing points of view on how strict or lenient we should be when it comes to club golf and members, but the bottom line is that the Rules are the Rules, and without them, … well then chaos would reign, and you could then kick the ball in the rough, take gimmes in club comps etc, etc!

And not to speak of the advantage gained over other golfers of similar tee-times.

As they say, if you don't like the message, don't shoot the messenger!

And one more thing while we're talking about walking off the course when the rain gets quite hard; when you eventually decide to go back on the course, you have given up all your rights to resume play where and when you think you should, and those who've stayed out must have right of way.






Looking for an addictive golf prediction app?


BuddyGolf is the most addictive golf prediction app ever built. It will change the way you watch tournaments every single week on both the PGA and Europeans Tours. Select your players and compete with friends from all over the world to be crowned the week's champion. And if you feel confident, play towards the ultimate prize...the Order of Merit Winner.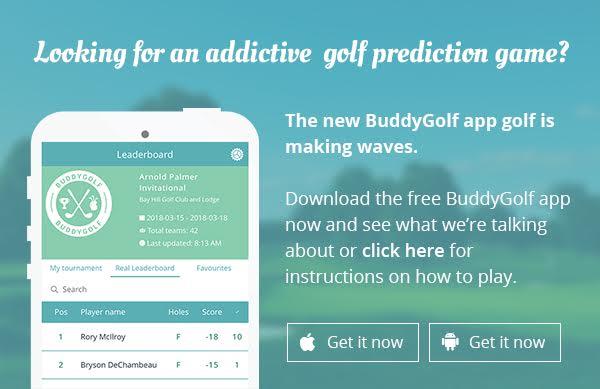 | | |
| --- | --- |
| | |

Rory McIlroy returned to the winner's circle for the 1st time since the 2016 Tour Championship, and after a 5 birdie blitz in the last 6 holes at Bay Hill, he claimed Arnie's event for the first time, and moved back into the World's Top 10 at #7.

But it's not just the win that's big here.

It's about his putting!

Rory has been streaky with his flatstick over the years, going through times when he just couldn't hit a barn door with a banjo, but after a chat and a lesson from Brad Faxon – one of the game's all-time great putters - last week, the way Rory rolled his putts for the entire week must be quite frightening and ominous for the rest of the field.

All of a sudden, his swing goes into full flow - not that it ever doesn't look unbelievably athletic - but there seems to be an extra gear that he goes to that suddenly clicks in, and the handbrake is released, and the golf he plays is a joy to behold.

I'll tell you why Rory's my fav.

The old Tiger was tight and tense, although he's softened up quite measurably of late. Scandal, multiple injuries and dips in form will do that to you. He looks much friendlier now, and there's certainly more smiles, and as a comeback story, there can be none finer. Rory has always been candid and open, and gives you the info you want to know!

DJ is great, but "the lights are on, and nobody's at home". He's not charismatic or charming, just a golfing machine that goes about its business. Rory's fist pump on the 18th green at Bay Hill was emotion and passion rolled into 1!

Jordan is more animated that anyone else, but he doesn't have the intimidating game to overpower golf courses the way Tiger did, and Rory does. Rory hit a 374 yard drive on the par 5 16th on Sunday that left him a PW into the green!

Day is too slow, Ricky is too flash, and Justin (Rose, that is) is too robotic, or too mechanical. The other Justin, Thomas that is, is very likeable though, and closer to Rory than all the others. Rory just gets on with things.

I really love the 2 Spaniards, Sergio and Jon Rahm, who both seem to have everything, and Hideki has the most envious tempo in golf, but to me, Rory on song and in full flight has no equals!

And to top it all, he's now one of the favourites for Augusta, alongside Tiger, and a Grand Slam beckons.

To me, the perfect year in golf would have Rory claiming his Slam with a Green Jacket from Augusta, then Phil, the in-form artist, finally getting past his 6 runner-up finishes to win the US and claim his Slam, and by then, Jordan will have regained form and will take the PGA in August, becoming the 3rd current golfer to join the club only inhabited previously by Gene, Ben, Gary, Jack & Tiger.

Now that would be some year, especially if Tiger contends in all, or some of them, during the year, and adds to the hype and excitement.

Frankly - like I've never said this before - I just cannot wait for The Masters 2018.

This week (started yesterday already) is the WGC Dell matchplay at Austin CC in Texas, before the Houston Open next week, and then on to Augusta.

For a small taster of The Masters, follow this link for 18 reasons why it's is the greatest sports event.


We still have some stock available of the below sale items.



After last Saturday's Srixon glove deal, the guys from Srixon are back again with another insane special on their Tour performance Z-Star and Z-Star XV balls.

It's the same deal as we've had before: instead of R165/sleeve, it's now R200 for 2 sleeves.

That's ridiculous!

Unfortunately, no yellow Z-Stars though.


I have some of Callaway's new Rogues as demos if you're keen to try them out. Driver, fairway and hybrid heads, with some different shaft options, are available to try out on the range, so let me know if you're keen to try find a few extra meters.




Remember that this great charity/fund-raiser for Ernie's autism centre in Braamfontein is now just around the corner. If you want to book a tee, or bring some customers, let me know.



Please click on these links for the latest updated Hunt lists.


That's about all for this week.
Have a good one.
Kappy.