Hough's It


With the long weekend almost upon us, I hope you have plans to get in at least a few rounds of golf, and I would like to take the opportunity to wish our members Chag Sameach and Happy Easter for this coming weekend


In last week's rainfall, we recorded just under 200mm, starting with 52mm in Tuesday afternoon's massive hail storm, and continuing with the incessant soft and soaking downpour over about a 36 hour period from very early Thursday morning until mid-morning on Friday, and which soaked the course and left it water-logged in the usual low-lying areas of the 3rd, 4th and 5th holes. The greens held up admirably under the deluge, and we were ready to open the course on Friday afternoon, as well as be open for the members on a busy weekend.

At Sunday's AGM, there were a few changes in the main club committee. President Adrian Diamond stays on, but Vice Prez Harvey Chait stands down, although he'll stay on the main committee, and is replaced as VP by Mike Berman. I stay on as Club Captain, with Ryan Sacks continuing as my deputy. Unfortunately Excel expert Dan Stillerman has had to stand down because of work pressures.

One of the questions that came up in the meeting's open session was about our caddies, and I was amazed when both Adrian and our outgoing CEO Robby Richardson outlined everything that the club does for the caddies.

There is a Caddy Trust that pays out the full-time caddies when the course gets closed on member's days.

There is a Caddy Benevolent Fund that assists caddies in terms of things like student loans for their kids, and which actually paid them a fairly decent Xmas bonus last December.

They also have a Caddy Committee that gets them involved in things that happen around them.

Whilst the minimum caddy tip is R170, most members pay quite a bit in excess of that, plus lots who have 'regular' caddies also help out with Xmas bonuses and/or gifts, as well as school fees for their kids etc, and not to mention those members who donate clothes and clubs to the caddies and their families. The minimum is mainly for visitors and corporate, and here the club has to be careful so as not to out price the caddies to visitors and companies who pay all the caddy fees for their guests.

There are also free eye tests that were offered to the caddies at a local optometrist, the club-sponsored Central Gauteng Caddy League team that represents the club, plus the fact that the golf course is open to them to play on most Mondays, unless the course staff are doing some important maintenance.

Whilst I'm sure that other clubs do similar things for their bag men, I'm quite sure that the scale is nowhere close to what Houghton members do for their guys.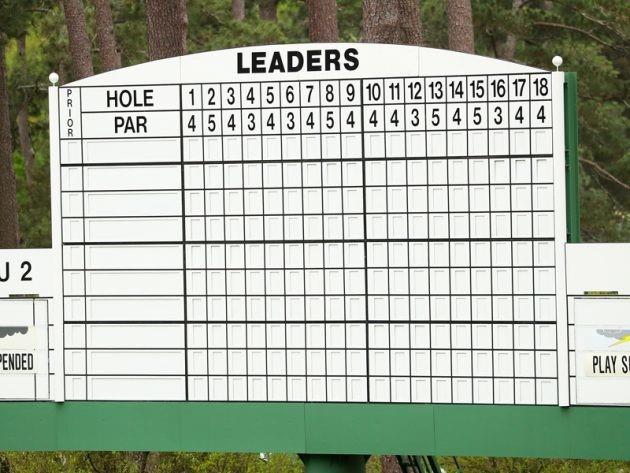 Does this leader board look familiar?

Are you getting excited??


Everything is centered around The Masters in the next 10 days, starting with our Masters Par 3 event next Wednesday, the 4th of April. It's a shotgun start at 3:30pm, and will be played on our par 3 course on the front nine, and you're invited with your kids and grand kids.



Then next Saturday, on Masters weekend, is the first leg of The Race To Pecanwood, the 5 part qualifier to select the Houghton team to represent the club at the Golden Bear event, the trophy for the Jack Nicklaus Champion of Champions. It will be Individual Stableford, and your best 3 scores of the 5 qualifying events will count towards team selection, and these 5 events consist of the 4 Majors, plus the Players Championships.



There's also still the (not so) small issue of our R50k Masters Raffle. Tickets are R200, limited to only 250 tickets, and YOU DON'T HAVE TO BE PRESENT AT THE DRAW next Saturday afternoon at prize-giving for our Masters Major. The raffle lists are in the shop.





You can click on these links to see the latest updated tables for both the Men's and Ladies Hunts.



Gerry Lester Watson Jnr, aka Bubba,

continues to impress in the build up to The Masters, an event that he's already won twice in 2012 & 2014, and as a lefty that generally hits a fade – although Bubba can easily bend it both ways - on the mainly right-to-left golf course, his match play win in Austin last week emphasizes his credentials for the year's first Major. His game seems to be peaking at the right time, and his experience of winning around Augusta National can't be discarded, as is the fact that left handers have won 6 of the last 15 Masters.
Funny how his form has changed dramatically since switching back to a normal ball after playing with something pretty strange for a couple of years!

That's about all for this week.

Hope you all have a good one.

Kappy.