Hough's It


• We kick off our Masters week with our Par 3 event tomorrow at 3:30pm for a shotgun start. Bring your kids & friends, your putter, wedges and some short irons, and come have some fun on our short course on Wednesday. There'll be drinks afterwards. Let me know if you want to play.
• Saturday is our first 'Jack Nicklaus' Major of the year as we kick off The Race to Pecanwood with the 1st leg of the 5 part series to pick the team to represent the club in the Golden Bear Trophy later this year. Its 2 shotgun starts at 7:15am and 12:15pm.





Looking for an addictive golf prediction app?


BuddyGolf is the most addictive golf prediction app ever built. It will change the way you watch tournaments every single week on both the PGA and Europeans Tours. Select your players and compete with friends from all over the world to be crowned the week's champion. And if you feel confident, play towards the ultimate prize...the Order of Merit Winner.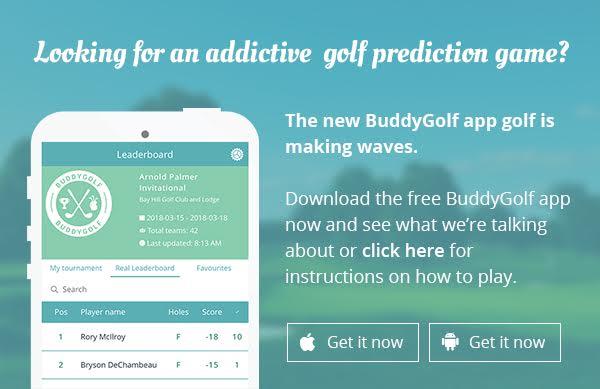 | | |
| --- | --- |
| | |


It's finally arrived, the most anticipated week in golf!

The only Major that keeps going back to the same course and venue, so that even though most of us have never been there, we feel at home. We see the same images, the same scenes, and when we hear that haunting melody, the most familiar tune in our sport, we get goose bumps not only at the serenity and beauty of the Augusta National, but also at the importance of the occasion.

And, of course, it's also the most longed-for Major because we haven't had one since the PGA Champs in August, a very long 8 months ago for all golf fans, no matter what's gone on since.

And the usual Masters traditions are legendary. Amongst others…

• Tuesday and Wednesday's practice rounds where the players will all try and skip a ball across the pond at the 16th hole. Social media will be abuzz that evening with video footage from fans who aren't supposed to have phones and cameras on them anyway!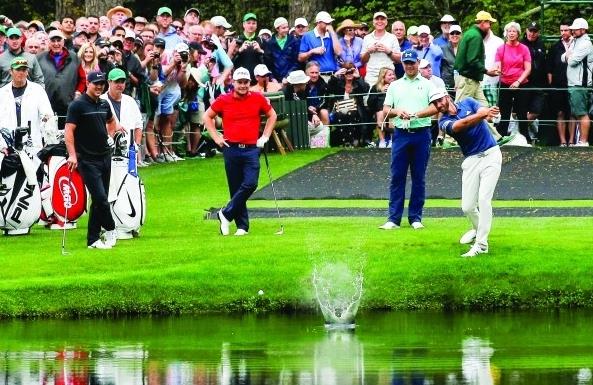 • Tuesday night's Champions Dinner – officially known as the Masters Club Dinner - hosted by the defending champion, who this year is Sergio Garcia, and who then gets to set the menu, so I'm sure there'll be some of Spain's national dishes such as gazpacho and paella, with maybe some Spanish breads and cheeses. All previous winners, who automatically become members of Augusta courtesy of their victories, will be in attendance, as will the new Chairman of Augusta National, Fred Ridley, who took over from his predecessor Billy Payne last October.


Danny Willet hosted the 2017 dinner

• Wednesday's par 3 event, where none of the pros want to win because it's a curse for the main event, but as long as their kids hit the odd shot, then their score won't count or be an issue. It's always great to see Jack and Gary teeing it up, with their grandkids in tow in their white overalls and green caps, and some of the gorgeous WAGS who accompany the Tour players are also quite easy on the eye.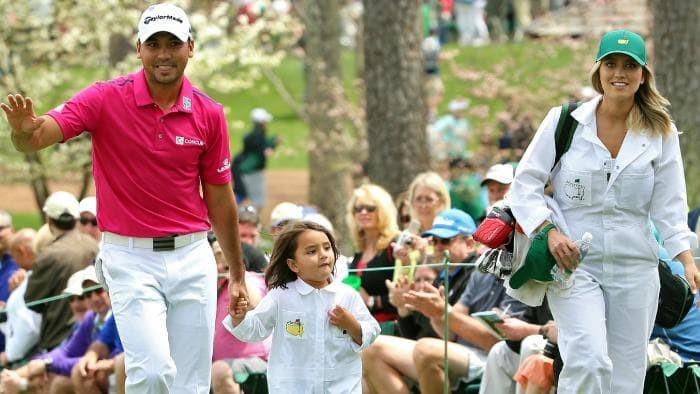 Jason Day and family

• And then Thursday morning at 8am is the chance for 'the patrons' – there are no crowds or galleries at Augusta – to get to see the Honorary Starters, Jack Nicklaus and Gary Player, hit the ceremonial opening tee shots on the 10th tee. Expect to see a few of the pros in the background, enjoying and observing another one of The Masters great traditions.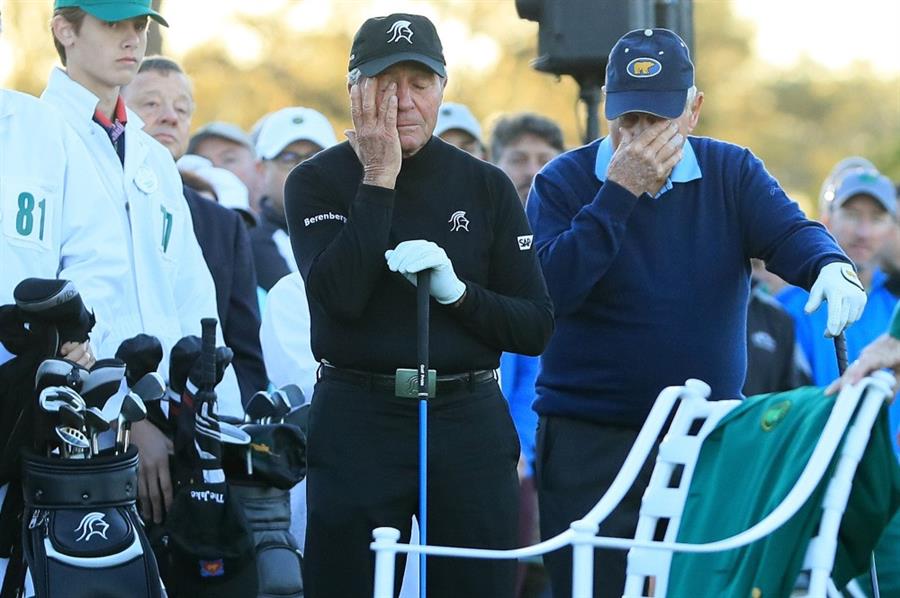 Gary and Jack remembering Arnie last year

• Lastly, of course, is the televised Green Jacket ceremony in the Butler Cabin, the house left of the 10th fairway, and where Chairman Fred Ridley and CBS' Jim Nantz will recognise the low amateur, and the defending champion will place the Green Jacket on the shoulders of the new champion, before they move back to the practice putting green and repeat the (non-televised) ceremony.


| | | |
| --- | --- | --- |
| Sergio in the Butler Cabin | | Sergio Garcia getting his jacket from 2016 Champion Danny Willet |



• Previous Masters winners playing well include the 2 leftys, Phil Mickelson and Bubba Watson. Both have won recently, and had been playing well leading up to those wins. Phil at 47 years old is a huge favourite, and would be a very popular winner if he were to win his 4th Green Jacket, and tie Tiger as 4-time winners. The advantage for left-handers is the shape they hit it, with the course favouring a right-to-left shape; a draw for the majority, but a fade for the leftys.

• Tiger? There's absolutely no doubt that he's currently playing well enough to contend, but the $64mil question remains whether he can cross the line if he does get close enough and things get hot in the pressure cooker. One school of thought says he knows the course intimately, and knows how to win more than anyone else currently playing the game; the other side says it's been almost 10 years since he last won a Major – and 5 years since he last won a PGA Tour event – and that there's been too much water under his bridge since. One thing I can tell you though, is that if Tiger were to be receiving another Green Jacket in the Butler Cabin come Sunday evening, that it would be one of the greatest comebacks in golf, if not in all sports … ever!

• Rory McIlroy is a Green Jacket short of becoming only the 6th golfer ever to complete the modern Grand Slam! Only Gene, Ben, Gary, Jack & Tiger have done it previously. Although he's had only 1 Top 5 finish at Augusta, plus his share of hardships there, he's also won again just a few weeks ago, so he's clearly back in form, and his game revolves mainly around his putter, so if it behaves …. then watch out!

• The World #1 is still Dustin Johnson, but he looked a bit out of sorts in the match play 2 weeks ago, and he hits it left-to-right, which is not 100% ideal at Augusta.

• The 2017 Player of the Year, and also in great form after having won recently, is Justin Thomas. He definitely has the game, and has to be a favourite as well, and I expect him to be there or thereabouts at crunch time.

• Justin Rose is a model of consistency in big events, and he's been close at Augusta a good few times, including last year's playoff loss to Sergio, so he knows the course, and pretty much knows what's expected of him.





The 2018 Masters field is one of the smallest ever, as you have to really play well to get invited, so just about everyone there is highly qualified with more than enough pedigree to win.

• Jordan Spieth has won at Augusta before, but has some demons to exorcise at Amen Corner after 2016's implosion there. He showed a glimpse of his right stuff in Houston last week with a fast finish, and it would be wonderful to see him back to his best this week.

• 2017 European #1 Tommy Fleetwood. The World #12 had a great season last year, followed up with more of the same this year, and it shows that he's not exactly a fly-by-nighter.

• World #15 Swede Alex Noren, who's been unbelievable in Europe for a few years now, but has also made a comfortable transition across the pond, as his performance in the match play a few weeks ago in Texas showed.

• As for Masters rookies, look out for Dylan Fritelli, Xander Schauffele and Li Haotong.

• Masters veterans – and recent winners for these two 40-something Englishmen – Ian Poulter (who had an incredible win last minute in Houston on Sunday just to get into this week) and Paul Casey, could both well be on the radar.

• Another Masters veteran is Matt Kuchar, who's also in form, and looking to improve on his runner-up finish to Spieth in last year's Open Championship.





1. Today (Tuesday): SS1 from 3 – 5pm: On the range.
2. Wednesday: SS1 from 3 – 5pm: On the range.
3. Wednesday: SS1 from 9 – 11pm: Par 3 event.
4. Thursday: SS2 from 3:15pm – 1:30am: additional coverage.
5. Thursday: SS1 from 9pm – 1:30am: The Masters Day 1.
6. Friday: SS2 from 3:15pm – 1:30am: additional coverage.
7. FrIday: SS1 from 9pm – 1:30am: The Masters Day 2.
8. Saturday: SS2 from 3:15pm – 1:30am: additional coverage.
9. Saturday: SS1 from 7:30pm – 9pm: additional coverage.
10. Saturday: SS1 from 9pm – 1am: The Masters Day 3.
11. Sunday: SS1 from 4:15pm – 8pm: additional coverage.
12. Sunday: SS1 from 8pm – 1am: The Masters Day 4.


That's about all for this week
Hope you have a great Masters week
Kappy