Club Championship weekend was once again a wonderful event and a huge well done to all the members who played. It's always a bit stressful, but I suppose that is what makes Club Champs and winning it, even a little more special. The weather was great, with some wind on Saturday and a still but quite hot, Sunday. Both the Men's and Ladies' Championship divisions were won convincingly. Gavin Sole was as steady as ever, shooting 69 and 68 for a wonderful total of 137 and Heather Anderson making 79 and 81, playing beautifully for a total of 180. Both players defending their titles. Gavin has now claimed the Club Champion crown 9 times equalling Ivan Curlewis' record and this is Heather's 5th Championionship win - just brilliant.


Heather Anderson
& Gavin Sole


Malcolm Moorley, Gavin Sole & Jan Roos
C Division A Division B Division

Lady Capt Michelle Davies congratulating Lesley Godley

In A Div second place Kevin Murray edged out Malcolm Greenland on a count out and Janet Humphrey made a big comeback on Sunday for the Ladies second spot. We had a Men's 'Over 60' Gross prize which was both sponsored and won by Malcolm Greenland,with Chris Miller in second spot.

Jan Roos played some very steady golf to win the B Division Championship. He has been working hard on his game, so well done Jan. Grant Richards was in second place in the B div with our ace club mechanic, Nic Van Deventer, finishing third.

Malcolm Moorley won the C Division with 71 points followed by Chris Huber and Graham Sole. Overall Nett winner was Andre Attfield on net 143 tied, but winning on a count from Malcolm Greenland.

The Ladies C Division was won by a very delighted Lesley Godley with 73 points ahead of two Swiss members, Anita Landolf with 67 points and Regina Bosshart with 66 points. The Putting Championship was won by Gavin Sole after a good final with Jan Roos and I think everyone had a fabulous weekend. Great course, great food and a fine weekend with friends.




The winner of the Dad's Army Competition played on the 6th March was Emil Hierhold on 40 points, runner-up was Norman Farrell on 37 points. The Alliance winners were Emil Hierhold, John Fox & Tony Holness.



Norman Farrell & Emil Hiehold Emil, John Fox & Tony Holness Nico Faber, Horst Lehrer and Tim D'Ewes

Dad's Army wishes Horst Lehrer a fond farewell as he is returning to Austria. Horst, you have been a staunch supporter of Dad's Army over the years and we will miss you. Everything of the very best.

Kind regards,

Tim D' Ewes

Not only are Johan Kinsey Ahlers and his great team sponsoring the Southbroom Business Days this year, but they have put together a plan to reward the club with bonus payments for every vehicle purchased from them by a Southbroom member during the duration of the 2018 Business day Sponsorship. Thanks Johan!
| | |
| --- | --- |
| | |
So, if you are in the market for a new or used vehicle, please talk to Johan and his ace team. They will give cash bonuses back to the club for every deal finalized.

Call Johan Johan Kinsey-Ahlers, Group Director/Dealer Principal.
Audi Centre Margate | 3848 Marine Drive, Margate Tel: +27 39 3128200 | Cell: +27 82 5663008 | Fax: +27 865698009
e-mail: johan@audicentremargate.co.za or johan@scaudivw.co.za

• R1000 for any new Audi purchased from our dealership by any club member during this period.
• R500 for any new VW or Suzuki purchased from our dealership.
• R500 for any used car (Audi, VW, Suzuki or other) purchased from our dealerships.
They will require proof of the purchaser's membership of Southbroom Club in the form of their membership card or confirmation from the office. They ask if you can please inform their staff that you are a Southbroom member at the time of contracting with them and they will record their support for this great benefit to the club.





Now in his 47th year of enjoying his golf, Southbroom Member Hans Kok had the wonderful experience of his first hole-in-one last week. Him and Gjertrud were playing at the Wild Coast with Joseph and Margaret Stoellinger on Tuesday 13th March, where Hans aced the 13th hole at 13h00! How enjoyable!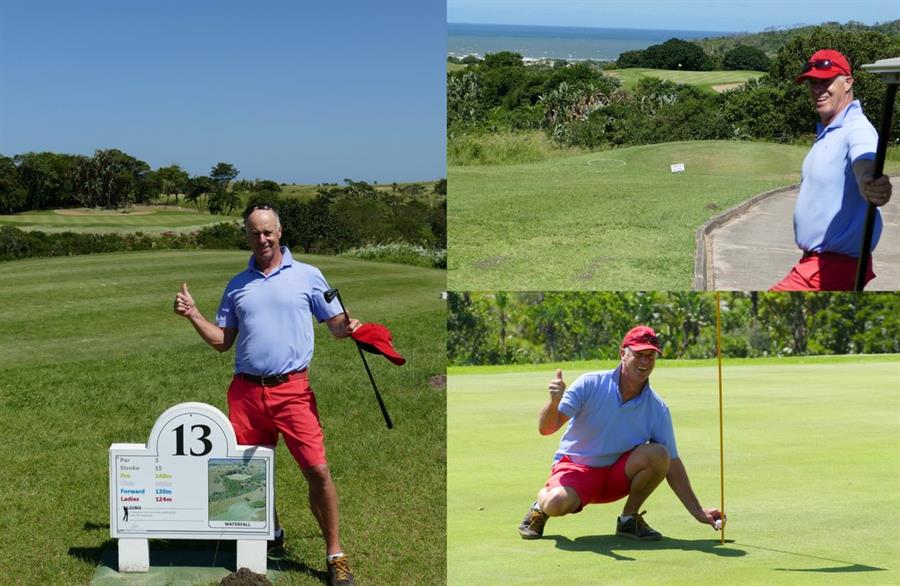 Congratulations Hans Kok! Hole-in-one on the 13th at Wild Coast




San Lameer has their Annual Tee for Two tournament coming up!
Click on the image to link through for more details.

Wed 14th March - Mens' Alliance
1st - 97pts: Roger Hissey, Rob Meydel, Gerald FitzGerald and Craig FitzGerald
t2nd - 95pts: Ross McKay, Malcolm Greenland, Colin McKay and Ulrich Matzinger
95 pts: Bruce Matthew, Derrik Matthew, Bob Thomas & Bob Clark
Ladies' Alliance
1st - 92pts: Jeanette Peyios, Sandy Luus, Maeve Mullane and Jill Webster
2nd - 86 pts: Heather Anderson, Regina Bosshart, Anita Landolf and Margaret Stoellinger
3rd 85 pts: Ursula Spoerri, Alexandra Huber, Lesley Godley and Heleen Hissey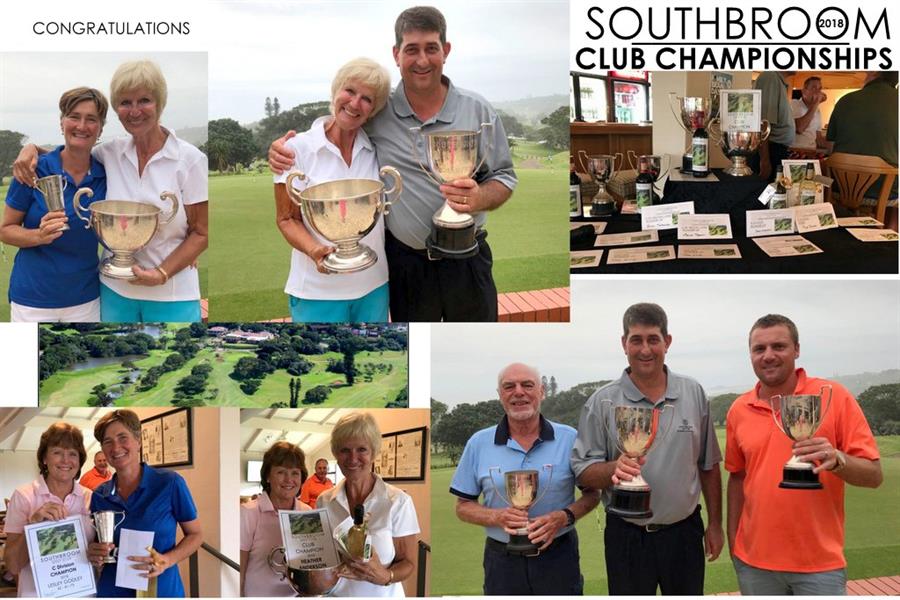 Club Championships



Sat & Sun 10 & 11 March 2018
Ladies Club Championships
One Lady/ One Prize

B Division
Winner : Heather Anderson 79 +81 =160
Runner Up: Janet Humphrey 90+84 = 174

Best Sat Nett: Gjertrud Kok 82
Best Sunday Nett: Mari Fielden 83

C Division
Winner : Lesley Godley 32 + 41= 73
Runner Up: Anita Landolf 37+ 30 =67
Third: Regina Bosshart 33+33=66

Best Sat Stab
Winner: Shirley Jeffery 36
Runner Up: Michelle Davies 32

Best Sunday Stab
Winner: Solange Fox 35
Runner Up: Jeanette Peyios 34

Sat & Sun 10 & 11 March 2018
Men's Club Championships
One Man/ One Prize

A Division
Winner: Gavin Sole 69+68=137
Runner Up: Kevin Murray 80+74=154



B Division


Winner Jan Roos 81+82=163
Runner Up Grant Richards 80+89 =169
Third Nik van Deventer 89+85=174

Best Sat Nett
Winner: Piet Joubert 71
Runner up: Bob Clark 72

Best Sunday Nett
Winner : Norman Jeffery 66
Runner up: Bill Ewings 68

Overall Nett
Winner : Andre Attfield 73 +70= 143
Runner up: Malcolm Greenland 72+71= 143
Best Gross over 60's
Winner : Malcolm Greenland 154
Runner Up: Chris Miller 180
3rd Johan Wentzel 181 on C/o
Best Gross 60+ prizes sponsored by Malcolm Greenland

C Division
Winner Malcolm Moorley 35+36=71
Runner Up Chris Huber 31+36=67
Third Graham Sole 34+33=67

C Div Best Sat Stab
Winner: Gerald FitzGerald 37
Runner up: Heiner Spoerri 35

C Div Best Sunday Stab
Winner : Joseph Stoellinger 33
Runner up: Erwin Schanda 33