Greetings friends and fellow golfers,
A dream came true for Cassidy Williams, this aspiring young golfer from Stellenbosch GC had the opportunity to play with President Cyril Ramaphosa during the Presidential Golf Day at Atlantic Beach. South Africa's new President has quite the love for the game and enjoys his time out on the golf course on a rather regular basis. I saw Cassidy two days after the round and she was still smiling! What a great experience for her, hope she got the red phones number, if we need a few answers in the future...


Another dream came true was for Ernie Els Foundation member Deon Germishuys, when he won the SA Amateur on Friday! The last time a WP player could do this, was no one else than Jean Hugo in 1998. Deon joined Stellenbosch GC earlier this year through the Ernie Els Foundation, the major reason behind the decision was to make use of our driving range facilities and he also enjoys the course. Deon won on the 38th hole against Chris Woollen from Durban Country Club, after he was two down through the first 18 hole. Massive Congratulations Deon and all the best for the future from all at Stellenbosch GC.


Cassidy Williams with President Cyril Ramaphosa
just before teeing off - WOW that's special!



Deon Germishuys with the
Sanlam SA Amateur Trophy

From the tour side, JJ Senekal had a good 2018 Tshwane Open finishing in tied 17th on Sunday, sadly both Oliver and Justin missed the halfway cutoff. Well played JJ!

This week the pro's will be pegging it up in a brand-new event called the Steyn City Team Championships over 54 holes, the format will be as follows: Greensomes in the morning followed by Foursomes in the afternoon on Tuesday (today) and Better Ball on Wednesday. Justin Harding and Oliver Bekker (Team Stellenbosch) will be pairing up and JJ Senekal will be playing with Rhys West.

On Wednesday (28 February) we hosted the annual Windhoek Pairs, the wind blew hard, but with the course playing hard and fast the scores were still good. Well done to the four better ball pair going through to the next round being played at Kuilsrivier Golf Club on the 22nd of April.

Pairs going through to the next round
1. Uli Stolte & Ulrike Stolte 47
2. Johan Kotze & Ben Volschenk 47
3. Eben Archer & Johan Hugo 47
4. Christo Burger & Gerrie Jonas 46



The Group One Nissan Challenge for 2018 starts on Wednesday (7 March). As in 2017, Group One Nissan will be sponsoring 10 Wednesday competitions, with the format being an aggregate of your best six Better Ball results during the 10-month period! Last year's winners, Gerhard Beukes and Dewald Cloete, are still having lots of fun with their prize (the use of a car for a year) which they received as overall winners of the Group One Nissan Challange in 2017!

Photo: The 2017 winners receiving their car from the sponsors

Now that I am in the spirit of writing about rules
, I thought that I must share this one with you! Maybe you would also understand the more difficult situations we get into as referees. This time a really bad one, involving angry players and problems about where exactly the Putting Green ends! At a Korean Tour event (women) this weekend, the KB Financial Star Championshipt, the following happened:

1) During the first round it was discovered, that there had been problems with Putting Greens; it was difficult to find out exactly where the Putting Green ended and where the fringe started.
2) Unfortunately, Hye Jin Choi and You-Na Park had marked and lifted their balls just outside one Putting Green (on the fringe). Of course they were not allowed to do so, and thus they incurred a one stroke penalty (Rule 18-2)*. Choi was in a joint lead for the tournament at that time at -6!
3) Later it was discovered, that four more players had done exactly the same!
4) The tournament committee decided then, that the four players would not be penalized, and that the penalties of Choi and Park would be rescinded.
5) Many players disliked that decision, and they held a meeting Thursday evening. Afterwards some players threatened to leave the tournament, if the penalty was rescinded, and some players threatened to leave the tournament, if the penalties was imposed!
6) What do you do as a tournament committee then? Well, they decided to completely erase the first round and shorten the tournament to 54 holes!
7) Allegedly the leading Rules official resigned after the whole incident.

Wow, it is quite a difficult situation! Of course, there should not in the first place have been any doubt as to the limits of the Putting Green. But what is the correct thing for a committee to do in such a situation, it is hard to say?


On a lighter note, I just had to share this letter with you, I had such a laugh reading it! There is no golfer in the world that at some stage in his life thought buying a new driver is the answer to all my problems – I will event add myself to the group. Luckily untill now I did not have to do the compromise thing with the better half – oops!
#goodluckjeff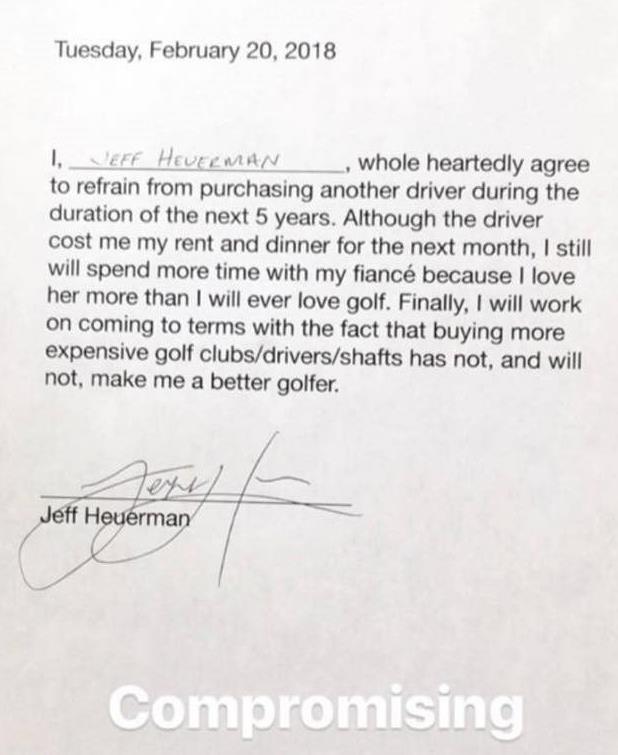 With a number of our members finishing their schooling at Paarl Boys' High, I thought it quite fitting to share a great photo of three old boys taken on Saturday evening. The school turns 150 in 2018 and has a big year planned. Now have a look at the photo, two of them are quite easy to recognize, Spingbok rugby player Carel Du Plessis and PGA Golfer David Frost. But who is the third? The legendary rugby player Mannetjies Roux…I would love to know what they were chatting about?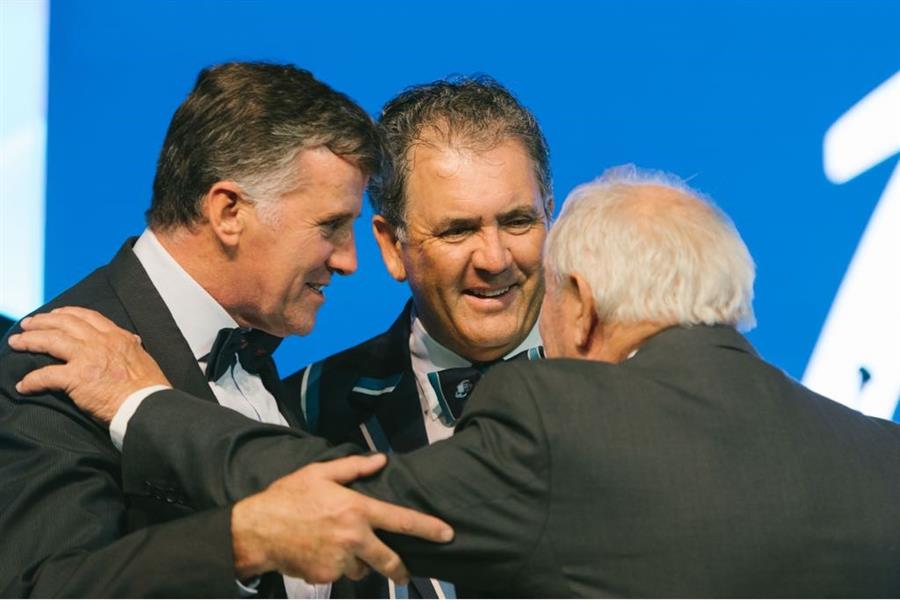 The legends having a chat...

Why not spoil yourself in the March MADDNESS golf bag sale to end off this week's newsletter, with limited stock available – don't miss out on this one! While stocks last:

Titleist stand bag - Was R3199 Now R2499

(SAVE R700)


Titleist cart bag - Was R3199 Now R2499

(SAVE R700)


Cleveland cart bag - Was R2299 Now R1799

(SAVE R500)


Srixon stand bag - Was R2899 Now R2299

(SAVE R600)


Mizuno mini stand bag - Was R1799 Now R1499

(SAVE R300)


Cutter & Buck logo midsize tour bag - Was R3999 Now R3299

(SAVE R700)



The compromise was not to buy a new driver – nothing was said about buying a new bag!

Have a great week,
Louis





Vroeër jare was dit algemene gebruik dat gholfspelers na 'n kompetisie-ronde 'n sportbaadjie en das aangetrek het vir 'n drankie saam met hul spanmaats, asook vir die prysuitdeling. Een van die weinige gholfspelers wat steeds hierdie tradisie laat voortleef is Willem Oosthuizen van Stellenbosch-gholfklub. Ek het 'n interessante gesprek met hierdie 86-jarige man gehad oor gholf.


VRAAG

: Waar het jy begin om gholf te speel?
OOSTHUIZEN: Ek het al die jare vir die Poskantoor gewerk en het 'n bietjie gespeel op plekke soos Carnavon en Heidelberg waar ek afgelos het, maar my eintlike gholf het begin toe ek op Stellenbosch in die Poskantoor kom werk het. Ek het by die Stellenbosch-gholfklub aangesluit op 1 Julie 1967 en is dus al langer as 50 jaar lid van die klub!

VRAAG: Wat was jou ledegeld toe jy aangesluit het?
OOSTHUIZEN: Dit het my R15 gekos om aan te sluit en my jaargelde was ook R15.

VRAAG: Saam met wie het jy gereeld gholf in jou beginjare by die klub gespeel?
OOSTHUIZEN: Ek het nog altyd daarvan gehou om my naam op te sit en speel saam met enige ander speler wat ook sy naam opskryf. Nogtans het ek gereeld saam met manne soos Martin en Louw van der Merwe (bankbestuurder), asook Stanny van Rensburg en Louis Heunis, 'n apteker, gespeel.

VRAAG: Hoe het die Stellenbosch-baan in daardie jare gelyk?
OOSTHUIZEN: Rof. Baie rof. Daar was orals bome en die gras het sommer baie hoog gegroei in die ruveld. Verder was daar volop diertjies op die baan en ons het baie kere gesien hoe die hasies en bokkies oor die skoonvelde hardloop. Slange is ook gereeld gesien - veral die geel kobra. Lees meer.