Member Loyalty Offer
Don't forget to take us up on our Loyalty Offer if you have been a longtime member at Zwartkop.

• If you have been a member of Zwartkop for between 5 and 10 years you are entitled to a once-off purchase of any single golf club at our Cost Price.
• If you have been a member of Zwartkop for 10 or more years, you are entitled to a once-off purchase of a full set of clubs at our cost price. This could be a saving of as much as R10,000.00 - or even more!

Remember that six of the Top 10 players on the PGA Tour this year are using clubs that weren't on the marklet six months ago. Surely that is proof that golf equipment is now better than previous models.

The offer above is available until the end of April.

Love was definitely in the air!
Thank you so much to Zwartkop Catering and to all of you for a fabulous Valentine's evening. The weather was just perfect, the food was really good, the ambience was unbeatable and the music was fantastic. What more could you ask for?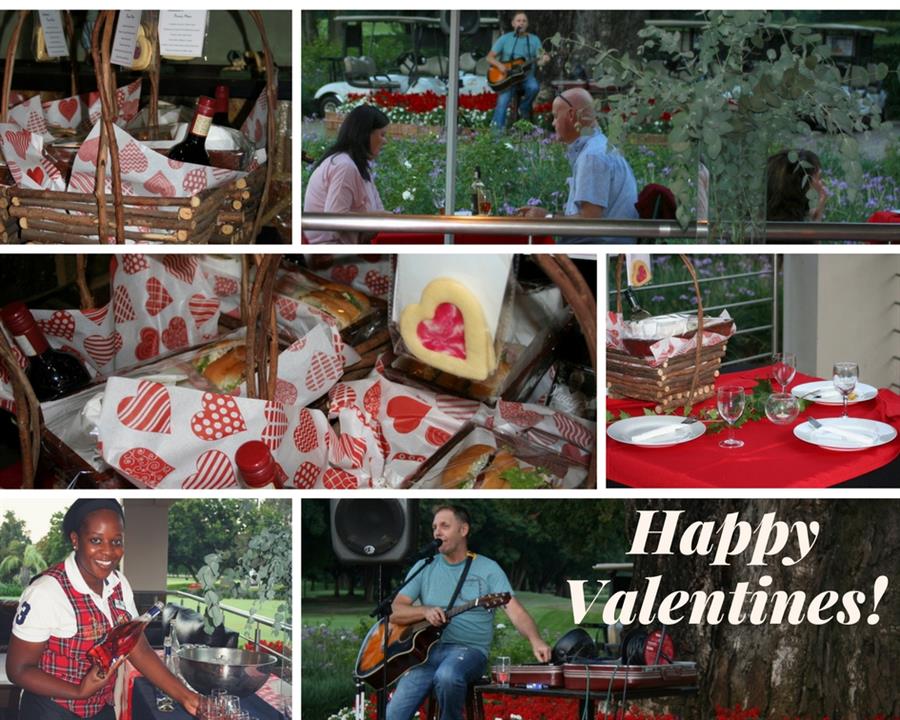 Let us help you play better golf

This week Elsabe looks at what to do if you find yourself up against the fence on the right of the 5th hole.
(click on image to watch)







League
Two matches into the season and the Senior Scratch League side remains unbeaten. On Saturday they played Pretoria Golf Club at Zwartkop and won 3½ - ½. Well-done to William Skinner; Chris Delport; Neil Goosen & Floris de Klerk

Also playing at Zwartkop, the Men's Handicap League captained by Shawn Rouse beat Blair Athol 2½-1½.

The Women's Saturday League played at Woodhill and lost their match 2-1 against Woodhill.



Fun GNGU Events for you to participate in: -
25th Feb – Juniors 18 Holes at Irene
4th Mar – GNGU Mid Am Open at Wingate
8th Mar - GN Senior Ladies at Silver Lakes
11th Mar – GN Juniors at Serives (18 holes)
18th Mar – Mid Am Series at Zwartkop
29th Mar – GN Juniors at Pretoria CC (36-Holes)
You can enter via the GNGU website

Win a Dream Vacation Holiday when you make a hole-in-one on the 7th Hole

If you make a hole-in-one on the 7th Hole at Zwartkop (during an official competition with at least 3 players in the group) you will win a Dream Vacation Club holiday valued at R25,000.00. Holidays are subject to availability and out of school holidays only.


Zwartkop Hair Salon

Come into the Zwartkop Hair & Beauty Salon & let us treat you – whether it be a routine cut & blow; an up-style for a function or a major change to your look. We can help! Click on the poster to enlarge.


New Members
We'd like to welcome these New Members to the Club – Mr C Bronkhorst; Mr JT Jackson.

We wish you many happy years at Zwartkop. Please contact Ian Hayes or Joseph Phiri in the Golf Shop (012) 654-1144 / proshop@zwartkopcc.co.za,

should you need any assistance at all in getting acquainted at the Club.






Tues, 20th – Tonight is HALF PRICE PIZZA TUESDAY NIGHT! Bring the whole family down for a treat. The kids can make their own pizza's too. T's & C's apply, including no take-away's.

Wed, 21st – Zwartkop Company Challenge & Zwartkop Nite Race Series
Contact Sharon if you would like to get involved in the Company Challenge, which is a fun networking event on (012) 654-1144 / Sharon@zwartkopcc.co.za

You can still enter for the Nite Race - either prior to the start of the race or online at www.bouttime.co.za





Thurs, 22nd

– Meat Day & Tjop & Dop


Fri, 23rd

– Open Day – Times available all day


Sat, 24th

– Monthly Medal


Mon, 26th

– Monday Madness – All Day


Tues, 27th

– T-Bone Tuesday & Half Price Pizza Night


Thurs, 1st March –

Wine Tasting with Louis 57 Wines

The wines are named after Louis Oosthuizen's momentous achievement on the Mossel Bay Golf Course when he scored a 57 – the lowest ever score recorded on the course. Each Louis57 Wine is an outstanding combination of exceptional quality and balance.

Louis57 Wines are made by the father and son team, Jacques and Reenen Borman. Jacques Borman was the wine maker at La Motte for 25 years, after which, he developed the Rupert & Rothschild International wine label. Reenen joined his dad on this venture and last year shot the lights out with his 98-pointer Boschkloof Epilogue. He is making some of the most exciting wines in South Africa at the moment.

Bookings for the wine tasting are essential - call Ina on
(012)654-1144 / admin@zwartkopcatering.co.za

Diarise: -


Mon, 5th Mar – Monday Madness
Tues, 6th Mar – ½ Price Pizza Night
Thurs, 8th Mar – Meat Day
Mon, 12th Mar – Monday Madness
Tues, 13th Mar – T-Bone Tuesday & ½ Price Pizza Night
Wed, 14th Mar – Zwartkop Company Challenge & Nite Race Series

50-Yard Challenge - Fri. 2nd March
Make sure you stick this in your Diary. Friday the 2nd March we have our first 50 yard challenge. We are looking for members who would like to improve their short game and especially from 10 yards in. This is normally that tricky shot that most of us battle with, yet if played correctly will improve your golf and lower your handicap.

The challenge will start at 5pm. The cost is R300 per person which includes a T-shirt, a sleeve of Titleist Prov1 balls and a new Titleist Vokey SM7 wedge for Nearest to the Pin from 50 yards. Joe and I will also be part of the challenge. We have limited space so please make sure you

click here

to book.

We would also just like to congratulate Marko Anderson who won the GNGU Junior event that they had at Zwartkop a couple weeks ago. Well done Marko and keep up the great golf.

Range Balls
Please take note of the use of Range Balls on the Driving Range.


| | | |
| --- | --- | --- |
| | | |
As mentioned earler, six out of the current top ten golfers in the world are playing with equipment that was brought to market less than 6 months ago. The reason for this is quite simple. The equipment that has just been released makes the game easier - it's as simple as that.

If you would like to improve your golf make sure you
contact us to try the latest equipment. If you are a member at Zwartkop you get a 10% discount even on the latest product, so make sure you
chat to us.
Sunday Scramble
Just a reminder that the Sunday Scramble will kick off on Sun, 8th April. The entry fee will be the normal greenfee plus competition fee and the handicap of the team will be the four handicaps added together and then divided by 5. Fractions will count! Call the golf shop to book your team on (012) 654-2111. Beat Adam and Dale's teams net score & you will get 2 free pizza's after golf!
Product of the Week
Ahead slacks – WERE R599 - THIS WEEK ONLY R399
adidas shorts - WERE R999 - THIS WEEK ONLY R799

Results


Who has been winning the competitions at the club? Take a look!
View results.


Do you want to book your next round?
For members, please click the members icon below for bookings online. Visitors are welcome to click on the visitors icon below.