We had a rainy day last Thursday (17ml in a torrential downpour in the evening alone) but for a brief time in the early evening there was a reprieve and when the sun came out it casted a beautiful light over the golf course.


Sat, 17th March is St Patrick's Day…
This weekend is St Patrick's Day and Zwartkop will be joining in the party with live music from 18h00…feel free to join us. If you dress in green you will receive a
free Gilroy's beer!

The Grand Old Lady got a hair cut…
Our prized clubhouse Bluegum got a pruning yesterday. The job is not quite complete, but our expert tree doctor was on hand to "lighten her load". They literally remove the dead wood and balance out the load bearing a bit so that the tree can concentrate on producing healthy new growth. We have also fertilized all around the root base to provide the tree with any essential nutrients that it might be in need of.


| | | |
| --- | --- | --- |
| | | |

Small Children Around the Clubhouse Surrounds

It is so great to see many of the homeowners coming down to the clubhouse more regularly for drinks and meals. Unfortunately, more people means more rules, but hear us out!

We see a lot of young children unattended around the clubhouse, playing in the bunkers and on the putting green. This is unfortunately not allowed, firstly because of the damage that can be caused, but also because very often there are still golfers out on the golf course, which makes it extremely dangerous. Just one errant golf ball could seriously injure an adult, never mind a child.

It is against the Club's Rules for any non-golfer to be out on the golf course while people are playing golf for this very reason. Please help us to ensure the safety of yourselves and your families


Let us help you play better golf

This week Elsabe looks at the option of using your putter if you are just short of the green on the 5th hole.
(click on image to watch)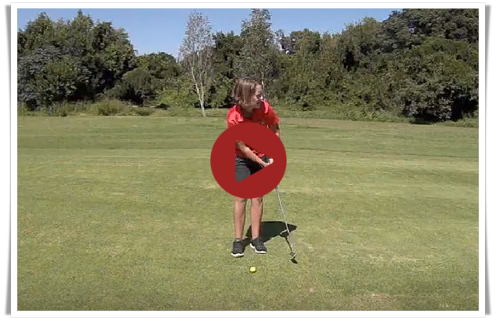 Elsabe Hefer is a Member of the PGA; a former Gauteng North PGA Teacher of the Year and PGA Top 20 Teacher. She is the Head Teaching Professional at Zwartkop Country Club. Get in touch with her!

Congratulations

To William Skinner – who has been selected for the GNGU Senior team for the IPT at St Francis at the end of April.

Condolences…
To the friends and family of Brian Lidgey who passed away last week. Brian was a legend in the sports industry in South Africa and he used to call on both Otway and Brian Hayes when he was the agent for MacGregor.
League...

The Zwartkop Men's Handicap League team drew 2-all in their away match against Silverlakes. They are now top of their league table with only one match still to be played. They play The Els Club at home this coming Sunday morning and we wish them the very best of luck. Unfortunately the Ladies Saturday League team lost their match against the The Els Club 2-1 on Saturday.


Fun GNGU Events for you to participate in: -
18th Mar – Mid Am Series at Zwartkop
29th Mar – GN Juniors at Pretoria CC (36-Holes)
You can enter via the GNGU website


Coffee & Wine…

Don't miss out on the new Zwartkop Coffee & Wine Bargain, which is only available to Zwartkop members and homeowners.



Zwartkop Hair Salon
The Salon is now open until 8pm on Tuesdays & Thursdays!
The hours are Mon, Wed & Fri from 07h00 to 18h00 (last appointments at 17h30); Tues & Thurs from 07h00 to 20h00; Sat from 07h30 to 14h00 & Public Holidays from 09h00 to 13h00. Call (012) 654-1144 or 076-659-1081 for hair appointments & (012)654-1144 / 082-695-0427 for beauty salon bookings.


Wingate / Waterkloof / Zwartkop Alliance
We have an Alliance between ourselves; Waterkloof and Wingate, which allows you to play at their courses as members. Please do remember to follow the Rules when using the Alliance: -
• Bookings can only be made by our golf shop staff so contact Ian, Joseph, Vusi or LJ and they will make the booking on your behalf. Please do not arrive at Wingate or Waterkloof without an advance booking having being made by our staff!
• Bookings are subject to availability and can only be made one week in advance for games Monday to Friday and Sunday.
• Bookings for Saturday afternoons can only be made the day before.
• Saturday mornings are excluded from the arrangement.
New Members
We'd like to welcome these New Members to the Club – Mr G Kruger; Mr PJ Gouws & Mr P Crause.

We wish you many happy years at Zwartkop. Please contact Ian Hayes or Joseph Phiri in the Golf Shop (012) 654-1144 / proshop@zwartkopcc.co.za, should you need any assistance at all in getting acquainted at the Club.



Tues, 13th – Tonight is HALF PRICE PIZZA TUESDAY NIGHT! Bring the whole family down for a treat. The kids can make their own pizza's too. T's & C's apply, including no take-away's. There will be live music tonight!


Wed, 14th – Zwartkop Company Challenge

Contact Sharon if you would like to be a part of the Company Challenge – (012)654-1144 / Sharon@zwartkopcc.co.za.

Wed, 14th - Zwartkop Nite Race
This is the last event is this Series so make sure you get your entries in! You can enter online at www.bouttime.co.za.
| | | |
| --- | --- | --- |
| | | |

Thurs, 15th – Meat Day Tjop & Dop
Fri, 16th – Open Day Special – ZCC Members R300 (Pre-paid R160); Visitors R360 & Non-affiliated R460 - includes golf, golf cart sharing and a sleeve of Srixon golf balls / person
Sat, 17th – Members Day & St Patrick's Day festivities from 18h00
Sun, 18th – GNGU Mid Am here at Zwartkop!
Wed, 21st – Human Rights Day – Open Day
Thurs, 22nd – Meat Day & R1000 Draw
Fri, 23rd – Open Day

Zwartkop Junior Masters – 5th & 6th April
A fun event for kids during the Easter School Holidays. Give Elsabe a call to enter on 082-922-8408.


| | | |
| --- | --- | --- |
| | | |

Club Champs…
7th & 8th April - A Division (up to 9 handicap)
7th & 14th April B (10-17 handicap) & C Divisions (18 handicap and over), Ladies & Seniors

Entries are open so get your bookings in! You need to pay at the same time that you enter, so you can either pop into the shop or you can Click Here to download the Information & Entry form and then mail us (proshop@zwartkopcc.co.za) both the entry form and your proof of payment. The Club Champs Rules are also attached for your information.

The top 16 gross scores in each Division will play in the Matchplay Championships on the 12th & 13th May.

Lions Golf Day – 9th April
Support the Lions Club Centurion Lifestyle's Annual golf day. Our resident Lion's Club do so much good work for needy organisations within our community. R1800 / 4-ball includes greenfees, halfway house, dinner & prizegiving. Contact Ryno on 072-682-2408 / ryno@lionslifestyle.org.za.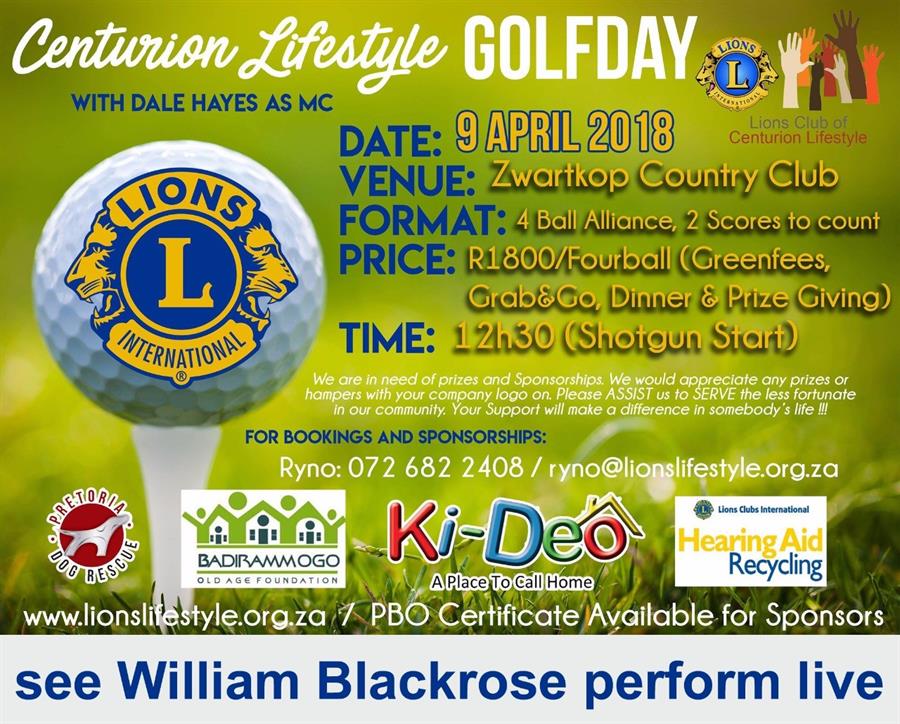 So this weekend belongs to Danie Jacobs…
I have spent years and years telling you that if you want to improve your golf then you need to be custom fitted. Well, last week I custom fitted Danie Jacobs with a new set of Srixon Z355 irons.

The irons where half an inch longer and the grip had an extra 2 layers of tape. He was on the Flightscope and tried three different makes of clubs but hit the Srixon's consistently 10 meters further.

Danie has been a member at Zwartkop for longer than 10 years and so we were also able to give him his irons at cost, saving him thousands! But that's not where my story ends; because on Saturday Danie had a hole-in-one on the 7th. Well done Danie!
Make sure you are playing with the correct clubs for your game. Pop into the golf shop or
click here so that we can help you to maximise the enjoyment of your game.
Member Loyalty Offer
Danie got his set of irons at cost & if you are a longtime member at Zwartkop, you don't want to miss out on our Loyalty Offer:-
• If you have been a member of Zwartkop for between 5 and 10 years you are entitled to a once-off purchase of any single golf club at our cost price.
• If you have been a member of Zwartkop for 10 or more years, you are entitled to a once-off purchase of a full set of clubs at our cost price. This could be a saving of as much as R10,000.00 - or even more!
These offers are valid until the end of April!
Product of the Week
So by now you all know that Tiger finished just one shot back and nearly won this past weekend. What you might not know is that Tiger had the new TaylorMade M driver in his bag.

Would you like to try the new TaylorMade M driver? All you need to do is give us a call (012) 654-1144 to set up a free demo out on the range. Click on the poster to learn more about this revolutionary product.





Results


Who has been winning the competitions at the club? Take a look!
View results.


Do you want to book your next round?
For members, please click the members icon below for bookings online. Visitors are welcome to click on the visitors icon below.