The golf course was amazing over the Easter Weekend when you consider that one week before you could swim on ten fairways.

There is still some rubble on the course and the bunkers need new sand, as many of them were washed out. Thank goodness there was very little damage done to the course though. Once again, thank you to all the golf course staff for the hard work & extra effort they put in so we could be open for the Easter weekend.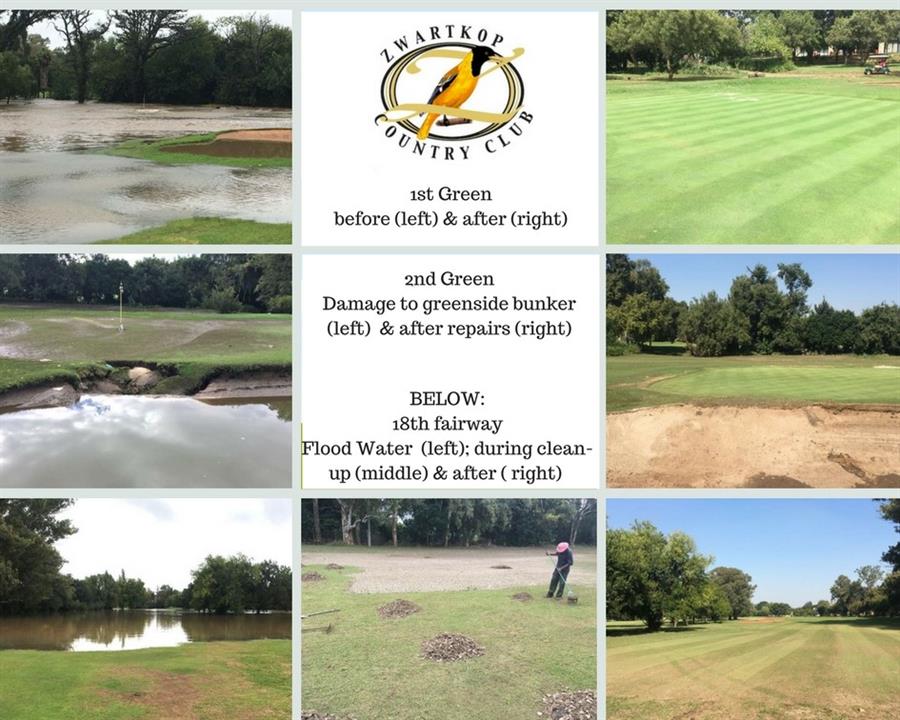 Club Champs…

As you would have seen last week, we decided to postone Club Champs into May to ensure that you get to play on the best course possible.

The new dates will be: -
19th & 20th May is for the A Division (up to 9 handicap)
19th & 26th May is for the B (10-17 handicap) & C Divisions (18 handicap and over), Ladies & Seniors.

We apologise for the inconvenience – but the good news is that you now have a few extra weeks to get in some practice.

Click Here to download the Information & Entry form and make sure you mail us both the entry form and your proof of payment.

The Club Champs Rules are also attached for your information.

The top 16 gross scores in each Division will play in the Matchplay Championships – the date for this is still to be advised.


| | | |
| --- | --- | --- |
| | | |
Sun, 15th April - Sunday Scramble
If you are looking for a fun way to end off the weekend, then join us for our Sunday Scramble on Sunday afternoon.

The entry fee will be the normal greenfee plus competition fee and the handicap of the team will be the four handicaps added together and then divided by 5. Fractions will count! Call the golf shop to book your team on (012) 654-2111.

Beat Adam and Dale's teams net score & you will get 2 free pizza's after golf!
Let us help you play better golf
This week Elsabe looks at course management off the 6th tee box.
(click on image to watch)
Elsabe Hefer is a Member of the PGA; a former Gauteng North PGA Teacher of the Year and PGA Top 20 Teacher. She is the Head Teaching Professional at Zwartkop Country Club. Get in touch with her!


Play-Shop-Save!
We hope you are making use of your voucher booklet! The booklet contains 15 vouchers with exclusive discounts and special offers that have been negotiated especially for you, at a number of our Member Benefits Programme Partners, as well as at the Zwartkop Hair & Beauty Salon, the Zwartkop Golf Shop and at Zwartkop Catering.


Simply tear out the vouchers and hand them in at the relevant Partner to be eligible for the deals. This week we highlight: -

1. Zwartkop Hair Salon – 28% Discount on all hair treatments until 30th April 2018
2. Zwartkop Catering – A bottle of Otway's Wine to share with your order of two meals for 2 people

Our Benefits Partners have ongoing specials available to our Zwartkop members and all you have to do is show your Zwartkop membership card to receive these discounts and specials. If you haven't already done so, make sure you sign up your spouses and children under-18 years of age for free social membership so that they too can benefit from the Benefits Partners Programme.

Contact Sharon on (012) 654-1144 / Sharon@zwartkopcc.co.za should you need any assistance.
Fun GNGU Events for you to participate in: -

5th April – Senior Women at Irene
6th April – 36-Hole Junior at Services
9th April – 36-Hole Junior at Bronkhorstspruit
15th April – GNGU Closed at Akasia

Please see attached poster for the GNGU Closed event taking place 15 April at Akasia CC.

For the first time, this event is going to be open for male and female golfers, with handicaps up to 36. Please can we ask you to distribute the poster and encourage members to play. There will be different divisions and prizes for all the divisions.

You can enter via the GNGU website


| | | |
| --- | --- | --- |
| | | |
Zwartkop Hair Salon
Don't forget that The Salon is now open until 8pm on Tuesdays & Thursdays!
The hours are Mon, Wed & Fri from 07h00 to 18h00 (last appointments at 17h30); Tues & Thurs from 07h00 to 20h00; Sat from 07h30 to 14h00 & Public Holidays from 09h00 to 13h00. Call (012) 654-1144 or 076-659-1081 for hair appointments & (012)654-1144 / 082-695-0427 for beauty salon bookings.

Need help in the Gym? Call Braam Brand (084-099-5952) or Gavin Coetzee (072-664-8911) – fully qualified and registered Biokineticists who operate from the Zwartkop Gym.



Tues, 3rd – Tonight is HALF PRICE PIZZA TUESDAY NIGHT! Bring the whole family down for a treat. The kids can make their own pizza's too. T's & C's apply, including no take-away's. There will be live music.

Wed, 4th – Open Day
Thurs, 5th – Meat Day - Tjop & Dop
Fri, 6th – Open Day
Sat, 7th – Masters Grand Slam Trophy
Sun, 8th – AM – Members – times available
Mon, 9th – Lions Golf Day
Tues, 10th – T-Bone Tuesday
Sun, 15th - PM - Sunday Scramble
Wed, 18th – Zwartkop Company Challenge



Lions Golf Day – 9th April
Support the Lions Club Centurion Lifestyle's Annual golf day. Our resident Lion's Club do so much good work for needy organisation withour our community. R1800 / 4-ball includes greenfees, halfway house, dinner & prizegiving. Contact Ryno on 072-682-2408 / ryno@lionslifestyle.org.za


Firstly well done to Ernest Ludick who won the 2017 Grand Slam Trophy Final on Saturday – he shot 77!
We wish him luck this week as he's playing in the SA Boys under 19 Championship at Woodhill.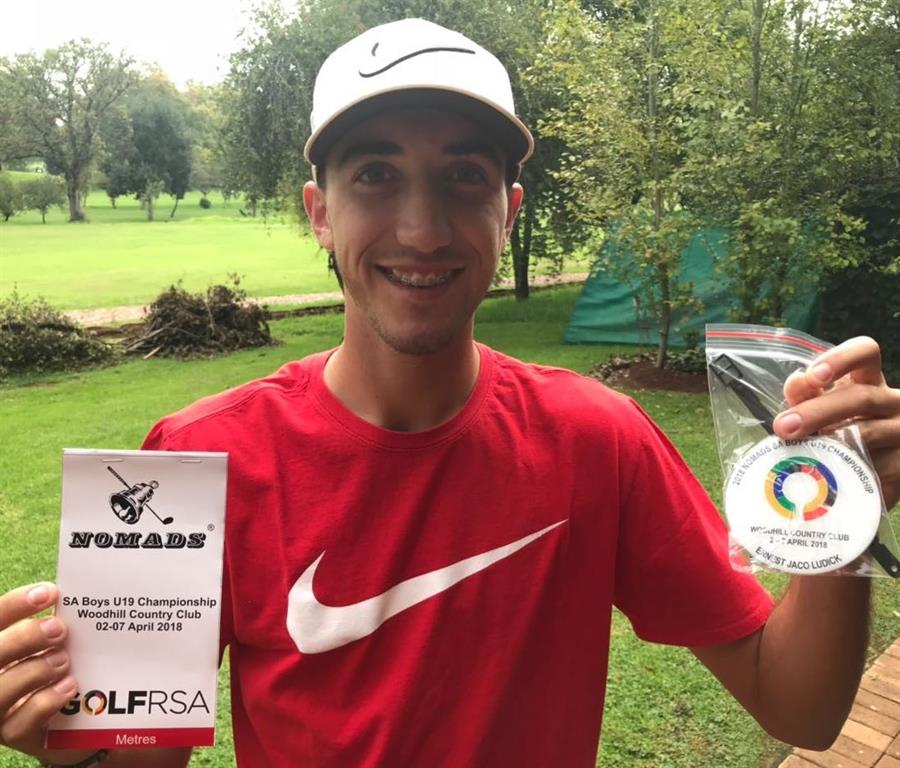 I'm sure all our members who played on Saturday noticed that we changed the competition from Medal to Multiplication Stableford. The reason for this was that the course was still extremely wet and if we had gone on with the medal you might still be out there today!

This week is my favourite major of the year, The Masters. As part of our Master's promotion we have decided to do the following. We have 100 tickets up for grabs for those of you that purchase a sleeve of TaylorMade TP golf balls for R150. You then get to choose who you think will win The Masters and the winner will walk away with however many sleeves of golf balls have been bought for the draw.

If all 100 tickets are sold and we have 1 winner, you walk away with R15 000 worth of golf balls. If we have more than 1 winner, you will share the golf balls.

Product of the Week
As part of The Masters promotion - for this week only we will be selling all our adidas shirts at less 30%. This offer is available to all Zwartkop members.


| | | |
| --- | --- | --- |
| | | |




Results


Who has been winning the competitions at the club? Take a look!
View results.


Do you want to book your next round?
For members, please click the members icon below for bookings online. Visitors are welcome to click on the visitors icon below.