Monday, 21 January 2019



Patrick Reed: what a courageous performance. Jordan Spieth: what a phenomenon. Tiger Woods: hinting at a potential of involvement in the future.

If you look at the performances, I wonder how much we can relate to. The experts always say that putting wins tournaments. Certainly, Patrick Reed's putting was sensational. And so, he won. But Tiger Woods didn't fail to win because his putting was poor. His ball striking was off, so he didn't get into the point of contention because he wasn't hitting greens.

And further down the field, I suspect that those who didn't make the cut, weren't able to get the ball onto the fairway off the tee.

For most of us, golf is a game of enjoyment. Hopefully the TV coverage of the Masters will have inspired you to want to tee it up. But, I suspect that although sinking some putts is exciting, enjoyment is created by tee shots that find the fairway, and approach shots that land on the green. That needs us to want to improve our swing. For the added enjoyment, it's worth it. Contact us to book a swing assessment.



Last week we discussed the improvements in Driver face technology over the last 2 years.
The manufacturers are looking to accommodate the strike patterns of
the regular golfer (shown below).

Those improvements are about more than preserving ball speed as you strike the ball towards the toe and heel,
they're also about preserving accuracy. Finding the fairway is really important, even to the best as shown below.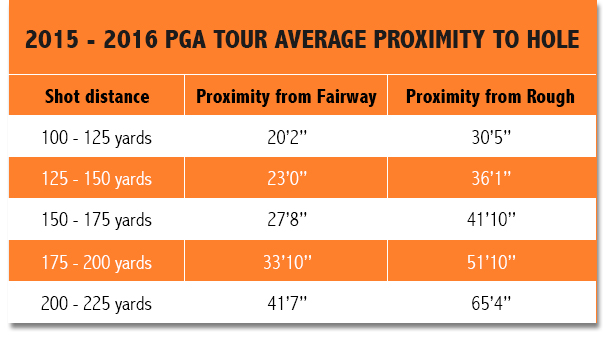 This shows you that from 170 yards in the fairway, the very best golfers are more accurate on
average than they are from just 100 yards but in the rough. That is why MOI (resistance to twisting)
is so important in the latest Drivers.


We'd like to work with any golfer interested in playing more often.
We're keen to make sure everyone of our golfers is in the fairway off the tee more often.
Interested?


The quickest way to lower a score is to improve your short game and putting but, for many golfers,
the enjoyment on most holes is lost straight away. Poor tee shots land the golfer in trouble.
A walk to find a golf ball; or an immediate penalty shot.



If you're interested in those two objectives, then we're here to help.
For the vast majority of golfers we see: a more athletic setup; an improved take-away and turn;
and an improved sequence of movement on the downswing will deliver significantly
more distance to straighter tee shots.
Challenge us. Challenge yourself.