Check out our website
for the upcoming events as well as the dates to save in your diaries!

We look forward to seeing you out on the course.
Please reference the Sawgrass CC ForeTees page for upcoming events and full tournament detail.


Whether you are here in Ponte Vedra, away for the summer, or on vacation you now have full access to Sawgrass CC merchandise. Brands including EP Pro, Fairway & Greene, Zero Restriction and many more are now at your fingertips. If you are looking for a birthday gift or need a new set of signature Sawgrass Wine Glasses, our new online pro shop has everything you need.

Visit www.sawgrasscc.vanguardproshop.com to purchase your new Sawgrass apparel and gifts.



| | | |
| --- | --- | --- |
| Chris and Jeff Hunt | | |
On Saturday and Sunday, March 3rd & 4th, the club conducted its annual Couples Club Championship
. Aside from the wind, the fifteen (15) couple field had perfect conditions for their event. After 18-holes, it would be difficult to outscore the duo of Chris and Jeff Hunt with their 76 gross. They paired their second day for a 152 gross, 134 net to earn the title Couples Club Champions. Mark and Judy Kontny, 2016 Champions, battled hard to only fall short by one stroke. The Kontny's did earn top honor for the overall net award. Craig and Rosalie Wisotzki and John and Jacquie Reed won low gross honors in their respective flights. Newlyweds, John and Leigh Gallishaw, and Bill and Marge Monteith earned top net honors in their flights.

Congratulations to our Champions!

Please click here for tournament summary.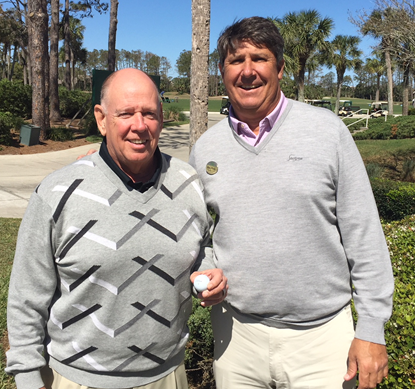 Mike Galloway and Ron Philo

Mike Galloway etched his name into the history of Sawgrass with his ace on #7 South on Saturday, March 3. Mike holed out from 147 yards with his 5 wood on the gusty day. This was the first hole in one on #7 South since Greg Beedy on March 18, 2017. Great shot, Mr. Galloway.



The second day of the SWGA Member-Member was treated to a cool and blustery day. Indu Sapra & Barbara Mulcahy's

play was anything

but with two 6-point matches that helped move them into the overall lead. Yesterday's leaders, Peggy Widicus & Ginny Stott are still in the hunt for the overall prize with a 21.5 point total that puts them in a tie with the teams of Shelia Hartman & Grace Jones, Jean Smiley & Sharon Ellis, and Beverly Beck & Bonnie Taft, all flight leaders. Laura Dobbs & Ana Leaird round off the flight leaders in the hotly contested First Flight. Please click the links above for complete results and tomorrow's hole assignments and matchups. We look forward to an exciting conclusion!


| | | |
| --- | --- | --- |
| Please visit ForeTees to register for this Event | | |



The third round of the 2018 Men's Match Play Championship is in progress and will be complete on Sunday, March 4th. Please click the following links for full summary of our two divisions:

2018 Men's Match Play Championship
2018 Men's Match Play Championship – Green Tee Division

Good luck to our participants.



In this, our busiest of seasons, please review some suggestions to keep to the Sawgrass suggested pace of play. Respect those with whom you are sharing the golf course by:


o Continuous putting, the first player to putt should continue until he/she holes his/her ball, the others should do the same
o Dropping players whose ball is not on the green at the front of the green and then driving the cart to the exit area closest to the next tee
o driving to the ball of the first player to hit, drop that player off and then drive to the ball to be hit next
* Make an effort to minimize the number of times the cart "stands still"
* Before exiting the cart, the first player to hit should take:
• A scoop of sand to fill his divot
• Range finder or GPS
• Two or three likely clubs to hit
o Bring rakes into bunkers
o After hitting your shot, hold onto your clubs in the front seat until the cart stops at the next position
o Marking your score at the next teeing area to clear the green quickly for approaching groups
o Forgetting about the honor system at the tee, let the player who gets there first hit first
o Communicating yardages – if you are getting your own yardage tell your companions how far you are, they may be close enough to use your distance as a guidepost
Tee times are scheduled in 7.5 minutes intervals. This means the fourth player in each group needs to have played their second shot not more than 7.5 minutes after the first player tees off. To allow this to happen, the group on the green needs to have replaced the flagstick in the hole in less than fourteen minutes on each first hole.

If you know this is going to be an issue for you or your group, consider playing at a time of day when the course is not as crowded – usually early or late.


Golf-A-Rama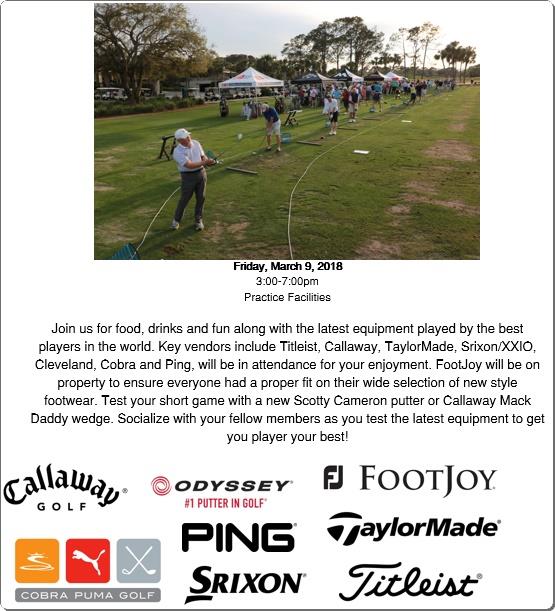 THE HAYT COLLEGIATE INVITATIONAL

NEW DATES:
Saturday, March 17th through Monday, March 19th


Saturday, March 17th
College-Am Tournament & Practice Round
Sunday & Monday, March 18th & 19th
54-Hole Stroke Play Invitational

The best field for the Hayt, the University of North Florida Ospreys annual collegiate invitational held at Sawgrass Country Club, will play the East/West course Saturday, March 17th through Monday, March 19th. By moving this event from February to March, Coach Scott Schroeder strengthened the field. All members are invited to watch the future of the PGA Tour at their home club on Sunday, March 18th or Monday, March 19th.

Please contact the Golf Professional Shop for entry form and details. We hope you can come out and watch these talented young men.
Click here
for the 2018 College-Am Tournament Information

Click here
for the 2018 College-Am Entry Form


2018 Field

Auburn University
University of Central Florida
Coastal Carolina University
Furman University
Jacksonville University
Liberty University
Lipscomb University
University of Louisville
University of North Carolina
University of North Florida
University of North Texas
Purdue University
University of Tennessee
University of Washington
West Virginia University

Volunteers Needed! Those interested in assisting should contact Mike Broderick for more information.

The Kappas Cup qualifier is scheduled for two dates to accommodate travel schedules. Eligible players must register and declare their qualifying date by Thursday, March 22nd. The number of qualifiers for each date is determined by this registration. Register today on the events page of ForeTees. Men wishing to play in both the Golf Shop Game and the Kappas Cup Qualifier may do so.

Current List of Qualifiers:


March 24, 2018:
Richard Clark
Gary Healy
David Houghton
Zach Miller
April 5, 2018:
Mark Kontny
Garrett Luebker



NOW ACCEPTING APPLICATIONS: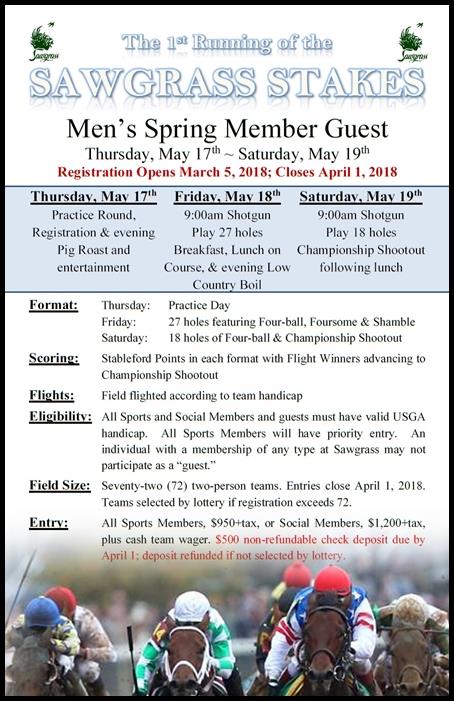 New programs are now available to get you and your game in shape!
LADIES' GOLF CLINICS -- Monday Afternoons -- 2:00-3:00pm -- OR -- 3:30-4:30pm


Improve your game on Monday afternoons with teaching professional, Laura Baugh. Each week will highlight an aspect of the game to get you scoring better! Suggested class size is 6-8 ladies.

Monday, March 12 - Your 50 yd Shot
Monday, March 19 - Bunkers - Your Sand Game
Monday, March 26 - Your 75 yd Shot

Sign up in the Golf Shop -

$20

per session.

MEN'S GOLF CLINICS -- Tuesday & Thursday Mornings 9:30-10:30am


Spend Tuesday and Thursday mornings with Head Professional Mike Broderick to tune up your skills or get a quick refresher on the basics of the game. These sessions will be opportunities to discuss one element of golf that may be causing trouble in your own game.

Tuesday, March 13 – Full Swing Drivers
Thursday, March 15 – On Course 50 yards and out AND fairway bunkers
Tuesday, March 20 – Bunkers
Thursday, March 22 – On Course Clinic
Tuesday, March 27 – No Clinic
Thursday, March 29 – Setup for Success (Grip, Stance, Alignment, Posture)

Instructional Clinics cost

$15

per session.
Contact Mike Broderick by phone (904) 273-3720 or by email to register.
"GIRLS ONLY" JUNIOR GOLF CLINICS
-- Tuesdays from 4- 5pm
Girls ages 7-15 are encouraged to learn all aspects of the game in a fun, hour long clinic.
Equipment will be provided as needed.

The cost for each clinic is $10/junior.
Please contact Laura Baugh in the Professional Shop at (904) 273-3720 or by email for further information.
WORKOUT WEDNESDAY --
Wednesday morning from 7:30-8:45am

JUNIOR CLINICS -- Wednesday Afternoon & Saturday Morning


Each Wednesday through the school year and each Saturday morning throughout the year our Assistant Golf Professionals will host junior clinics for juniors of all ages (5-15 years of age) and abilities. Clinics will focus on a short game and a long game aspect each week.

Wednesday Clinic: 4:00-5:00pm
Saturday Clinic: 9:00-10:00am

The cost for each clinic is

$15

/junior.
Please contact the Golf Shop to register at (904) 273-3720 or by email for further information.

GET FIT FRIDAYS - 8:00-11:00am or 2:00-5:00pm


A member of the professional staff will be out to the practice facilities to highlight an element of the club fitting program at Sawgrass Country Club.

March 16 - Putters
March 23 - Wedges
March 30 - Full Swing Fittings

Complimentary with purchase
Monday
Women's Clinics
with Laura Baugh
2:00 - 3:00 pm
and
3:30 - 4:30 pm




Tuesday


Men's Clinics
with Mike Broderick
9:30 - 10:30 am

"Girls' Only" Clinic
with Laura Baugh
4:00 - 5:00 pm

Wednesday
Workout Wednesday
7:30 am

Junior Clinics
4:00 - 5:00 pm




Thursday


Men's Clinics
with Mike Broderick
9:30 - 10:30 am

Short Game Clinic
3:00 - 4:00 pm


Friday
Get Fit Friday
8:00 - 11:00 am
and
2:00 - 5:00 pm





Saturday


Junior Clinics
9:00 - 10:00 am

Adult
Beginners Clinic
3:00 - 4:00 pm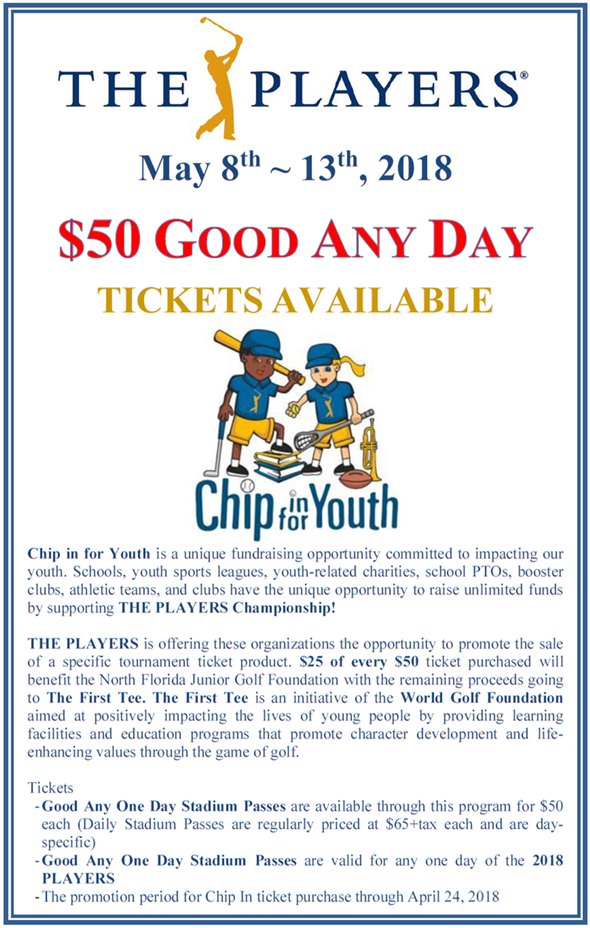 Sawgrass Country Club has a second option to offer its members, 2018 Benefactor ticket packages. The price per package is $650 tax inclusive. These will be reserved on a first come, first serve basis. Limited to 50 packages. All reservations will be final.

Package includes:
- A Benefactor ticket for each day of the week (Tuesday-Sunday)
- Access to the Benefactor Tent behind #17 Tee, The Turn between #9 & #18, and grounds
- A parking pass for every three (3) packages purchased
- A grounds ticket for every four (4) packages purchased
- One (1) invitation (two people per invitation) to attend the PLAYERS Championship Charity Celebration during tournament week for every fifteen (15) tickets purchased
- One entry to the draw for the Benefactors tournament. Winner to receive entry for two players in the 2018 Benefactor Tournament (shotgun tournament on the TPC Stadium with breakfast, lunch, and tournament gifts).

Please contact Head Golf Professional, Mike Broderick, to register.

Mike Broderick
mbroderick@sawgrasscountryclub.com

(904) 273-3720