Club Champs…

It was a much better weekend weather wise for the second round of Club Champs for the B, C, Ladies & Seniors Divisions and the atmosphere was great too. Thank you to everyone that played and made the event a success and congratulations to the winners!

A reminder that Brent Goddard is the 2018 Club Champion. Ettienne Janse van Rensburg won the B–Division on 162; Dylan du Buisson won the C-Division on 76 pts; Jannie Venter won the Seniors on 71pts and Frankie Bosman is the Ladies Champion on 163.

Click here to check out all the prizewinners & click here to view the full leaderboard.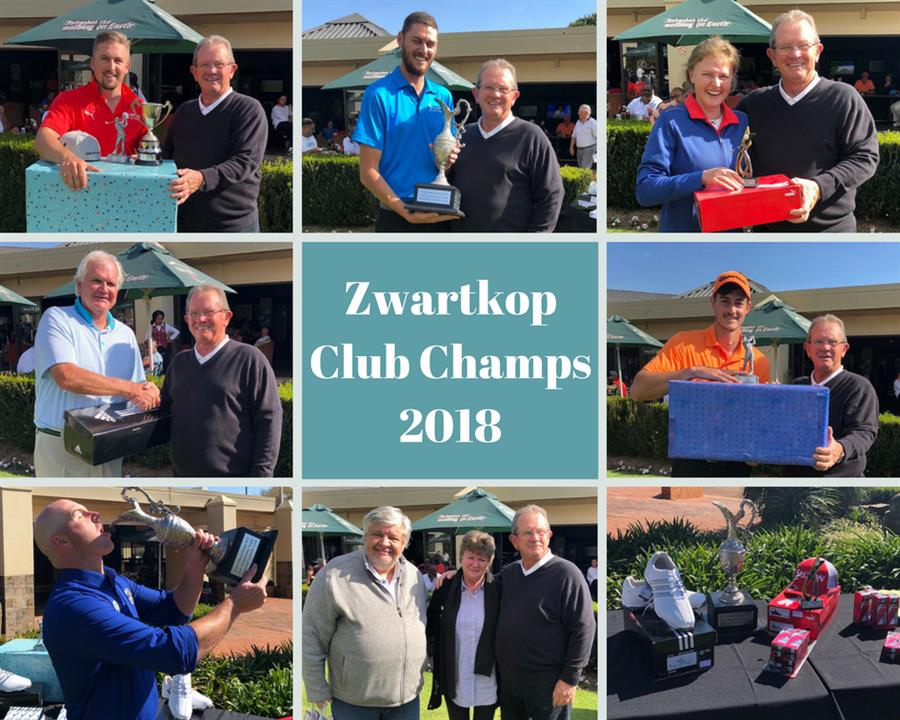 Once again a big thank-you to all involved behind the scenes - our Captain Chris Delport; Joe, Ian and Vusi in the golf shop, Dennis and Sharon Bruyns for the scoring and Jannie and his greenkeeping staff.

The C-Division winner, Dylan du Buisson is doing the Greenkeeping Course through our Golf Management Campus. It's interesting to note that he only started playing golf in January this year. He didn't even own golf clubs – his set was put together with some clubs donated by David Mould, one of the chaps that works for European Tour Productions. Well done Dylan – just goes to show what is possible!

Don't forget that the top 16 gross scores in each Division will play in the Matchplay Championships on 23rd & 24th June.

Sat, 2nd June - Sanlam Cancer Challenge & Shavathon
We're looking forward to a bumper day in aid of Cancer on Saturday. In addition to the annual Sanlam Cancer Challenge we will be having a "Shavathon" with all money raised going to Cancer.


| | | |
| --- | --- | --- |
| | | |

If you want to shave your head, we will charge you R90 (men) but if you simply want to show your support with a colour spray – R20 for men & R30 for ladies – you will still be doing your bit for Cancer! All the money raised will go to Cancer, so bring all your friends and family down between 08h00 – 14h00!



Sun, 3rd June - Otway & Glenn Hayes Mixed Scramble



On Sunday, Adam, Ian and their partners Riana Swart and Heidi van der Berg are throwing down the challenge – check out the video - with two pizza's up for grabs after golf. If you lose to them, you will have to buy your own pizza! The Mixed Trophy is up for grabs and there will be prizes so make sure you join us! Affiliated Visitors pay R280 including the comp fee.


Let us help you play better golf
This week Elsabe looks at making sure you have the correct distance to carry your second shot into the 8th green. (click on image to watch)
Elsabe Hefer is a Member of the PGA; a former Gauteng North PGA Teacher of the Year and PGA Top 20 Teacher. She is the Head Teaching Professional at Zwartkop Country Club. Get in touch with her!

• Congratulations to the Zwartkop Men's Scratch League team who beat Akasia 5-3 at Akasia in their third match of the season. They are on an unbeaten streak - long may that continue!

• Congratulations to James who proposed to his girlfriend Melissa Ellis on the 18th green on Friday evening. With friends and family and members looking on, we are thrilled to say that she said yes!

• Congratulations to Ian Carty; Sajay Ramjee; Elsonia van Heerden & Nicky Groeneveld, who have been drawn to play in the Zwartkop four-balls at the Bryanston CC 70th Anniversary Golf Day on Wednesday. Dale, Adam, Alison & Elsabe have been charged with hosting the two four-balls and while we have no expectations on winning prizes, we will have some fun!

• The Lions Club Centurion Lifestyle generously arranged to have two of staff tested and then fitted with bifocal glasses. Jan Palare and Chichimane Philemon Malete were thrilled. We are very proud of our association with the Lions Centurion Lifestyle.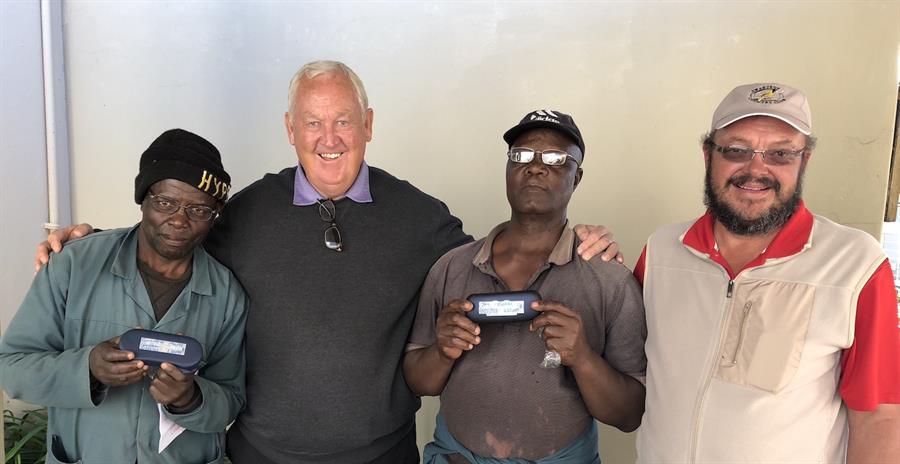 • Ryno Diedericks, one of our members, died tragically in a car accident over the weekend. On behalf of all the members we'd like to send our sincere condolences to his family and friends. He has certainly left us way too soon.

Holiday, holidays everywhere...
Mauritius is a phenomenal golfing destination. You have so many options – here's just some: -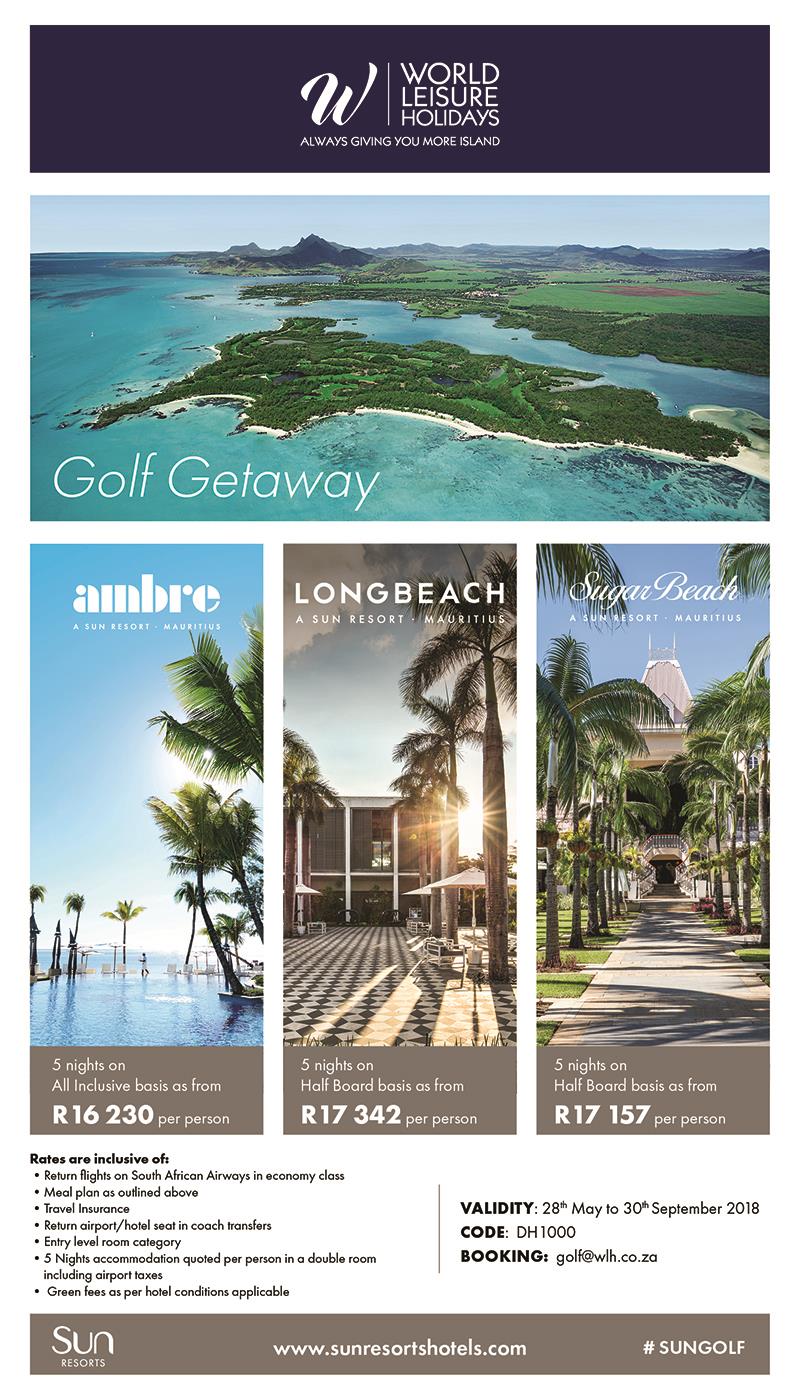 Click to enlarge

Zwartkop Hair Salon
The Salon celebrated Tekkie Day on Friday and look ready to take on any challenge! Make sure you take advantage of our great June Specials. Contact Tracey or Nicole for bookings or details and remember that the Salon is now open until 8pm on Tuesdays & Thursdays for those that choose to come after work! Call (012) 654-1144 or 076-659-1081 for hair appointments & (012)654-1144 / 082-695-0427 for beauty salon bookings.

Fun GNGU Events for you to participate in: -
2nd & 3rd June – Mid Amateur 7 Senior Closed – Silver Lakes
3rd June – Juniors - 18 Holes @ Wingate
14th June – Senior Women @ Zwartkop
You can enter via the
GNGU website

The Lions are collecting Bicycles
If you have an old adults bicycle that you no longer need, please consider donating it to the Lions Club, a non-profit charity organization based here at the Club. They will refurbish it and give it over to someone who could really use it in our community. All you have to do is drop it off with Linda.

You can contact Linda on (012) 654-1144 / linda@zwartkopcatering.co.za

Tues, 29th – Half price pizza Tuesday night!


Bring the whole family down for a treat. The kids can make their own pizza's too. T's & C's apply, including standard pizza's only & no take-away's. We'll have live music.

Wed, 30th – AM Times Available
Thurs, 31st – Super Meat Day & R1000 Draw
Fri, 1st June – Open Day
Sat, 2nd – Sanlam Cancer Challenge & Shavathon
Sun, 3rd – Otway & Glenn Hayes Open Mixed Scramble
Mon, 4th – Monday Madness
Tues, 5th – T-Bone Tuesday
Thurs, 7th – Meat Day
Fri, 8th – Open Day
25th to 28th June - Junior Club Champs


No matter what level of play – get your kids to enter the Junior Champs!

We'll have an A-; B-; C-; Girls and Bunnies Division in action in a strokeplay competition on 25th & 26th June, followed by matchplay on 27th & 28th.

It's all in the name of making friends & having FUN!

Call Elsabe for details and bookings on

082-922-8408


Old Timers Lunch…
It is always an honour to host our Old Timers lunches at Zwartkop. Just some of the gents in attendance last week were Herbie Prout (who started calling on Otway Hayes here at Zwartkop over 67 years ago); Cobie Le Grange (who went head to head with Jack Nicklaus to win the Australian Masters); Alan Henning (a previous SA Open winner - which he won as a teenager); Robbie Marshall (owner of Golf Data, the company responsible for building many of SA's top golf courses); Denis Hutchinson and Modderfontein's Mike DeVilliers.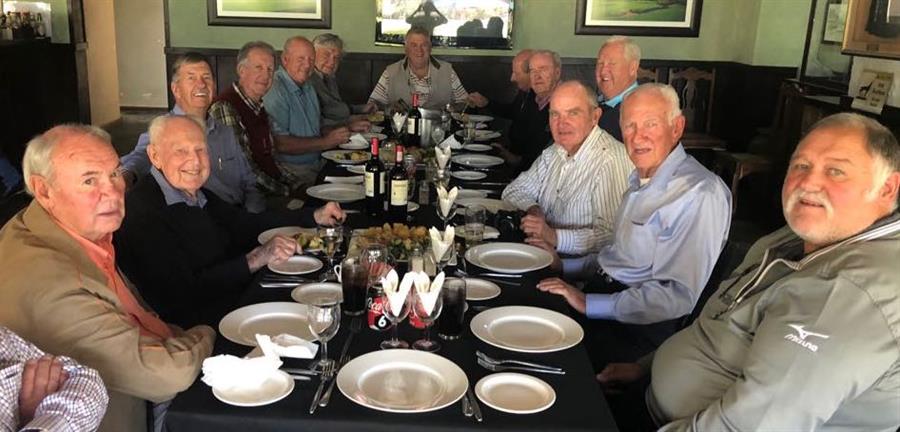 Wingate / Waterkloof / Zwartkop Alliance
Don't forget that we have an Alliance between ourselves; Waterkloof and Wingate, which allows you to play at their courses as members. Please do remember to follow the Rules when using the Alliance: -

• Bookings can only be made by our golf shop staff so contact Ian, Joseph or Vusi and they will make the booking on your behalf. Please do not arrive at Wingate or Waterkloof without an advance booking having being made by our staff!
• Bookings are subject to availability and can only be made one week in advance for games Monday to Friday and Sunday.
• Bookings for Saturday afternoons can only be made the day before.
• Saturday mornings are excluded from the arrangement.

Golf Library...
Members are invited to make use of the golf library, which is in the golf shop. We believe it's the biggest library of golf books in the Southern Hemisphere. You can borrow books at no charge.

We also have an Honesty library of fiction books in the area just outside the Snooker Room. You are welcome to read these books at any time - just return them when you are done or add some of your own to the collection for other members to enjoy.






Results


Who has been winning the competitions at the club? Take a look!
View results.


Do you want to book your next round?
For members, please click the members icon below for bookings online. Visitors are welcome to click on the visitors icon below.