A Mid-Week Golf Special - this week only!
Buy an Adidas Cap for R399 and you will get your round plus a sleeve of golf balls FREE – offer is only valid Wednesday 18th (AM & PM) plus Thurs, 19th (AM only). Call the golf shop to book on (012)654-2111.

Golf Cart Price Increase
We are sorry to say that as from Sat, 21st July the cost to rent a golf cart will go up due to the increase in the petrol price.
Members will now pay R250 & Visitors will pay R300.

ASSUPOL Grand Slam Open Trophy
This weekend is the Open Championship, which means it's time for our third ASSUPOL Grand Slam Trophy event of the year. Zaheer Alli won the Masters edition and Ian Carty won the US Open, so there are only two more to go – the Open and the US PGA, before we play off for the actual Grand Slam Trophy!

Take action! Inspire change! Make every day a Mandela Day!
Yes, tomorrow is officially Mandela Day, but we are tremendously proud of the staff at Zwartkop & Zwartkop Catering who dived headfirst into some charitable work yesterday instead.

After an early morning fun team-building activity which fortunately warmed us all up, some staff went off to help out at Doves Nest a sanctuary for abandoned kids in Lyttelton, where they painted and fixed up the wendy house in which the orphans carers stay.

The rest of the staff embarked on making masses of soup which will be delivered to Badirammogo, an Old Age Home in Olievenhoutsbosch, as well as Peanut Butter sandwiches, which have been delivered to the Rethabile Educare Centre, also in Olievenhoutsbosch. We also embarked on a pilot river project using old plastic bottles, which we will be testing in our river as a rubbish catcher!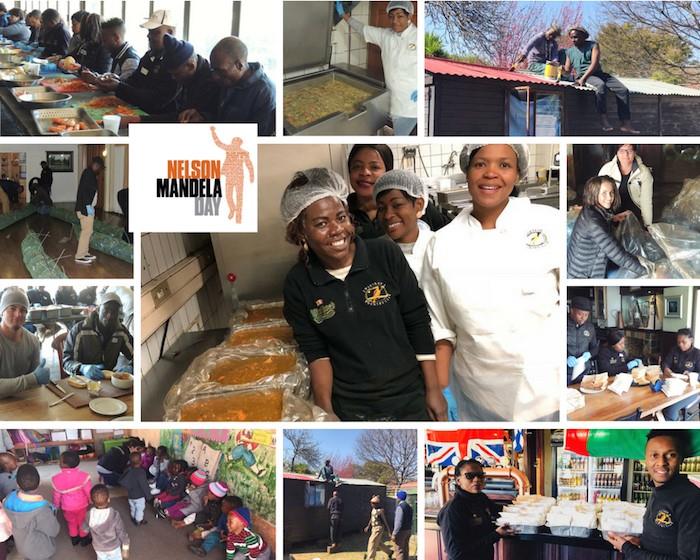 On behalf of the Hayes family we'd like to thank to everyone for their enthusiasm and we hope that all our members will be doing their bit too, as every little bit really does help.

Special thanks to Tribake for sponsoring pies for the staff while they worked and to Aquavita for keeping everyone hydrated!

HAUTE CABRIÉRE Pop-Up Dinner– Wed, 15th August
It's coming to Zwartkop. One night only & only 60 seats available.

Renowned Franschoek Wine Estate, Haute Cabriére will take over our kitchen and whip up a truly decadent wine-paired four-course dinner.



The evening will cost R450 per person and includes the meal and all your wine.

Let us help you play better golf…
This week Elsabe helps you play from a downhill slope in a bunker, like if you were playing a shot from the bunker on the right of the ninth green.




Baldovino's now delivers on the estate & we are doing our bit to reduce the use of plastic!



New SAGA Handicap Cards…
Collect your new SAGA Handicap cards from the Golf Shop. Your existing card will be deactivated on 31st August.

Condolences…
One of members Tish Pillay passed away last week after suffering a freak accident the week before. Our sincere condolences go out to all his friends and family. He has left us way too young and way too soon.

Fun GNGU Events for you to participate in: -
22nd – Champion of Champions – Men @ Blue Valley & Ladies @ Centurion
30th – GN High School Trials @ Centurion CC
12th Aug – Sanlam Cancer Challenge Regional Finals – Men @ Silver Lakes & Ladies @ Irene

You can enter via the GNGU website.



Hole in One Prizes…
You can win a Dream Vacation Holiday when you make a Hole in One on the 7th Hole…
The holiday is valued at R25, 000.00, is subject to availability and is out of school holidays only. Hole-in-one's must be made during an official competition with at least 3 players in the group)


Zwartkop Hair Salon
Contact Tracey or Nicole for bookings or details and remember that the Salon is open late on Tuesdays & Thursdays for those that choose to come after work!

Call (012) 654-1144 or 076-659-1081 for hair appointments & (012)654-1144 / 082-695-0427 for beauty salon bookings.

New Members
We'd like to welcome these New Members to the Club –
Mr R Naude & Mr R Strydom.

We wish you many happy years at Zwartkop. Please contact Ian Hayes or Joseph Phiri in the Golf Shop (012) 654-1144 /

golfshop@zwartkopcc.co.za

, should you need any assistance at all in getting acquainted at the Club


Tues, 17th

– T-Bone Tuesday / Open Day & Half Price Pizza Tuesday Night!


T-Bone Tuesday includes a golf cart sharing & a T-Bone steak after golf! Members pay R260 (prepaid greenfees pay R175); Affiliated Visitors pay R360 & Unaffiliated Visitors pay R460.

Bring the whole family down for a treat. The kids can make their own pizza's too. T's & C's apply, including standard pizza's only & no take-away's. We'll have live music.

Thurs, 19th – Meat Day & R1000 Draw
Sat, 21st – Assupol Open Grand Slam Trophy
Sun, 22nd – Members Day – AM
Mon, 23rd – Monday Madness
Tues, 24th – T-Bone Tuesday
Wed, 25th – Zwartkop Company Challenge
Thurs, 26th – Meat Day & live music after golf
Sat, 28th – Winter Club Champs

SADGA Golf Day – Fri, 31st August
The South African Disabled Golf Association (SADGA) will be holding their annual fundraiser at Zwartkop during August. It's not only a fun day, it's also for a great cause, so consider getting involved.

| | | |
| --- | --- | --- |
| | | |

Knock Out


Knock Out The knock out will begin at the end of July.
We will be running a doubles, singles and a new putting knock out called "21's". Each knock-out has a R100 entry fee. You and enter one or all three. The list will be up on the board in the golf shop.

Space is limited in all three competitions so please make sure you enter early.

Product of the week


New Cutter & Buck jackets - Normal retail R2299 -

Now only R1599

| | | | |
| --- | --- | --- | --- |
| | Have a look at all the upcoming comps and update your own calendar! | | Who has been winning the competitions at the club? Take a look! |

Members, please click the members icon below for bookings online. Visitors are welcome to click on the visitors icon below.