Well, well, well...
Did I put a spell on it? It looks like it's only raining on Mondays and Tuesdays now! I just wish that it would rain a little more and wouldn't it be nice if it can start snowing nice and early this year?

Come rain or snow, we are welcoming the Els 4 Autism Golf Day to Stellenbosch on Friday the 1st of June and it promises to be a day to remember. All the funds raised are going to a very special cause close to the heart of South Africa's son of Golf, the Ernie Els Autism Foundation.

Stellenbosch GC's son, Justin Harding, has jumped to number 157 in the World Ranking – keep it going my man, keep it going!



PGA Seniors Championship
Some days in winter, it's not only wet and you want to sit in front of the fire place with a glass of red, but you also start experiencing writer's block. Then a friend sends a photo like this one below and boom, you are good to go! David Frost played in the PGA Seniors Championship over the weekend - love the shirt David. In the end he finished 18th on 7 under par, with fellow South African Chris Williams finishing 6th on 11 under par. The birdie machine Paul Broadhurst was crowned the 2018 PGA Senior Champion after finishing on 19 under par – great golf Paul.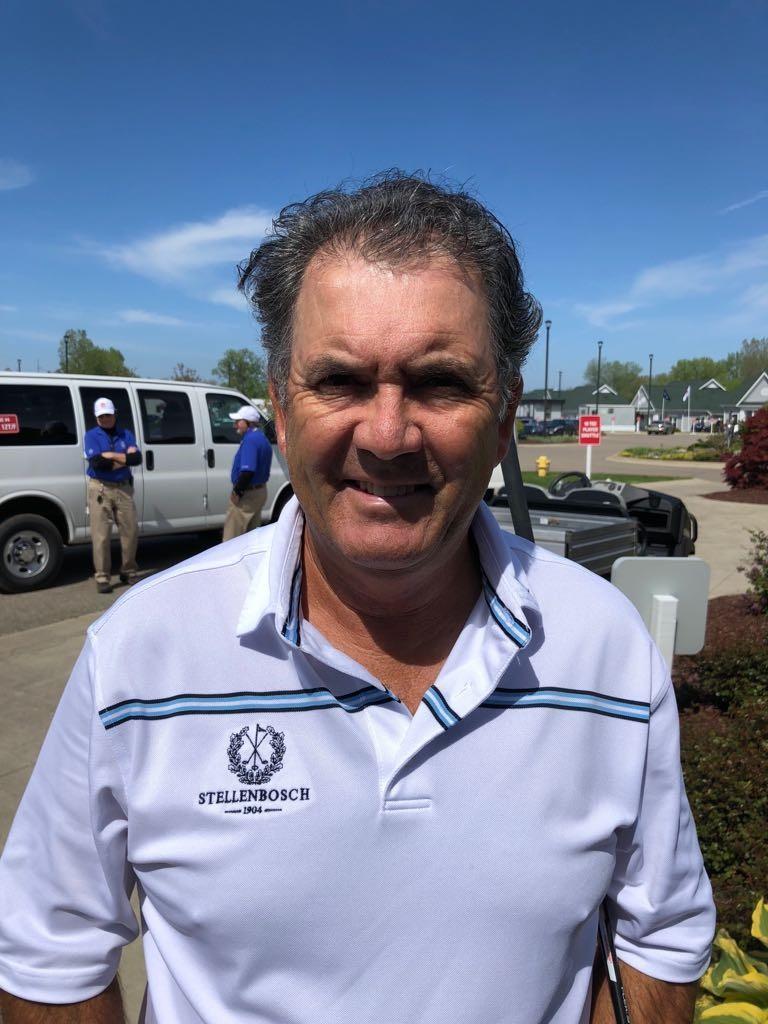 Frosty with his Stellenbosch GC Shirt at the PGA
ABC Security Golf Day


The easiest name in the business made for not the easiest day on the golf course! But we are not going to be sad about the rain on Wednesday, when ABC Security sponsored their second day of 2018. Stephen Nelson hosted, or shall I say treated, the members of Stellenbosch GC on Wednesday. What better way to start your round than with an OBS on the first tee and then finishing off with some great prizes.


Congratulations to the winning foursome of Coenie Bezuidenhout, Eben Archer, Garfield Mostert and Anton Grobbelaar after finishing with 90 points.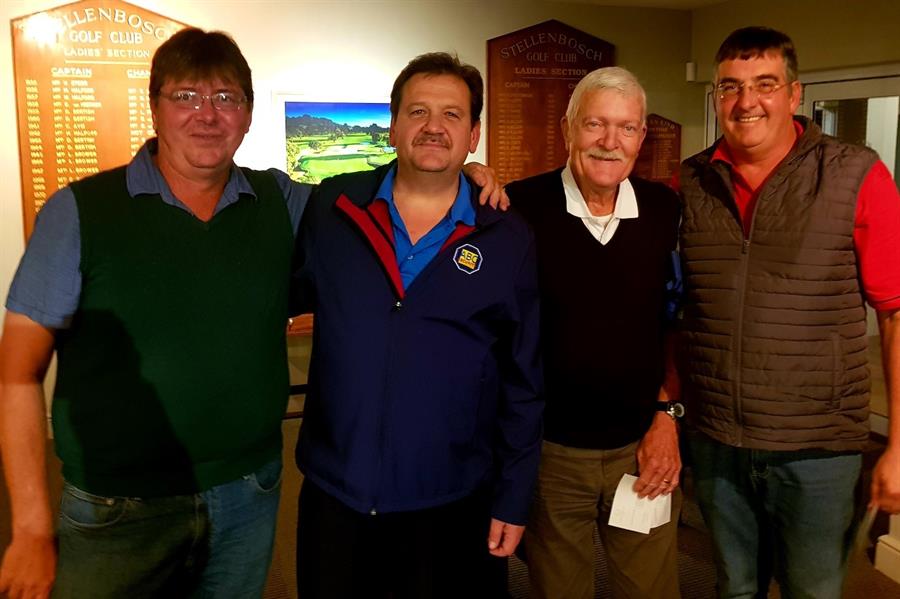 Stephen Nelson with the winning 4 ball, Coenie, Eben and Garfield
Have you ever wondered what it takes to fall?

Well I have many times and I'm not talking about when you have had a few to many. I'm referring to what is the final straw or drop that takes a tree to breaking point? Sadly we lost a big and tall, green tree on the 12th on Friday morning. No wind and no rain, it was a perfect morning, but one too many balls has hit this beauty.

On Saturday, Willem Malherbe asked the same question after his ball ended millimeters from dropping in. Maybe it was the height of cut or the amount of spin one can produce onto a ball you play with? What I do know is that Willem is still thinking about it…




Monthly Mixed
Sunday was our Monthly Mix date and we waltzed around the golf course! What a fun little format (if it works out for your alliance team). In our case it did not, but that I blame more on the fact that some aren't that good at dancing. 1, 2, 3 - quite easy once you get into the rhythm of things. No surprise that James and Carol van Niekerk joined Vince and Elria Nienaber as the winning foursome, because they can dance! 89 points later they danced their way back to the club, well done to all of you! With the fantastic support we had in May we are looking for a date in June, we might go right through in 2018.



Paul Roos victorious
Ending of this week, we had a bit of money leave one wallet to go and find comfort in another. This, of course, due to the fantastic win of Paul Roos Gymnasium against Boishaai last Saturday…



Have a fantastic week and I'm looking forward to seeing you all at the club during the week…

All the best,
Louis