Monday, 26 August 2019





Brooks Koepka bags his third Major in 14 months, and becomes only the 5th person to win the US Open and PGA Championship in the same year. The global golf media's reaction to his dominance has been muted. Everyone is willing Tiger back to another Major victory, but it appears that Koepka is for some reason an "outsider".

Golf is a very social game. There's the value you get from your personal playing performance. For Koepka that will be the ultimate prize. But just as important, if not more important for most of us, is the enjoyment of spending time out on the course with friends.

We're here to help golfers get more from both their game and their social experiences. If anyone of you reading this thinks they might be short of the social connections to get you out on the golf course, please contact us.


The right Grind adds versatility to your game making it easier to play various greenside shots.
Especially on the wedges you use around the green, spend time getting the right 'Grind' and 'Bounce'.
Manufacturers have introduced two main 'Grinds' to make greenside shots easier:


The right grind on a Wedge that supports the way you're likely to use that Wedge, will make shot-making easier.
You might use different Wedges in different ways, so it's not one Grind fits all. Next time you're looking at Wedges,
make sure you get fitted.


We're two weeks in to some simple advice on how to improve your
score using the Par 3 holes. They're an opportunity for everyone.
Removing risk helps.

Simple Tip #3
Where's the easiest and safest target? Before you even look for the flag,
find the point on the green that gives you the largest room for error.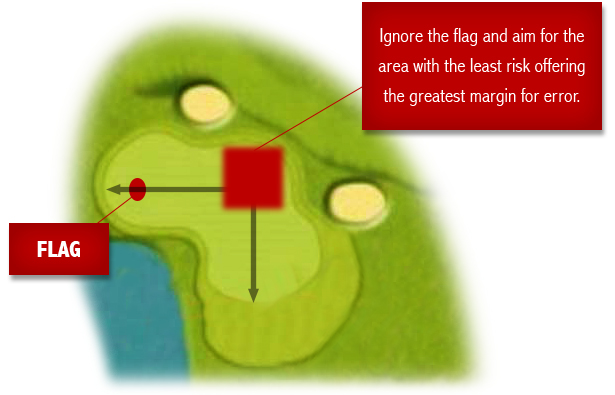 In this example, even going over the back of the target area marked will leave
you a chip and putt for a 3, so you're looking at a 4 at worst. Go at the flag and the
consequences of a miss could be much greater. Even if you fly the flag and land in the bunker,
you're then faced with a bunker shot back towards water. Going at the flag is a 2 or bust!


You'll be faced with a course management challenge on all approach shots,
not just Par 3's. Try playing a round where you take a 'safety first' approach to every shot.
Check out your score. Is it an improvement if you play within yourself?
Course management is an important part of your game; if you'd be interested
in an accompanied round to help with your course management,