Monday, 26 August 2019





It's Ryder Cup week. What an event. What spectacle. In a suburb in the southwest of Paris, France the 42nd Ryder Cup Matches will take place on the Albatros Course of Le Golf National, Saint-Quentin-en-Yvelines.

David Feherty, in a book on the history of the cup, described the tension and nerves created by competing in this event in a very evocative way involving body parts that makes the quote unrepeatable here.

It's so hard to look at a Brooks Koepka or a Dustin Johnson, and see a competitor likely to be racked in turmoil. But is that the European edge? Is it that they allow the stage and emotion to take them to greater playing heights? Or is the very emotional Justin Leonard, the hero of Brookline in 1999, revealing of the true feelings of the American team? If you've never seen it, watch the video below:






If a fitted iron increased the number of solid, accurate approach shots you had, would you want a fitted iron set?

Now please note that, very skillful golfers were more able to accommodate fitting errors than anyone else;
and that less capable golfers were much less able to make the necessary adjustments in their
swing for an iron that was poorly fitted.

There's a partnership between shaft length, lie angle and shaft flex that will help us
help you make the game easier. Length, angle and flex all impact accuracy.
They all impact consistency. Let's get yours right.



This is a 'no-brainer'. Every golfer should play with golf equipment that makes it easy to repeat a golf swing;
that brings the club face back to the ball; square to the target line. Inexperienced and learning? Make it easier.
Improving and aspiring? Make it easier. Good and competitive? Make it easier.


Over the first three weeks, we covered the importance of using bounce correctly.
It certainly improves consistency on chip and pitch shots.

The final most important feature of bounce is helping you get up and down more often from the sand.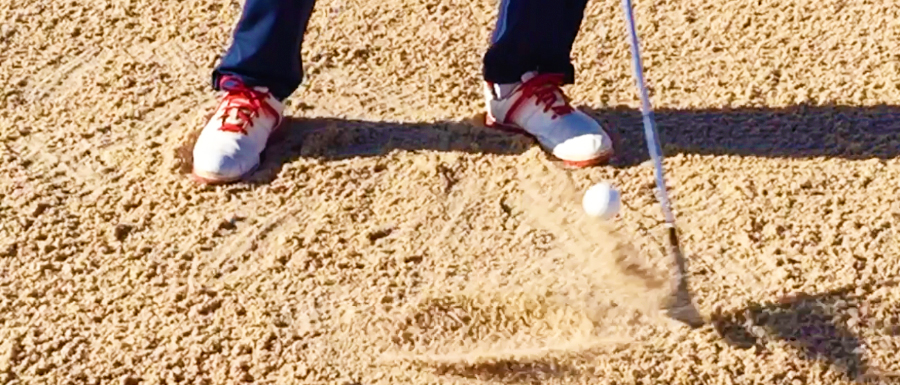 To play a splash bunker shot and get out the bunker stress free you must use
Your bounce by approaching the ball with the correct technique.


You'll often read, "Enter the sand between 1 and 2 inches behind the ball."
It's almost useless advice, if you don't know how to use the bounce on your wedge to allow the
sand to drive the ball out and onto the green. This is a fundamental you should all learn.