Tuesday, July 14, 2020





I know we tell our juniors that golf needs to be fun, but adults need to remember that as well. A couple we recently fit is having the times of their lives as they play golf together. They intend to play as much as possible. The entire staff of The Golf Station is officially jealous as maybe we all should be.

These nice folks were referred to us by some friends that we had fit earlier this year. To say they were pleased with their clubs is an understatement and they sent their good friends to us for our Tour Quality fit. But since they decided to again, play as much golf together, they decided to make an investment towards their games and get as much out of it as possible.

Both are in extremely good shape, so much so that they breezed through their Titleist Performance Institute (TPI) screening with Adam with no problem. In our time being a TPI facility, we have seen golfers half their age that have trouble with the screening, including yours truly who can't seem to stand on one leg. Again, the entire staff is jealous.




After some thorough iron testing, the husband ended up with Epon 705 Irons as well as Epon Wedges. It's just tough to beat Japanese forging. These Endo forged irons and wedges are truly pieces of art; they're known the world over as the "Crown Jewels in golf design". On virtually every set of Epon Irons, the ball reacts and sounds different when it comes off the face. With the help of Aerotech SteelFiber shafts, the launch angle was nice and high for him. With the woods and hybrids though, Titleist was the best fit. The brand new TS line is off the charts good. We're frankly stunned how well they're performing in testing and fittings. He will now be playing a TS2 Driver along with two TS2 Fairway Woods and two Titleist 818 Hybrids all with the Accra FX 2.0 shaft. Lastly, he was fit into a Scotty Cameron Futura Putter. So many people and facilities forget about the putter when it comes to fitting: It's the one club you're using on every hole and the one that can cost you, but also save you the most strokes. The putter should never be an afterthought. It's not just about the look and style, but also the moment of inertia, loft, and lie.





His wife was also fit into Epon irons and wedges but with different shafts. While Epons are obviously great irons, they won't do the job without the proper shaft, and best performing model was the Oban Oi53. While the husband went the Titleist route with the woods and hybrids, she went the PING route: The G400 Max Driver, three G400 Fairway Woods, and one G400 Hybrid.
Our couple decided to use hybrids in place of their long irons. His longest iron is going to be a 6-iron while her longest will be a 7-iron. This way their longer clubs will get up the air easier. Too many players are still trying to use 3 and 4 irons where hybrids are just so much easier to hit.

This couple will have bags that will last them for many years no matter how much golf they play. And naturally, with these clubs, they will have infinitely more fun on the golf course. And of course, just like I said at the beginning, that's what it's all about.



Whether you need a new bag or a few lessons, we have you covered and will continue to do going forward. Call us at 817.595.4653 to help get your game in gear or



If a fitted iron increased the number of solid, accurate approach shots you had, would you want a fitted iron set?

Now please note that, very skillful golfers were more able to accommodate fitting errors than anyone else;
and that less capable golfers were much less able to make the necessary adjustments in their
swing for an iron that was poorly fitted.

There's a partnership between shaft length, lie angle and shaft flex that will help us
help you make the game easier. Length, angle and flex all impact accuracy.
They all impact consistency. Let's get yours right.



This is a 'no-brainer'. Every golfer should play with golf equipment that makes it easy to repeat a golf swing;
that brings the club face back to the ball; square to the target line. Inexperienced and learning? Make it easier.
Improving and aspiring? Make it easier. Good and competitive? Make it easier.


Over the first three weeks, we covered the importance of using bounce correctly.
It certainly improves consistency on chip and pitch shots.

The final most important feature of bounce is helping you get up and down more often from the sand.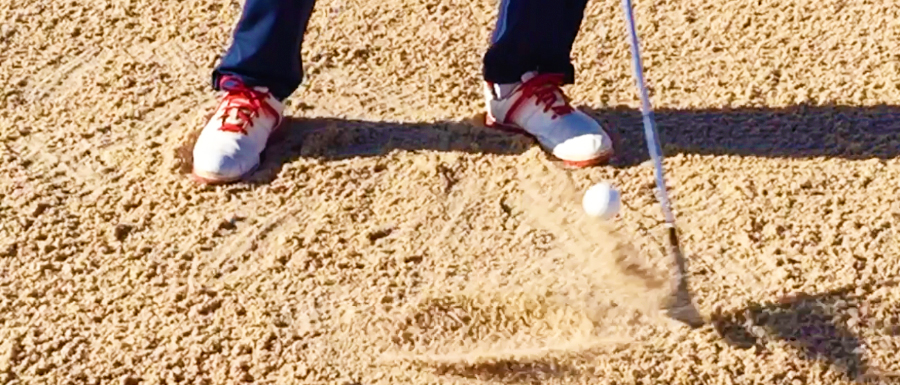 To play a splash bunker shot and get out the bunker stress free you must use
Your bounce by approaching the ball with the correct technique.


You'll often read, "Enter the sand between 1 and 2 inches behind the ball."
It's almost useless advice, if you don't know how to use the bounce on your wedge to allow the
sand to drive the ball out and onto the green. This is a fundamental you should all learn.