Sunday, August 09, 2020





We like to see that little moment where a smile creeps across someone's face when we exceed their expectations and usually improve their performance without much (or any) extra effort. I've seen that look in seasoned players, beginners and juniors; and we saw it about three weeks ago with a new customer.

I forgive new customers that come in skeptical. I mean, they've heard from their buddies or read our newsletters about The Golf Station and the "Tour Quality Fit" and think it's frankly a tall tale. I thought that too. But once they left after experiencing it for themselves and actually get to play the equipment we've fit them for and built for them we get emails like this:

"Wow! Admittedly, I had a bit of an attitude when I walked in because I'd been fit for every bag I've owned in the past ten years. I usually ended up telling the fitter what irons and shafts were designed to do. I play to a 7, and I thought I had an idea of what specs I should be at based on my past fittings and based on my skill as a player.

A friend recommended The Golf Station. I figured it was time for something new and would give this shop a chance. Tim and Chris greeted me and were nothing but polite. They asked me what I was looking to do and wanted to accomplish. I let them know I was looking for a new bag from top to bottom but had an idea of what I should be fit for. I wanted more forgiveness but didn't want to sacrifice any playability. All they asked was to keep an open mind. They asked me to bring my bag into the sim, and I began warming up. After about 10 minutes they walked in, and Tim asked me to hit some pitching wedges, and after about two swings, he gave me a swing tip because he noticed something in my swing. After putting myself in the position he asked, I hit the ball more solidly than I had since May.

Remembering what I had said, he made a recommendation for an iron head. It was not what I would have chosen, but I decided to try them. We began to look at numbers, and he made recommendations on shafts to try to add spin at the bottom end of the bag and lower spin at the top end. We moved onto to woods, and I decided against hybrids, but wanted iron feel and control with some forgiveness.

For the first time I think in 10 years, I was properly fit for a golf bag, and shockingly enough, I went all Titleist for the first time and was fit for my first Scotty Cameron. They made the putter fit me, instead of having me adjust to the putter. Tim even switched my ball from a ProV1x to a regular ProV1.

I put them into play this past weekend for two straight days on a buddies trip. I let my friend keep the scorecard because he had an ace, but I'm telling you, this is truly the best bag I've ever had. Bar none. I gained about 9 yards with the woods, 7 with the irons, but a ton more accuracy with both.

My wife isn't thrilled, but I am. I'm smiling while playing and came home in a better mood from the course. So in a way, The Golf Station is helping my marriage. Maybe." ~ Charles B.

In case if anyone is wondering, this is what Charles was fit for:






Titleist TS3 9.5 Driver
Titleist TS3 16.5 Fairway
Titleist T-MB 3-4 Irons
Titleist AP3 Irons 5-9 Irons
Titleist SM7 46, 50, 54, 58
Scotty Cameron Concept X-01




We put Oban Steel CT shafts to control flight and spin in his mid-irons and wedges, Oban graphite in his long irons, and our best-selling Yonex shafts in his driver.

As you can see, it's a combo bag, and probably one of the most unique we've created. When we help you determine what direction to go in, it's not just a "desire" thing. It's also what head gets you the best performance. We could have made a complete single set, that didn't work best for Charles.

Where the rubber meets the road is: does it work for you when you want it to and perform as you expect?

We're going to make sure it does. If it doesn't we'll make it right. That's a promise.






"What is in these Accra shafts? Magic Dust? Pixie powder? Tim retrofit me into these in my Cobra F7 driver and fairway woods and they came alive, way past their stock shaft performance. I appreciate the fitting I got and the build from the guys in the back." ~ Karen

I don't think I can add much more to that.

If you're ready to get Golf Station fit like Charles and Karen, call 817.595.4653 or






Many better players have a lower trajectory with a slight draw; and lots of run out.
While they may be consistent; the challenges of the hole, rough, trees, bunkers and water;
often get the better of them because of their longer run-out.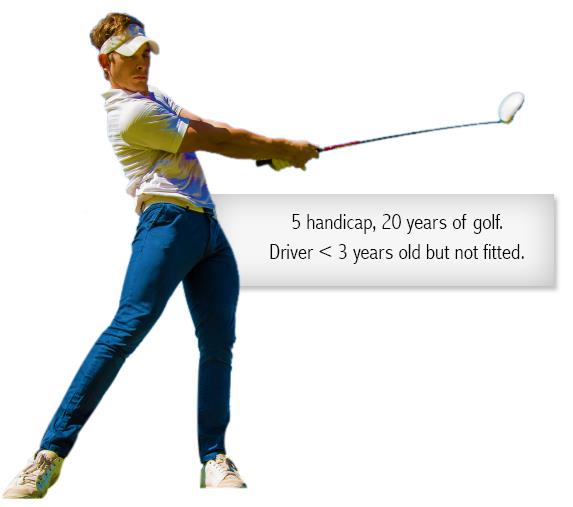 The extra 20 yards matter. They turn #5 iron approach shots into #7 irons.
But the 35-yard improvement in carry distance will allow the driver to be used on more holes,
turning #4 irons into #7 irons. That's a game-changer.

There's a Driver DNA – ball speed, launch angle, & spin rate. We need to match those
when fitting you for a Driver. How close is your Driver to your Launch DNA now?
Do you have 20 yards or more of performance in the right DNA?
Come and see us. Let's unlock your potential to thrill.






Each golfer will have a point in their bag where ball striking starts to become a little too inconsistent.
As you go up the bag from the pitching wedge the shaft gets longer (in most sets) and the loft gets stronger.
A longer shaft and stronger loft will test your technique.

There will be clubs that you're confident using; able to hit the green regularly with.
Then you find a limit. For higher handicaps, it might be as early as the #8 iron.
For mid-range handicaps, it might be the #6 iron.



Which is the longest club you can use on approach shots with any degree of confidence?
Why not forget about handicap or scorecard, and set yourself a target to improve your technique
so that your number moves 2 clubs higher?









This mail was sent to {{contact.contact_email}} by Tim Brantley and is provided as a service for the members and guests of The Golf Station and the customers of the The Golf Station Pro Shop and has been supported and sponsored by advertisers in this mail and my partner suppliers:


To ensure delivery, please add timb@greensidegolfer.retailtribenews.com to your contacts.


RetailTribe: 15851 Dallas Parkway | Suite 600 | Addison | TX 75001 | +1 214 561 8681