Thursday, June 04, 2020





Tim, Chris, and Les took our trusty and tricked out fitting cart to Bullard, Texas to visit the nice folks at Eagle's Bluff Country Club for a weekend of custom fittings and lessons. Located out in the country amongst the east Texas pines, the first thing they realized is just how beautiful their facility was.






Eagle's Bluff Country Club


The second thing they realized is just how passionate the membership is about their golf. They REALLY love their golf. We couldn't have been more honored to be hosted and give you our Tour Quality fit.

Throughout the day, we fit members for all sorts of clubs. Drivers, fairway woods, hybrids, irons, wedges. It is always enjoyable to see the looks on golfers faces who have never experienced the shaft technology that we have to offer. They can't believe that a golf ball can launch that high and that far due to simply installing the correct shaft for them. Of course, all the equipment we carry is top notch, but it also has to be the right fit for every unique golfer.



The star of the day



Was probably our hybrid shafts. More than one member was amazed at what a hybrid can do. One was hitting a 22-degree hybrid higher than his own 27-degree hybrid. And of course, they were hitting it farther.

Seeing golfers excited about their clubs is always fun, and soon several members will be playing their beautiful course with custom-made clubs that will last them for years, not just a year or two. Once other members see what they have gained from their clubs, we will be expecting more calls from their neck of the woods.



While driving back that night



They were in the Metroplex and almost home when they heard something hit the side of the truck. They assumed it was a rock; it was not. It was a pellet; someone had shot at them!

We have to assume it was a local golfer who had gotten waxed that day on the course by one of our happy customers. Hey, we are optimists here at The Golf Station.



While they were gone, we were busy making plans and reservations for our 2019 PGA Merchandise Show attendance. It's time to get ready to see what we're going to bring into the store to help you improve your games, and hopefully look good while doing it.

You know you need some new clothes to go with your new bag and possibly some new kicks. I'm personally a golf shoe nut. Doesn't everyone need ten pairs of golf shoes? I might need some professional help…

We're hearing some major rumors and have seen some of the new gear for the upcoming season. While we can't divulge anything yet, I'm looking to get to play a set of new clubs in January. But this is the time that companies get ready to put their best foot forward to impress not only the rest of the industry but the customers looking for that shiny new [

FILL IN THE BLANK

].

Call 817.595.4653 if you have any questions or are ready to make a deal for some gear that can improve your game…






They say that "it only takes one great shot to bring you back again."
Next time you're out we want you to hit more great shots than usual.
Then we want you to hit even more the next time.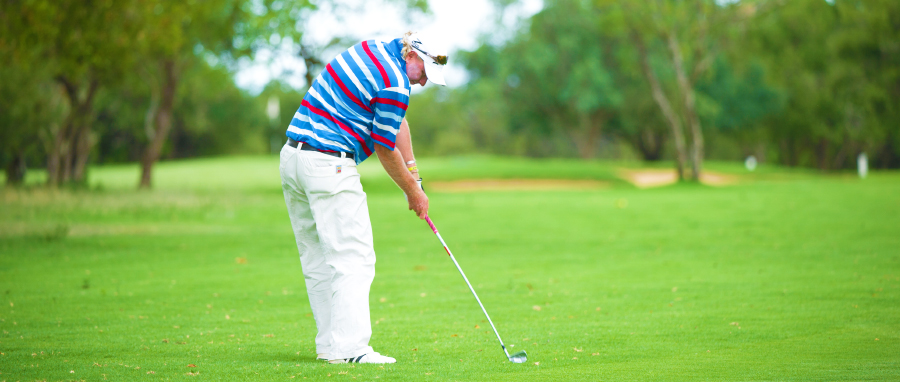 A set of irons working for you and not against you makes this so much easier to achieve.
You'll square face to target; and sole to turf; experiencing the real joy of sweet contact
so much more often.
There are over 1,000 fitting options
on any single iron. Wow. Yes, lie angle;
shaft type; and length &
flex alone usually makes for over 900 options.
And we still haven't touched grip type and size;
swing weight; or even the amount of offset.
The correct lie angle on your irons brings
the sole of the club back square to the
turf at impact. An incorrect lie angle will make
that very difficult to achieve. Depending on
whether you are toe or heel up at impact,
the face will bepointing to the hook or
slice side of your target at impact.
Why suffer that challenge?

Don't suffer in silence. Let us help you hit more great shots.
Check out your lie angles with us.





We often get asked, especially by those looking to have better short games,
how they can learn to hit wedge shots with a lower trajectory that one-bounce and-check quickly.
Before we start on that journey there are three questions:
How are your wedges?


Do you have the right lofts, and are your wedge
grooves sharp? Not only do you lose 1,000 rpm of spin with worn grooves, you'll also launch the ball higher.
What ball do you play?


If you're serious about wanting one hop and check,
then you need a premium golf ball that will spin much
more than a 2-pce, and launch a little lower.
Do you clean your grooves and dry your wedge
face before each shot? In tests conducted
with a launch monitor, a wet face lost up to 3,500 rpm
and added a whopping 8° to the launch.
This research shows that ball control requires the right equipment, cared for, and prepared for
the challenge with each shot. I guess that means rule one to ball control is
make sure you have the right equipment.


If you want to sharpen your short game, then learn how to control ball
flight and spin with your wedge. It's a cool skill.








This mail was sent to {{contact.contact_email}} by Tim Brantley and is provided as a service for the members and guests of The Golf Station and the customers of the The Golf Station Pro Shop and has been supported and sponsored by advertisers in this mail and my partner suppliers:




RetailTribe: 15851 Dallas Parkway | Suite 600 | Addison | TX 75001 | +1 214 561 8681