It's not raining today and tomorrow, but we had wonderful rain last week measuring up to 69mm from Tuesday to Sunday!

Last week I asked the question, "What does it take?", referring to getting the ball in the hole and a tree falling. After once chirping a past captain of the club that he got lucky on a golf shot, he asked me if I knew the definition of luck? I must admit, I thought for a while and then admitted that I did not! "Well Louis, it's quite easy", he said, "In life, many people have said to me I got lucky and my reply was always that the definition of luck is when preparation and opportunity meet - you get lucky!"

With that being said, take a look at what Mark Every did and I'll leave it up to you to make your own conclusion! What I can say is, he had what it takes.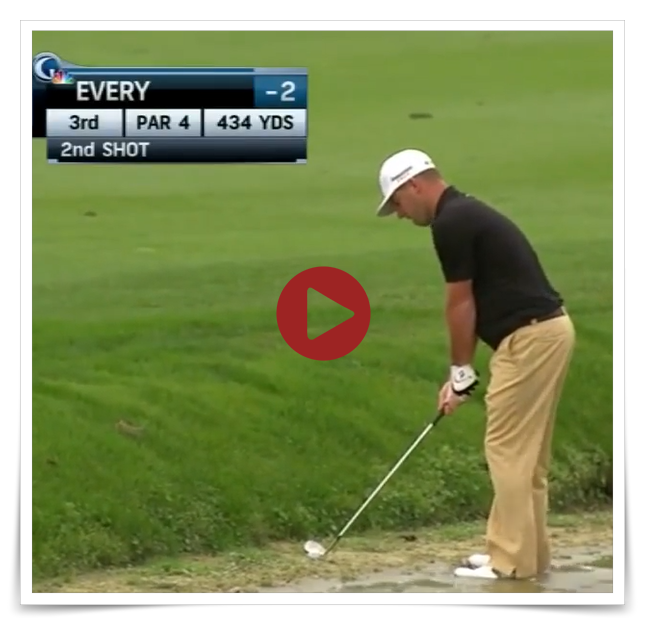 Click to watch
Els for Autism Day
Stellenbosch GC was the proud host of the Els for Autism Golf Day on Friday. What looked like a very doomy and gloomy start weather-wise, turned out to be one to remember. As you will know, it goes to a very special cause driven by the son of South African golf, Ernie Els. 132 golfers supported this wonderful charity event and tee'd off in perfect weather just after 9 o'clock on Friday morning! After play we all traveled to Ernie Els Wine farm for a shootout and late lunch followed by an auction and prizegiving. It just makes the heart warm to see people support South Africa's greatest golfer's charity event. I've been involved with many events in my time, but the positive feedback was overwhelming. It's not easy to move venues, but everything just went perfect. Thank you so much! See you all next year…


What a special day, thank you so much for the support!





There is always time for a selfie! Nico van Rensburg and myself cruising the golf course for support


Auction time to raise funds for a special charity!
E4Autism
Got to love the rules!

I knew that I should have never started with this…but I just love it!

A "birdie" does not always make golfers happy.

Kelly Kraft realised just that in the RBC Heritage on the PGA Tour in April. Kraft made his stroke from the teeing ground at the 14th hole (par-3) in the second round (Friday) and (according to himself) it was a great shot. But, while it was in the air, it struck a bird, so that it (the ball!) changed direction and landed in a water hazard!

One of the other players in Kraft's group argued that Kraft should be allowed to replay the ball without penalty, just as you must do when the ball strikes electricity cables. But the Rules of Golf do not allow you to do that.

So, Kraft dropped out from the water hazard with a one stroke penalty, and he went on to score a double bogey for that hole. In the end he missed the cut by one stroke! So on this occasion a "birdie" was not good. Not surprisingly it all happened on Friday 13th!

Stellenbosch Open 2018

Keegan Thomas
was crowned the 2018 CSE Jacobson Stellenbosch GC Open Champion, with rounds of 70 & 67. We had a full field teeing off at 8 o'clock for the 36-hole championship in absolutely pure weather conditions. Congratulations to Keegan, and thank you to all the players who joined us. And off course a big thanks to CSE Jacobson, our sponsor, for making this day possible!

You always have to look after your members, so making a little gap for our Sunday School in the field was special, and I know they really appreciated it. Especially since we spoiled them on the course with a little halfway surprise
| | | |
| --- | --- | --- |
| Keegan Thomas | | Sunday School enjoying halfway on the 5th |

2018 Inter Provincial
Boland President, Charl De Villiers, announced the 2018 Inter Provincial side that will be representing Boland at Oubaai later in the year. The team will be managed by Stellenbosch GC member Jaco Spies and captained by another Stellenbosch GC member, Karl Ochse. Joining Karl in the team, also from Stellenbosch GC, is Hennie O'Kennedy, Luan Boshoff and our Open Champion Keegan Thomas! Not bad for one club, by far the force in the Boland.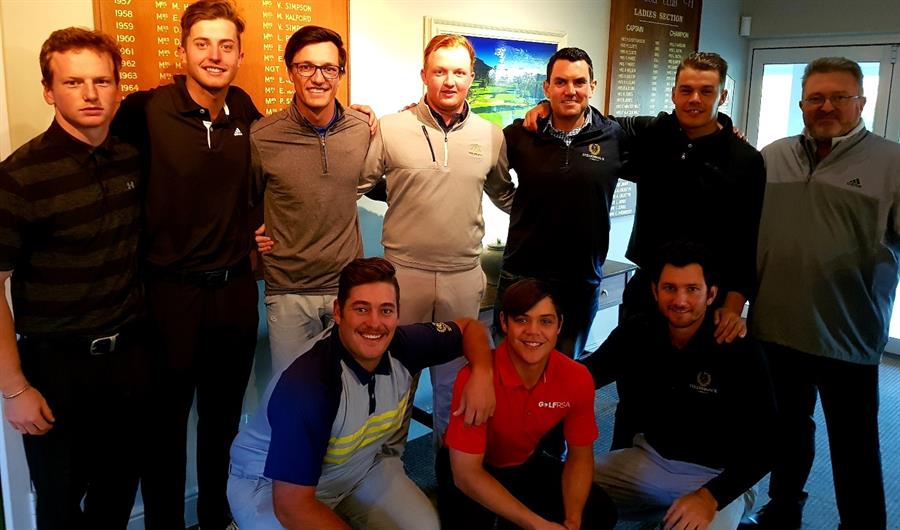 The Boland Inter Provincial side for 2018
Congratulations and good luck – bring back the silverware!
Sun City Challenge and The US Open
I spent a bit of time with Justin in the studio on Saturday, before he leaves for Sun City today. Justin and JJ Senekal will be pegging it up in the Sun City Challenge from the 5th to the 7th of June, while Oliver Bekker is back at Walton Heath GC, where he is participating in the qualifier for the 2018 US Open that will be played at Shinnecock Hills. Some of you might remember Rietief Goosen winning the 2004 US Open at Shinnecock Hills, his second US Open victory, beating Phil Mickelson by two shots. Go low Ollie, we are hoping for another South African winner in 2018.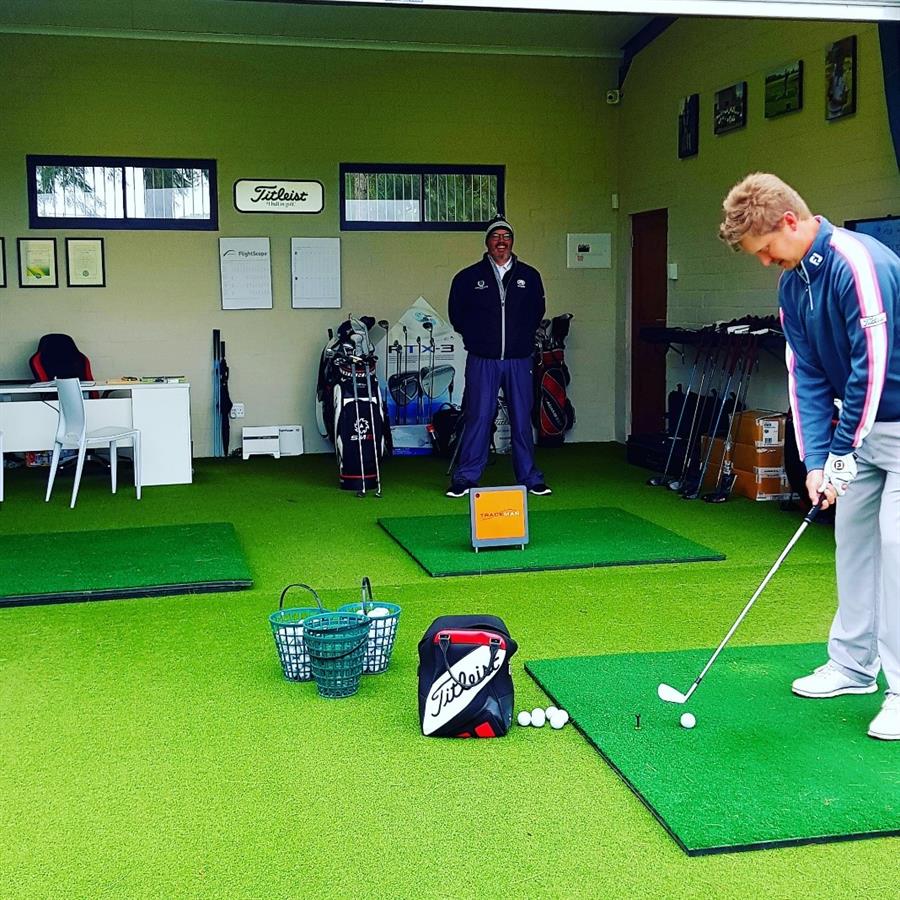 Justin and I in the studio

Group One Nissan Challenge
I hope you are all booked and ready for Wednesday, as we play the 4th round of the Group One Nissan Challenge. I had a quick peak at the time sheet and saw that it's already very full. The good news is that the weather is looking great for the day!

Can a Monday start any better than this? Have a great week ladies and gentlemen, hope to see you soon on the golf course.


Louis



Die Carinus-familie stap 'n baie lang pad saam met die Stellenbosch-gholfklub. Pietie Carinus het jare gelede by sy pa, Piet, geleer om gholf te speel en vandag nog is Pietie 'n baie gedugte speler in klubkompetisies. Pietie, 'n baie nederige en vriendelike man, was ook vir jare 'n staatmaker-ligaspeler.

Hierso volg my onderhoud met hom.

Vraag: Hoe oud was jy toe jy begin gholf speel het?

Carinus: Toe ek 10 jaar oud was, het ek begin om op die gholfbaan my pa se karretjie te trek wanneer hy Saterdagmiddag gespeel het. Wanneer my pa en sy vriende na die tyd in die kroeg drankies geniet het, het ek en van my pelle gou 9 putjies gaan speel.



Kliek hier

vir die volle onderhoud.