Dear Members, Clients & Friends,

As I am drafting this insert we are saying goodbye to a member who was one of our long term supporters and a very enthusiastic golfer - softly spoken Johan Naude, who passed away where many golfers would not mind going - on the golf course last Wednesday. Our sincere condolences to his family - rest in peace Johan.

There is lots to write about and introduce in this week's section: A success story, a great fitting day coming up, as well as introducing a new and exciting event which will take place monthly at the studio, and more general range information.

We Love Success Stories
At this golf club we love success stories in general. I will be bringing you at least one success story from the range and studio every week from now on. These stories will mostly have to do with our coaching and fittings, or best of all, a combination of the two!

Therefore, this week, I bring you the success story of Stellenbosch member Brendon Fourie. Roughly 6 months ago, Brendon's father, Willie Fourie, came to me to organize some lessons for himself and Brendon, also with an eye on a fitting for new clubs for Brendon, and maybe also for himself later.

Cutting a long story short, father and son (both left-handers), improved initially from the coaching pointers I could give them using the FlightScope technology we now have at hand, which cuts out any guesswork.

About two months into the lessons we decided the time was right for Brendon's fitting which I organized with Cleveland Golf. Having given Brendon some lessons already, and having gotten to know his swing made it much easier for me not only to ascertain which clubs would suit him, but it also made the fitting process so much easier, as the Cleveland/Srixon/XXIO representative, Riaan Roux, could get some immediate feedback from me as to what would be most useful for Brendon. Had Brendon gone somewhere else for the fitting this bit of vital "background information" would not have been immediately at hand.

During the fitting we could truly see what a difference modern technology does indeed make and below is the proof in the form of a "before-and-after" shot plot on FlightScope.


| | |
| --- | --- |
| Old club's data | New club's data |

As you can clearly see from this data, there are two major differences/improvements from before to after - firstly with his old set he was losing too many shots to the left, and secondly he could not get any decent height on his ball flight. On the course this would mean missing many greens, as well as the ball approaching a green too low, making it difficult to stop the ball. The technology in the new clubs clearly let him hit the ball much better with the same swing. There was also a significant distance difference as a bonus.

Of course there is nothing wrong with his old set's brand - this was just a typical case of not ever having been fitted correctly and therefore no matter how hard he would try, Brendon could not produce any really good or consistent results. Nobody nowadays can argue with modern technology, and a set older than 5 years is just not going to perform as well anymore as today's clubs, especially in terms of distance and forgiveness. Now Brendon also has a huge advantage in that his coach is at hand to guide him on how to use his new clubs to the maximum advantage - the best combination!


The ceremonial handover of the new clubs!

The moral of this success story? You should seriously consider having a professional fitting done at your home club in a world-class studio with a world-class coach at hand to guide you through the process and then some! Another word of warning, and I will be repeating this quite a lot in my future newsletters - finding a "bargain" somewhere but not being fitted for it properly, will most often ironically lead to you paying more in the long run in the form of frustrating golf and paying bets!

We are also proud to say that our prices are very competitive in any case, even with the added "after-sales service" you will receive! This ties in with one of our discussion points from before - the advantages of letting us handle your fittings and club purchases.

Bear in mind as well that I do offer a 20-minute "fitting check" on the FlightScope which is fantastic just for checking whether (especially your driver) is set correctly for your swing, or just to receive a general recommendation for your game - this is the first step toward peace of mind on the course and more fun for you, and what's more is that it only costs R195, or R390 for 40 minutes. Book your slot here.

To all of the other success stories that have come for fittings thus far, well done, and you will also have your story making the headlines soon!

Easier distance, easier accuracy, easier golf | XXIO Fitting & Demo Day - Friday 22 June from 10h00
Speaking of modern clubs producing distance and forgiveness, this Japanese company with the catchy name truly is in a class of its own! XXIO, which falls in with Cleveland & Srixon and has our own hero Ernie Els as its new brand ambassador, is making waves with the ultimate easy-to-hit-better clubs. I have even witnessed someone who said he could not hit any driver into the air at all, hit this brand's driver high and handsome! The technology in these clubs is unbelievable.

I have also seen with my own eyes how these clubs produced an average of 3mph more clubhead speed right through the set, without swinging any differently, as compared to "standard" clubs (this by the way already equates to nearly 10m more distance, all other things being even). But if you add to this that the clubs let you launch the ball into the air much better, this adds even more to significant distance differences.

Do yourself a favour - bring your current clubs along next Friday, and lets see how much we can impress you! Should you like a fitting, please book a specific time here. See you there!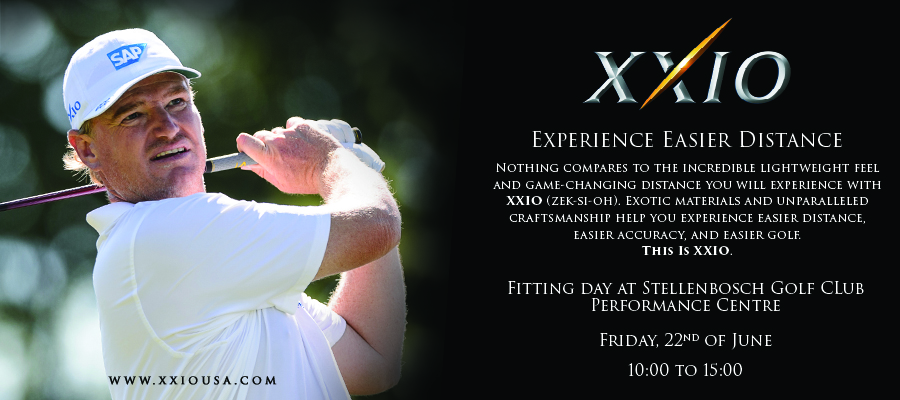 Introducing the FlightScope Skills Challenge 2018
Our new FlightScope technology is not only brilliant at helping me make very accurate recommendations for anyone's swing, and even now for the short game, but it also has a fantastic practice and entertainment tool called FlightScope Skills. The video below of kids having fun on it gives an indication of what it's all about - I can set up a myriad of different targets ranging from easy to more difficult, fairway or green shapes, close or far, which when hit successfully gets you allocated either 1 point, 2 points, 3 points and 5 points (bulls-eye!) announced via the speaker, depending on where on the target you hit. This not only adds so much fun to a session, but also increases concentration and makes it more realistic instead of "just hitting balls".


| | |
| --- | --- |
| Click to watch | |
From an events perspective, the Challenge will see teams of four taking on other teams once a month as well as an individual competition running concurrently. After every event, the points standings of the teams and individuals will be published, with the overall winners being announced at the end of November. Good prizes will be on offer for the eventual winners, and a lot of pride will be at stake as well!

However the main aim will be fun, fun and more fun just like the youngsters in the video's were having, so the studio will be transformed into something resembling a Top Golf venue, with a hamburger or boerie roll and a beer included in the entry fee.

Everyone I have spoken to about this cannot wait to begin! Obviously we will need at least two teams (the teams will name themselves) in each Division to start the fun. The afternoon on which this monthly (to begin with) exciting inaugural event will be taking place, as well as how the Divisions and the fees will work, I will publish next week.

In the meantime, please let me know who would be interested in taking part in such a unique challenge, which in essence is a form of golf, only with more entertainment! Please click here should you be interested. The events will begin at 16h00 in the winter months, and will be preceded by some club demonstrations in the summer months. I for one cannot wait to begin!


| | | |
| --- | --- | --- |
| | | Shots at target displayed with score and additional data display |

General
The new adjustable tees on the range have been another success story and we are looking forward to the grass area in front of the mats recovering, and a range that is now also safer for all, please keep it up!

Please be aware that from 16h45 you will now only be able to receive one bucket of balls, and up to 17h10, a half-bucket, as we do need a certain amount of daylight in order to collect all the balls. This is also to your advantage as there is nothing worse for your golf than rushing a practice session! We ask that you plan your practice session so that you are finished hitting balls onto the range by 17h30. Bear in mind that you are welcome to carry on chipping (and putting of course!) after that with your own balls. In no time we will be able to push the times later again.

In next week's section - another success story, a lot more about FlightScope Challenge 2018, as well as some additional fun events and clinics for ladies.

Enjoy the US Open at Shinnecock Hills, New York, the venue that gave us a US Open victory in the form of Retief Goosen in 2004.

See you at the range,


Erich & Team