Greetings members and friends of Stellenbosch GC,

Previously we wandered down memory lane looking into the club's history as we celebrated our 114th birthday. For today's trip, I wonder who can recognize the members in the photo below? It was taken shortly after the club's inception! (only joking). One of the gentlemen has also served as President of Stellenbosch GC and he still tees it up every Sunday. I have thus concluded that if you drink brandy and wine, you will have many happy golfing years!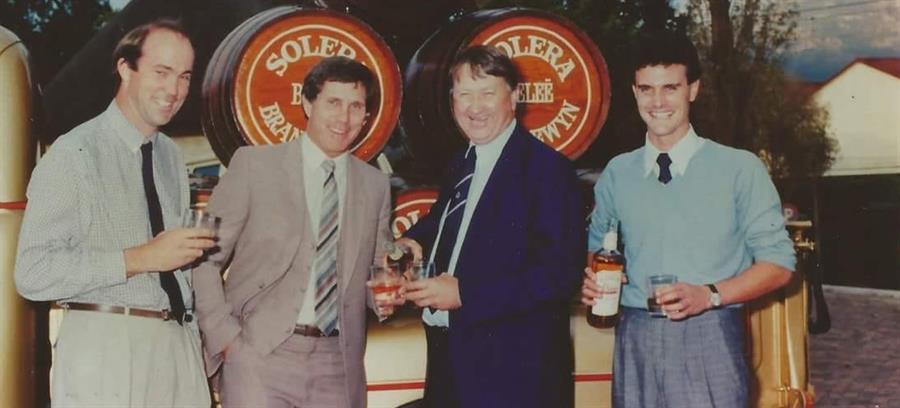 As the tradition continues, I wonder just how many members know what the meaning is of a Dog License and what happens to you, a golfer, if that very dark hour (or shall I say number 7 & 6) is the final result of the game? I get goosebumps just writing about this tradition that has crossed my path before. It goes back to when an owner had to pay 7 shillings and 6 pence for his Dog License, from there we all know that a dog drinks his water from a bowl. So, if a golfer lost his matchplay game 7 & 6, he would drink a 'shot' from a bowl (sometimes even going down on your knees to drink it!). This usually inspires golfers, and most will never have a second one in their golfing life. Who does not love traditions?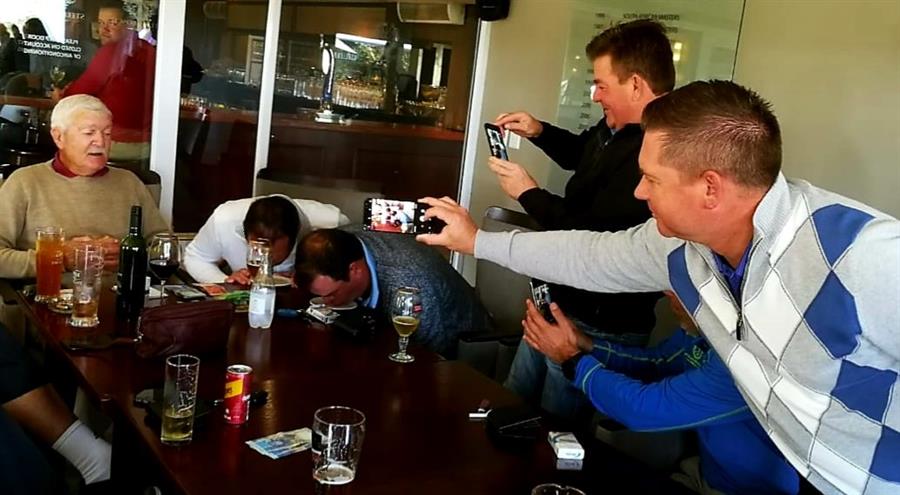 Past Captain Eben Acher smiles as he handed out a Dog License on Wednesday

Congratulations, Taswald!

On Monday afternoon (30 July) our caddies and course workers tee'd off for their annual championship. This is a very competitive tournament and is played over 18 holes of stroke play with no handicaps. I have tried to change it to Individual Stableford, but with no success! Coming out on top on the day was Taswald Koopman with a score of 78, in second place was Martinus Plaatjies shooting 9 over par, and in third place was Marius Wenn shooting 11 over par. These guys are also doing very well in the 2018 Boland Caddies League. Well played and keep up the good golf.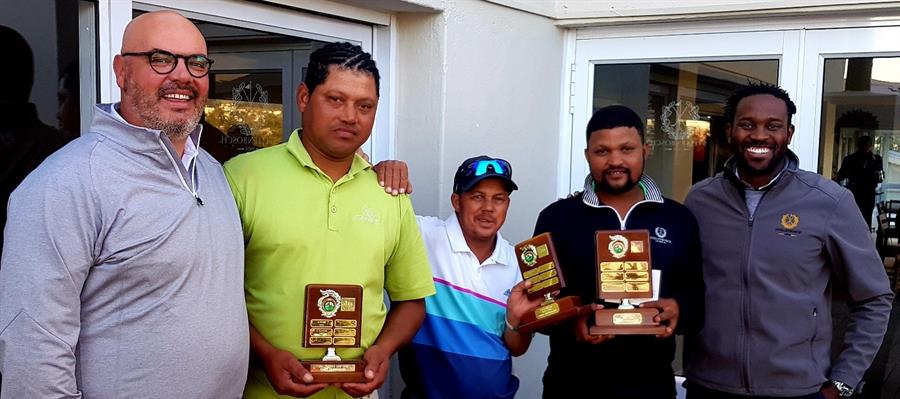 The two guys smiling are the two who didn't play – Marius, Martinus and Taswald (from left to right)
Group One Nissan/Renault Challenge
Wednesday, 1 August, saw the 6th round of the Group One Nissan/Renault Challenge being played. With a full field of 112 golfers in the winter day field, leading after six rounds is Johan Hugo and Garfield Mostert with 265 points. They are 7 points ahead of Christiaan Laubscher and Tiaan van der Merwe, who if memory serves me well, I can remember was in the running right to the end last year also. It looks like we are heading for another epic final few rounds. Winning the 6th round was Marnus Raath and partner Arne Cederval with 48 points. The final will be played on the 10th of December with four more rounds having to be played.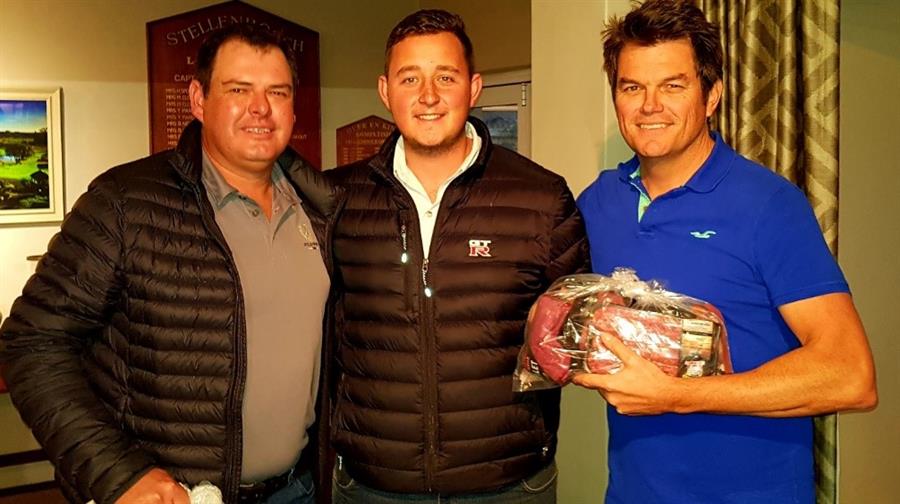 Marnus and Arne with sponsor Tiaan from Group One Nissan
1

J. Hugo & M. Mostert, 265
2 C. Laubscher & T. van der Merwe, 258
3 J. van Rooyen & N. Heerschap, 255
4 P. Coetzee & J Bredell, 245
5 R. Bosch & C. Potgieter, 244
4 B. Grib & P. Slabber, 216


5

D. Joubert & P. Henning, 213
6 E. Archer & K. de Bruyn, 209
7 A. Crafford & T. Kotze, 206
8 N. van Staden & A. Kotze, 204
9 G. Jonas & PH. De Villiers, 175
10 C. Nel & F. Kieks, 173


Member Achievements
Justin
pegged it up on Thursday and Friday at the 100th PGA Championship. He will become the first member of Stellenbosch GC to achieve this, with Oliver Bekker becoming the first member to play in the US Open - two very special achievements! It's great to have these golfers part of the club and we look forward to many more major events for them! On a side note, it's great to see Tiger back and wow, what a year Brooks Koepa is having. First the US Open Champion and now the PGA Champion for 2018!

Some more good news as we celebrate Women's month, member Karen Maritz won the Sanlam Cancer Regional qualifier and will be going to the final at Sun City later in the year – very special and well done Karen!
Mary Queen of Scots Competition
We started the Women's Day celebrations with the annual Mary Queen of Scots Competition on Tuesday. The afternoon kicked off in true Scottish style with cold and wet weather, but once the ladies made the turn, the weather turned with them. That gave me (The Scotchman) an opportunity to go out and spoil them with a wee dram of whiskey! I must thank Scottish Leader for making it possible to spoil the ladies and making the prizegiving a little more special. The Captain's side of Leonie Malherbe tied against the President's side of Niki De Jager, with both teams finishing on 8 points and so sharing the Mary Queen of Scots title in 2018. Winning the little surprise Combined 4BBB Stableford Competition was the queen team of Coral van Niekerk, Elria Nienaber, Lauretta Maree and Vossie van Schalkwyk. We are blessed to have such a vibrant group of ladies at Stellenbosch GC. Cheers!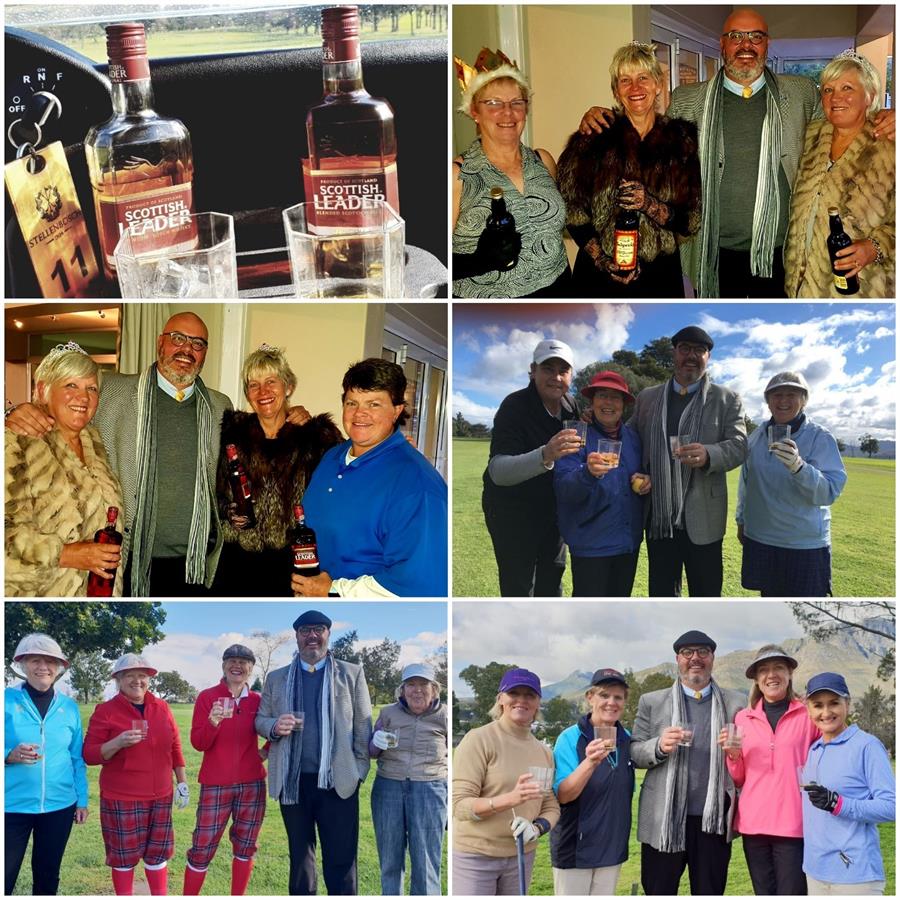 Lovely day with the ladies as we celebrate Women's Day and Mary Queen of Scots
Wednesday Competition



On Wednesday ABC Security will be joining us again, I hope you have booked! The weather is looking good and the course is in a great condition. Personally I don't like to stimp a green, but hey with them running like they have the past couple of weeks, I had to find out and was not surprised at all to see them running on average at 10.5 with the fastest 14. Not bad for winter. Well done to Neil and his team from STM for the great course they present us, how good is the new tee looking on the 18th?

A sad farewell
I end off on a sad note this week as two past Captains of Stellenbosch Golf Club have passed away. Chris Perold (1999) who was the Club Captain during the SA Open at Stellenbosch and when I started working at Stellenbosch GC many years ago, passed away at the age of 82. I have many fond memories of Chris as I know many of you will also have.

Evert Nel was Club Captain in 2007 and although he lived at Pearl Valley, he was still a full member of Stellenbosch GC and often enjoyed a game here. If you would like to attend Evert's memorial, please click here for full details.

RIP, you will both be missed at the club!

All the best,

Louis