Hello hello,



Your chance to win a golf membership!



If you played on Saturday or Sunday, you would have seen Abacus has yet again put up a golf membership for a year as the top prize for this year's ABACUS Eikestad Classic Raffle. Did I just hear you say – WOW! I know our lucky winner of last year, Ciska Serfontein, is definitely going to buy a ticket or two...Don't loose out, buy your ticket the next time you visit the pro shop!

Our weekend golfers would also have noticed some lovely new signage on the golf course, for the rest I have inserted a picture.



Things are heating up in the Blaauwklippen Cup!

The members from De Zalze enjoyed the home course advantage and comfortably won the second round of the Blaauwklippen Cup on Wednesday. Going into the final round they lead by two points, 25 vs 23 after a 15 points to 9-points victory. Well played to our neighbours, we will meet them in the final at De Zalze on the 14th of November!



Thank you Group One Nissan and Renault Stellenbosch

Round 8 will be played tomorrow and with three rounds to go anything can still happen! This must be one of the best supported days each month, with fantastic prizes and for those who forgot the use of a car for the year to the overall winners. Group One Nissan and Renault Stellenbosch are such amazing partners of Stellenbosch GC. To Carl and his team, we really appreciate your continuous support during the past few years!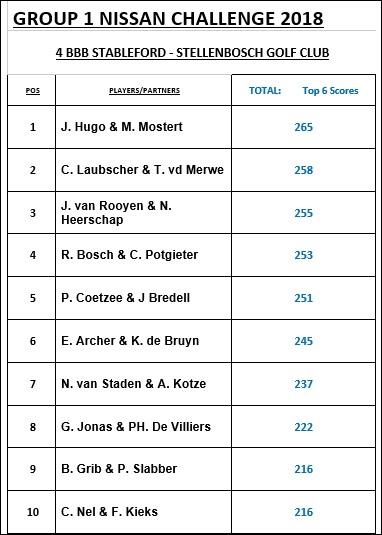 Johan Hugo rings the bell at the annual ODD BINS Day

Also, on Wednesday we hosted the annual ODD BINS Day, with its unique format, both in scoring and starting! Ladismith Cheese joined in to spoil the players and although I could not be there (as I was bringing in some much-needed points next door) the members who played enjoyed it as always! Winning the day with 124 points none other than Gerrie Jonas, Leon De Wit, Derrick Roper and Carel Goosen. Johan Hugo celebrated the day with a hole-in one on the 13th hole – congratulations, to both the winning team and Johan for his perfect golf shot! Before prizegiving the players enjoyed some lovely wines and cheese platters. Checkers really supports Stellenbosch GC, let's really go and support them! Thank you from all of us...




Now who does not like a bottle of Pinotage or three?

Being International Pinotage Day last Saturday, some members went all out to celebrate this very special cultivar home grown and proudly South African! I hope you all enjoyed a special glass and remember to diaries the 28th of November when Beyerskloof will be hosting the members for the last time in 2018 in their Grand Finale for the year. Yes please!


Meet our new guest
The October winds blew hard last week, luckily we did not lose any trees, but sadly one little owl lost his nest. I can report that he is doing well and is eating and drink like a happy little camper as oom Koos takes care of him. Most of you will remember Yottie. He also fell from his nest, oom Koos looked after him till he was big enough and strong enough to be released back in to the wild, but safe environment of the golf course. Our new friend has not been named yet, but I do know he is in great hands!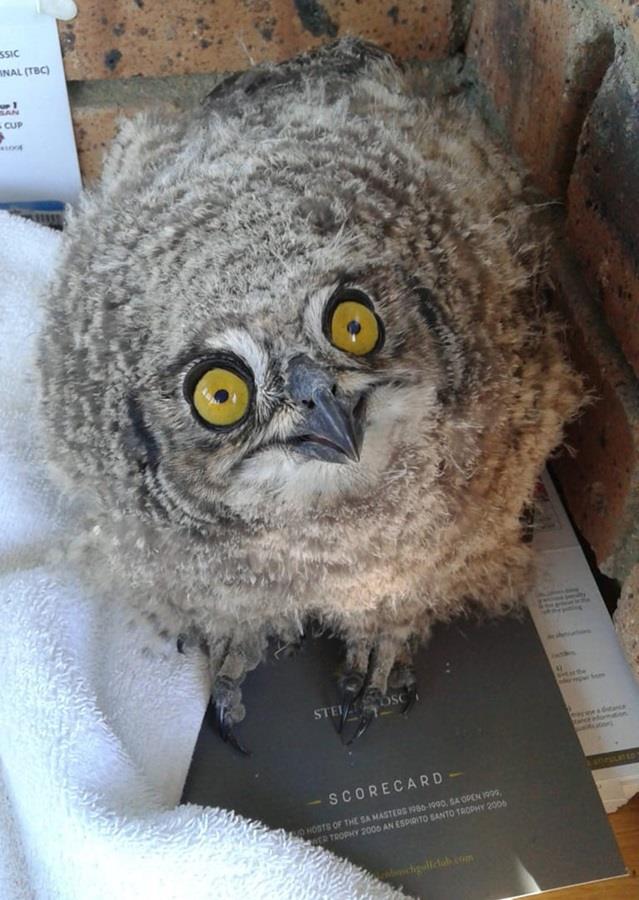 Best of luck, Justin!
Justin
played in his second PGA Tour event for 2018 and finished in a respectable 43rd position after finishing the event on -9. The CIBM does not have a cut after the second round and is a $ 7'200'000 event played in Malaysia. Justin received an invite as he is currently in 6th position on the Asian order of Merit. He is taking a break this week before pegging it up in the WGC-HSBC Championship in Shanghai in a $ 10'000'000 event, after which he will be heading home….. Best of luck Justin, let the Stellenbosch flag fly high!




We have a winner!



Our Greens Chairman walked away as the lucky winner of the 100 Year Reserve Titleist golf bag. I must say he did support them the best over the last couple of months! Enjoy the bag Rudi, many you have many more happy rounds!


I'm off to the North, to spend a couple of days in Gauteng with some friends on a number of lesser heard golf courses...I will be seeing Vivian on Thursday and will send regards from you all as I join them in their Beyerskloof Golf Day and Snoekbraai. Then it's off to Steyn City, followed by Blair Atholl and finishing off at Royal Johannesburg and Kensington Champion East Course. I'm looking forward and will have a few pictures ready for next weeks Dog's Tale.

All the best,

Louis