Sunday, 18 November 2018





With hollow-tining complete, our focus is now on our prestigious annual Member-Guest Tournament happening on 14 and 15 December. Entries have opened. Priced at R1,500 per team. This includes Thursday, the 13th, evening's start off to the tournament with welcome drinks and canapes at 18:00. Play is scheduled on both Friday and Saturday as shotgun starts at 08:00 for the morning field and 13:00 for the afternoon field.

Format is Betterball Stableford for the Friday and combined Stableford on Saturday.

Prize-giving and the dinner to follow the completion of the golf, hosted in the Banqueting Room, Oubaai Hotel.

Entries close on 10 December. Only entries via email will be accepted. Please email your teams to Thinus.




Toilets at Hole #6

As some of you are aware, we have closed the toilets on the sixth hole for maintenance work. We apologise for the inconvenience and we hope to have the work completed shortly.



What's happening at the Pro Shop?



The one dozen Srixon Ball promotion is almost complete with only a few available! Don't miss out! This is how it works: buy any dozen Srixon balls, choose your favourite number (1-100) from the raffle board and you stand a 1 in 100 chance of winning R10,000 to spend in our Pro Shop! When we have sold the 100 dozen balls the winner will be drawn from the selected numbers! Don't miss this opportunity – make sure you buy your dozen Srixon balls!

We are expecting new summer stock to arrive shortly. This includes Adidas and Under Armour for men and ladies. We are also waiting for our new Annika and Kate Lord for ladies.

We are extremely excited to announce that we will be stocking Duca del Cosma, a range of the handmade Italian shoes! We will have five new styles for the men and five new styles for ladies. Expected delivery is in the next 10 days, so watch this space!

If you have any questions regarding the promotions, or anything else, please feel free to contact us.



Knockouts update



Men's Singles Semi Finals
Johan Pretorius awaits the winner of Willem Marx vs Warwick Head and Gawie Kolbe vs Sean B

Men's Betterball Semi Finals
Chris Heunis and Leon Schultz vs Werner Terblance & Paul Sumner
Pieter Els and Giel Hammel awaits the winners of Carl Grobler and Gawie Kolbe vs Gavin and Dylan Melville

Mixed Betterball Final
Warwick Head and Maggie Anderson await the winners of Marialese Coetzee and Pieter Els vs Ingrid and Danie Herbst

These matches need to be finished by the end of November 2018. Please make sure you organise them and play in good time.

George fires

We would like to thank members for their support and understanding when we closed the course on Monday so staff in affected areas could evacuate their homes. We managed to attend to all the Oubaai employees and with the change of wind and the rain, the fire changed direction and Blanco, Fernridge and Bergville was relatively unharmed.

Having witnessed the ferocious power of fire and wind makes us realise how vulnerable we are on the Garden Route. Our thoughts and prayers are with those who lost loved ones and homes in the fire.

Until next week,

Rob



Dear Members,

With hollow-tining complete and the greens in their final phase of closing, we are focusing on normal maintenance. You may notice some blue dotted lines where we are shaping fairways. We are loosening and raking bunkers to improve the Oubaai bunker experience.

The polgras have been treated on the range and parts of the course. You may notice areas of yellow grass where we sprayed the polgras. We will continue spraying all the polgras with the chemical solution over the next few weeks.

We have treated the tee boxes for poa. Although it looks quite drastic on some tee boxes we expect a quick recovery.

Please stay on the cart paths for as long as possible and respect the areas around the greens. We also appeal to members to fix their pitch marks.

See you on the golf course,

Igor





Fasten your seatbelts, these last two months is crammed with golf events.



1 November
George Suid Skool Fundraiser

10 November
Melkemmer

12 November
SCGU: Ladies Awards Golf Day

16 November
Glenwood House School Golf Day

24 November
Bergies See Fun Day

13 December
AGM

14-15 December
Member-Guest

Do not miss out. Sign up and reserve your spot today!



Making more putts, reducing three-putts, has a direct impact on your scorecard.
Find a putter that best suits your technique and the conditions of the courses you play.

Putters can be adjusted to fit your
exact putting technique, specifications,
and preferences to ensure you make more
putts more easily.

What you think you're doing wrong versus what
you're actually doing wrong is probably skewed.
Let us improve your putting.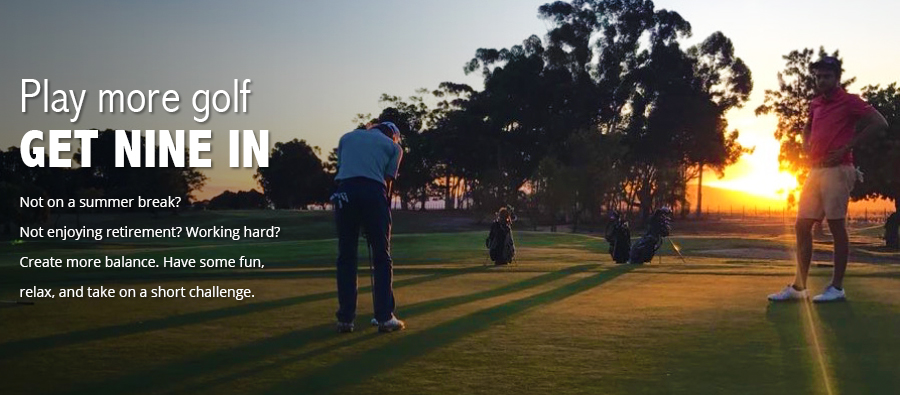 What a great way to start a day or end the day. Keeps your swing in the groove.
Helps with physical and mental well-being. Keeps you in touch with friends. If you only have an hour,
then why not play 4 holes with a Professional and use it
as a fun way to get some coaching?