Halloween Boss of Bar

Join us this evening for some ghoulish fun!





Are you ready for the Rugby World Cup Final?



We are – and we've got you sorted if you also want to play golf. Saturday morning's field will be a shotgun start at 06h30 – motivation for that four-hour round! We'll help with a grab & go option at halfway.

We'll also have a one-tee start in the afternoon, from 11h30, which will help to accommodate people who want to watch the rugby & then play nine-holes! Call the golf shop on

(012)654-1144

or book online at

www.zwartkopcountryclub.co.za

.





November Par 3 Eclectic



We are challenging you to a Par 3 Eclectic Competition in November. Places are very limited so make sure you enter in the golf shop as soon as possible. Entry is free and the best total nett score on all the Par 3s in November will win a

Cleveland Wedge

.





Congrats to our super-star juniors – we are so proud of them…





Christiaan Mouton

(third from left in group photo), was a part of the winning Super 12 League while

Leander Wentzel, Wandre Snyman and Andre Makkink

all made the Gauteng North Primary School golf team.



Elsabe and Justin give individual and group junior lessons, so contact them to get your kids into the fabulous game that is golf! Contact Elsabe on 082-922-8408 / elsabe@zwartkopcc.co.za .

Zwartkop Member-Guest
Saturday, 9th November - PM

We still have space for you to be a part of our member-guest event. You need to invite a non-member to play with you!

Zwartkop Anniversary Mixed



Sun, 10th November



Always a fun social event. Call the golf shop to enter on

(012)654-1144

or enter online at

www.zwartkopcountryclub.co.za

.



Junior Order of Merit Competition

This is a great way for our juniors to compete and improve their game!



Call Justin for details on

082-925-0236

.




Let us help you play better golf...
This week Elsabe advises you on your alignment when teeing off the fifth tee.



Practice with Purpose in November

Join Elsabe and Justin as they continue with

Breaking 80, 90 & 100





Every Wednesday from 12h00 – 13h00

– Breaking 80 & Breaking 90.


Every Thursday from 08h30 – 09h30

- Getting Started or Breaking 100.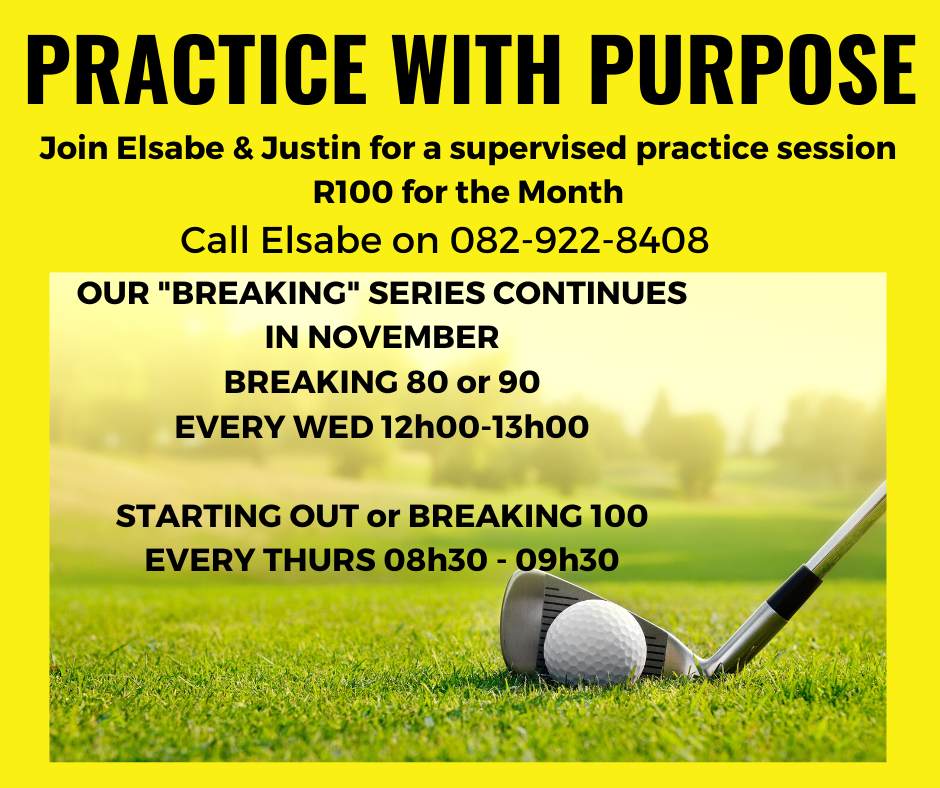 Saturday Jackpot



During November the Saturday Jackpot will be done over all Par 3s – so the best performer across all the par 3s will win the daily jackpot.



Wingate / Waterkloof / Zwartkop alliance



We have an alliance between ourselves; Waterkloof and Wingate, which allows you to play at their courses at members' rates.



Please do remember to follow the rules when using the alliance: -


• Bookings can only be made by our golf shop staff so contact Ian, Joseph, Vusi or Johan and they will make the booking on your behalf. Please do not arrive at Wingate or Waterkloof without an advance booking having being made by our staff!
• Bookings are subject to availability and can only be made one week in advance for games Monday to Friday and Sunday.
• Bookings for Saturday afternoons can only be made the day before.
• Saturday mornings are excluded from the arrangement.


Product of the Week - Cleveland Frontline Putters



Speed Optimized Face Technology

—SOFT—is how we fixed the distance problem. You know, like when you're sure you've hit a 6-foot putt, but the ball stops short at 5?

Turns out, that comes from miss-hits.
By moving the centre of gravity to the front of the putter and having
SOFT, a groove pattern on Frontline's forged aluminium face, speed is added on off-centre strikes. So hit it off the middle or… don't. You'll still get the same distance and therefore hole more putts.
You've come this far, now get closer

Crisp contact each time

When you're within 100 metres, you want to get your ball as close to the flag as possible. A more forgiving wedge makes it easier to do that. Cleveland's new CBX 2 is that more forgiving wedge.

The CBX 2 will get you there.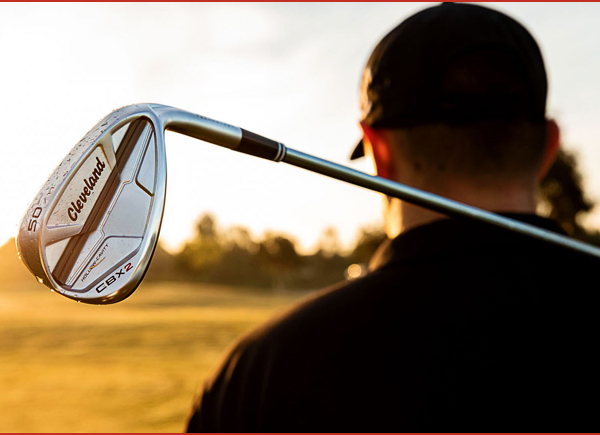 Trust your wedge

Most amateur golfers hit the ball near the toe. They know what it's like to see their ball fall short and right of the green. But with a sweet spot that extends to the toe, the CBX 2 makes it easier for you to trust your club.

Stick it to the flag

.
At the end of a round, take your wedges to the practice green and check your shot dispersion.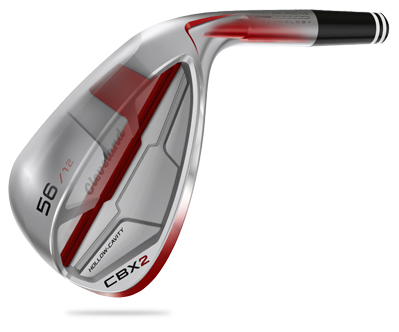 Sizing up the sweet spot

A bigger sweet spot gives you better distance control because it makes the club more forgiving, making you more consistent. A heavy weight placed in the toe of the CBX 2 Wedge increases its MOI and perimeter weighting for extra forgiveness.
Let's go greenside and get you closer to the flag


If you want to have more fun around the greens improving your wedge play is key. Let's get out on the course together and help you do both.
Contact us >
Fix par 3 mistakes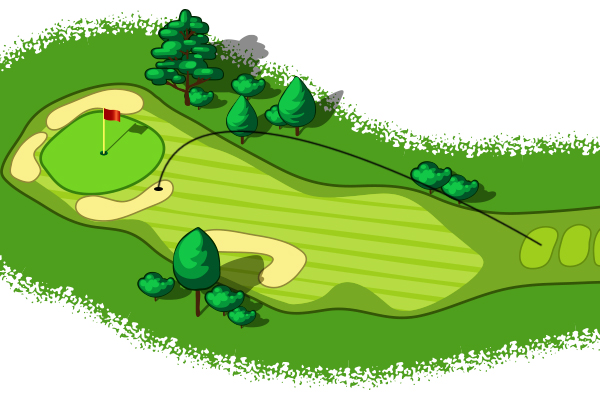 Many golfers fall short of par 3 greens because they select a club based on a perfect shot. But perfect shots are rare.

What matters more; hitting a good spot on the green or the number club you took to hit it?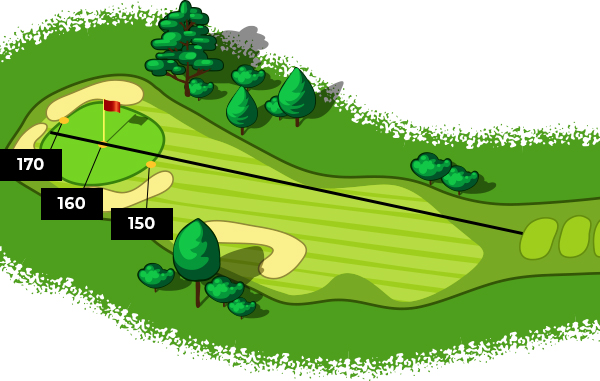 There are four distances you should consider on each par 3. The distance to the front edge, back edge and middle of the green, and how far you hit each club in your bag.
Knowing these numbers and considering the size of the green makes it easier to select the best club for the shot.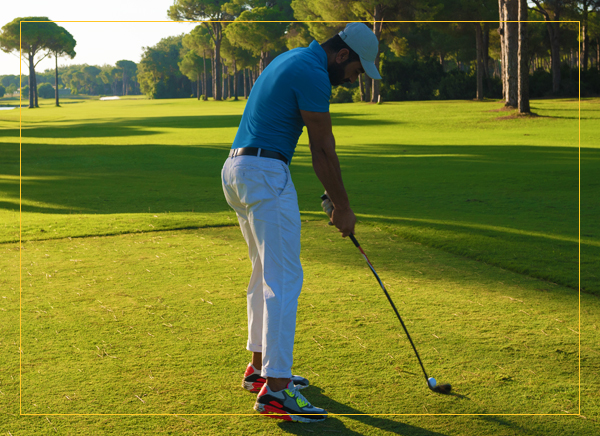 Never hit a hard number to reach the front edge of the green. Because if you don't get all of it, you will land short. If a perfect strike with a specific club gets you to the back edge of the green, that's a better option. Your swing should stay more or less consistent. It's the club that really adds or reduces the required distance.
Next time you're on the range take ten shots with the same club at the same target and note your average distance and dispersion.
Better course management
Swing improvement takes time, but good strategy brings immediate results. We'll help you make better decisions on the golf course that will put you into more scoring positions.
Play 9 with us >


This mail was sent to {{contact.contact_email}} by The Club - and is provided as a service for the members and guests of Zwartkop Country Club and the customers of the Zwartkop Country Club Pro Shop and has been supported and sponsored by advertisers in this mail and my partner suppliers:




RetailTribe: Unit 8, Blaauwklip 1 | Blaauwklip Office Park | R44 | Stellenbosch | South Africa | +27 (0)21 880 2693