Welcome to the team, Brandon!
Hello everyone, my name is Brandon. I recently moved to Cape Town after two years of working at Ruimsig Country Club in Johannesburg under Gavin Drummond. I am currently in my second year of my PGA course and will be a qualified PGA professional after completing my third year. I am looking forward to working with the team in the new shop and forming new relationships with the members of the club.
Brandon du Plessis
Metropolitan Pro Shop
Assistant Manager
Get your juniors into golf
Congratuations to

Debbie Gibb and Clifford Mijlof

for winning the Premier Packaging Metropolitan Cup with 2,275 points!
Captain Ioannis Kritzas and Dimitri Zitianellis came in close second with 2,200 points!

| | |
| --- | --- |
| | |
| 3rd Tony Dunn and Gunnar Hagelberg | 4th Richard Felder and Charlie Nunes |

The first Met Sundowner of the summer took place on Friday. Prizes and a tasting on the first tee were sponsored by

Jameson

. Players enjoyed a pizza and Stella Artios included in the cost of R315 after the round!

The next Sundowner will be in the new year! We hope to see you all there
!
The new deck is now open!

Bring your friends for a Sundowner and enjoy the beautiful view! There is nothing else like it!


Congratulations to our newest granny, Eileen Farrell!

Eileen participated in her very first Granny Cup on Tuesday and won with 38 points in the Individual Stableford Competition!

Monday School Comp
25 November 2019
4-Ball Alliance - 2 x Scores to count
Pos

Names

Score

Voucher

1st




James Mcnab
Johan de Villiers
Arnold Aichinger
Keith Gilmour
87 pts




R75




2nd



Jack Rathouse
Nick Fredman
Mike Wolffe

86 pts c/i



R40



Nearest the Pin:
18th
Colin Bell
Wine

Two clubs R20:
Keith Gilmour, Colin Bell
Granny Trophy
Tuesday, 26 November 2019
Individual Stableford
Pos

Name

Score

Voucher

1st

Eileen Farrel

38

R100

2nd

Roberta Ewan

37

R80

Individual Stableford

1st

Penny Murdock

36

R100

2nd

Sue

Moubray

35

R80

Nearest to the pin
6th Hole: Eileen Farrel Balls
9th Hole: Trish Weir Balls
Wednesday 27 november 2019
Combined Stableford
| | | | |
| --- | --- | --- | --- |
| Pos | Names | Score | Voucher |
| 1st | Spiro bouloukos and Ian Maclarty | 73 pts c/i | R150 |
| 2nd | Trevor Pothecary and John Crawford | 73 pts c/o | R100 |
| 3rd | Steve Newlan and Ioannis Kritzas | 68 pts c/i | R50 |
Nearest to the pins
18th Hole:
Yves Moutier R100
Two club (paying out R60):
Ian Maclarty, Dave Gordon, Jarryd Frauenstein, Vicki Morton, and Yves Moutier.

Thursday 28 November 2019
Betterball Medal
| | | | |
| --- | --- | --- | --- |
| Pos | Names | Score | Voucher |
| 1st | Tony Lupton, Roy Mccallum | 58 nett | R225 |
| 2nd | Kevin Botha, Vic Allen | 59 nett | R175 |
| 3rd | Neville Walker, Paul Klein | 62 nett c/i | R125 |
| 4th | Steve Newlan, Luis Rosa | 62 nett c/o | R75 |

Nearest to the Pin:
9th
Dave Heron
R100
15th
Hilton Stern
R100

Two club paying out R27:
Dave Gordon, Jack Schneider, Strati Zitianellis, Mike Liebrecht, Tony Lupton, Bill Cornish, Mike Texeira, Dave Heron, Kevin Botha, Ioannis Kritzas.
Exceptional rounds:
Kevin Botha- 64 nett (84-20)
Cliffy Mijlof- 65 nett (79-14)
Lowest gross:
Craig Smith -71 gross
Saturday Competition
30 November 2019
Betterball medal
AM
| | | | |
| --- | --- | --- | --- |
| Pos | Names | Score | Voucher |
| 1st | Jarryd Phillips and Wes Preece | 59 | R225 |
| 2nd | S. Uppink and S. Bagg | 62 | R150 |
| 3rd | Grant Muller and Robbie Trueman | 62 C/O | R75 |
Nearest to the Pin:
9th
Lauren van Rensburg
R100
15th
Jarryd Phillips
R100


2 clubs paying out R36:

Chris van Rensburg, Jarryd Phillips, Mark Sacks, Dave Jacobs, Ian Norden, Sam Roets.
Premier Packaging
Betterball Medal
PM
| | | | |
| --- | --- | --- | --- |
| Pos | Names | Score | Voucher |
| 1st | Mario Theodoropoulos and Derek Wille | 62 | R185 |
| 2nd | Richard Felder and Charlie Nunes | 63 | R170 |
| 3rd | Cliff Mijlof and Debbie Gibb | 64 | R160 |
| 4th | Jannie Kritzas and Demetri Zitianellis | 65 C/I | R150 |
Nearest to the pins:
6th Farrel Cohen R100
9th Richard Felder R100


Straightest drive (all day)
5th Colin Bell
Nearest (all day)
18th Steve Moubray



Two club paying out R38:

Farrel Cohen, Andrew Norman, Colin Smith, Billy Hughes, Greg Nichollas, Michele Marrai, Steve Moubray, Richard Felder and Gunnar Hagelberg.

Visitors:
Collin gordon
Exceptional rounds:
Farrel Cohen - 66 (8) 74
Mario Theodoropoulos - 64 (15) 79

Lowest gross:
Greg Nichollas - 74
Farrel Cohen - 74
A career in golf
What matters most to you?
Last week we asked if you could answer one question. With the ability to be entirely anonymous. We wanted to know how you viewed your position on a simple continuum. Where do you see yourself on your golfing journey?

At one end there's space for the person who sees golf totally as a competitive sport, and on the other end there's those that see it as a social and recreational activity. We're asking golfers to position themselves. Next month we'll publish a SUMMARY of how our community of golfers see the game.
If you haven't already done so
So, if haven't given a response then please follow the link below. It's a very short and very private survey – no personal details required – so go on
Think about your golf

The second statistic we want you to collect over 4 rounds, is your average score on Par 3s that are within iron shot range. If you missed last week's article, and the first statistic click here.

If you're often under 90 but struggle to get below 85 regularly, then there's a good chance that becoming consistent on the Par 3s will get you there.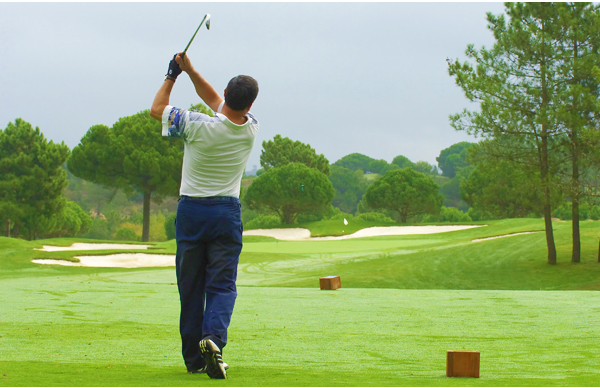 Two 3s and two 4s on your card and you're doing well. Three 3s and provided your steady elsewhere then you're likely to be below 85.
Improvements you can make that pay off on any approach shot:
| | |
| --- | --- |
| If we can make sure your rotation and ball striking is led by your large muscles and not your hands, then we can improve your consistency of contact and accuracy of result. | There're a number of consistent club and shot selection errors we see from less experienced or skilled golfers that often cost them a stroke per Par 3. It's an easy fix. |
| | |
| --- | --- |
| | "Improving your ball striking consistency, club selection, and shot selection on Par 3s will have a big impact on your approach shot performance on every hole." |
Book your skills assessment
Get an insight into your game. Discover what you could improve quickly. Let's plan an improvement journey together.
Contact us >


This mail was sent to {{contact.contact_email}} by Brad Forge and is provided as a service for the members and guests of Metropolitan Golf Club and the customers of the Metropolitan Golf Club Pro Shop and has been supported and sponsored by advertisers in this mail and my partner suppliers:




RetailTribe: Unit 8, Blaauwklip 1 | Blaauwklip Office Park | R44 | Stellenbosch | South Africa | +27 (0)21 880 2693