On the tee with Trevor
The 2019 Open Championship
Royal Portrush, which is on the North Coast of Northern Ireland, has been the most talked about Open venue in years. It's the first time the Open has been in Ireland since 1951 and the course is consistently ranked as one of the finest links golf courses in the World.



The Dunluce Links

, which is being used for The Open Championship, has undergone some changes in preparation for The Open, including five new greens, eight new tee boxes, ten new bunkers and the creation of two new holes, the 7th and 8th. These two holes were originally part of The Valley Course and have replaced the old 17th & 18th holes, which are being used for the tented village this week.

This year's total purse is

$ 10.75 million

. Of that, $ 1.935 million will be given to the winner. The Open is introducing a new play-off format. Instead of the usual four-hole playoff if players are tied at the end of four rounds, they will play three holes – the 1st, 13th and 18th. For the first time ever –

190,000

tickets were sold out prior to the start of the event.
You can catch all the action live on Supersport:

Day 1 - Thurs, 18th July – 07h30 - 21h00 (SS2)
Day 2 - Fri, 19th July – 07h30 - 21h00 (SS2)
Day 3 - Sat, 20th July – 11h00 - 21h00 (SS2)
Day 4 - Sun, 21st July – 10h00 - 20h00 (SS2)


Lunch is sorted!
Raubex development

We're excited about the new developments underway.
A big thank you to Raubex, who has made it possible to rebuild the bridge!

The rain can no longer stop us from playing our beloved sport.

Betterball Matchplay

This is sponsored by the Blair Group of companies.




Round 2

is to be completed before the end of

August

!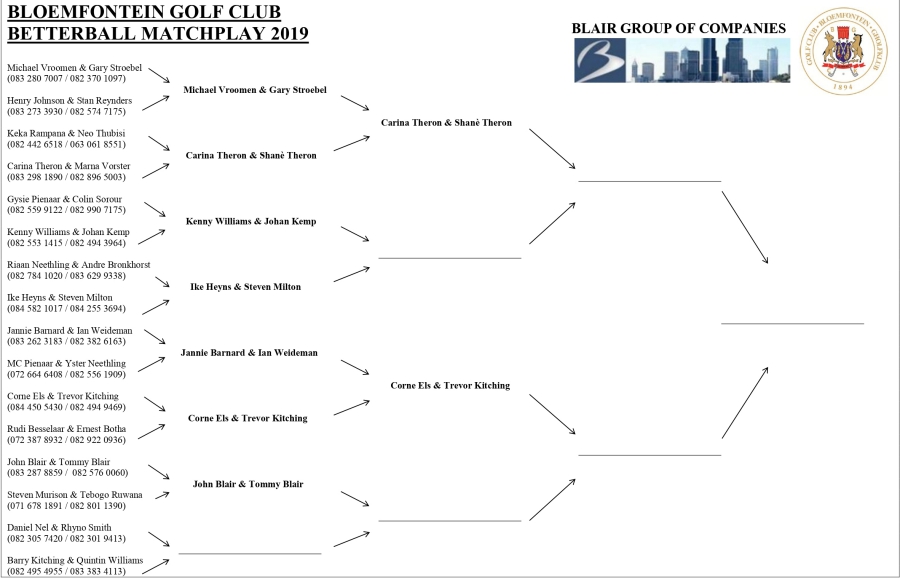 Click to enlarge
Upcoming events
Saturday, 20th July


BBS, kindly sponsored by NTT Nissan
Fun things ahead!

Wednesday, 24th July
The Race to Sun City



Thursday, 25th July


Registration for the Captains Cup



Friday, 26th July


Round 1, Shotgun start at 11h30



Saturday, 27th July


Round 2, also shotgun start, to be followed by the Gala Dinner
The 2019 Capains Cup | 25th (registration), 26th & 27th July
For any enquiries, please call Trevor on 051 / 4470906 or 0824949469
For the calendars



Don't just drive by...





BMW Golf Cup International Series





BMW

has launched a historic first-ever Golf Cup International Series. The S.A. leg of the series takes place as follows: Club, Provincial and then National.



Schoeman Park Golf Club

will host the club leg on

Saturday the 27th of July

.





Bloemfontein GC

members have been allocated spots as follows: men 48 & ladies 8.

Please call Estelle at Schoeman Park on

051 /1010619

to book your tee-off time.
There are only 20 spots left for BFN G.C members, as from the 9th of July. So, don't miss out!

The Provincial finals will be held at the Bloemfontein Golf Club on

Thursday the 19th of September

.


Play with the "Voice of Golf"
The Denis Hutchinson Tribute Tour with Dale Hayes

15th August 2019

The "Voice of Golf" Denis Hutchinson and Dale Hayes, invite you to enjoy 18 Holes of golf, and an evening with them as they discuss their long involvement in this wonderful game.


It's 60 years since Denis won the SA Open at Royal Johannesburg & Kensington, beating Gary Player by one shot. Hutch was still an amateur and remains the last amateur to win the SA Open. Bloemfontein golf Club will host this event on

Thursday the 15th of August.



Bookings now open! Contact Trevor or Janke on

051/ 447 0906

for more information.


Escape the winter blues



Treat yourself with a festive breakaway



When winter comes whirling in, we usually take cover under heavy jackets, woolly jerseys and duvets. The biggest challenge each morning is put one toe out of bed onto the freezing tile floor!

But winter can be fun, and warm, and snug. You just need the right people and the right setting!

Before winter properly sets in, make way for our Winter Special! This includes a bed & breakfast and a complimentary glass of red wine or gluhwein. Relax after dinner with a hot cup of coffee in the one hand and dessert in the other.

To book your winter retreat, call us on

051 871 4200

or

info@blackmountainhotel.co.za

.

Click on the image to enlarge.
What is your family doing this Sunday?



Anytime on Sunday




Families who golf together, stay together



Pack in your whole family for a grand day out on the course every Sunday!


Are you feeling lucky this week?

Stella Artois Friday Club Draw



The next draw will take place on the

19th of July

.

The rollover draw has been replaced with a 50 ticket draw @ R10.00 per ticket, the winning number drawn, will win 50% of the Value of the Numbers sold, and 6 Stella Artois beers.

The draw was won by Trevor.


Membership

We make it easy!

Through these tough economical times, we at the Bloemfontein Golf Club have started implementing affordable ways of paying your annual membership fees. We have a monthly debit order facility that has been very successful.

Please give either Lodia or Carla a call at

051 447 0571

, who will assist you in renewing your membership, or to become a new member.


July birthdays

Good reason to celebrate


19 July 2019
Corné LindeKeith Sorour, W.J Mostert & Frank Pretorius

20 July 2019
Morne Pretorius , Marcio Pereira
21 July 2019
Keith Starke, Klaas Kotze
22 July
Barry Kitching, Gustav Reinach, Steven Mabalane
23 July
Erik Kloppers
25 July
Johannes Theron
Who's been winning at the Club?
Saturday the 13th of July
B.B.B.B kindly sponsored by K.W.V

1st with + 11 was Renald Barry & Willem Van Den Berg (winning the c/o)
2nd with +11 was Rudi Botha & Ernst Botha
3rd with +10 was Carina theron & Marna Vorster
4th with +9 was Pieter du Plessis & Gert Henning
Wednesday the 17th of July
IPS sponsored by the Club

1st with 40 pts was Theo van Tonder
2nd with 39 pts was Ernest Botha (winning the c/o)
3rd with 39 pts was Brian Nel
4th with 38 pts was Christiaan Kruger