Saves 5 shots per round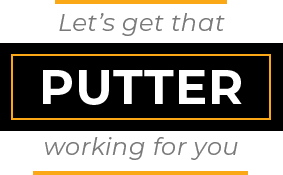 If you struggle to make enough 6, 8, 10 and 12-foot putts on a flat lie, there's a real possibility that your putter is getting in the way of your fun. If you're struggling, then set up as shown below and try 10x10 foot putts (on a flat surface).



If you're feeling uncomfortable in this setup, or you're still struggling to sink enough straight-forward, flat putts, then try a putter with a shorter shaft. What happens then? You might be very surprised.

The average shaft length on a putter is 35". That's too long for the majority of golfers. It's longer than the average putter length on the PGA Tour. Can you get into a posture that allows you to set up correctly and deliver the putter face square at impact with 35"?
Get a check-up

Improving your ability to square the putter face at impact will take up to 5 shots off your scorecard. There are some simple keys to that improvement. Setup and putter are part of that equation. So come and see us.

Book a check-up >