Lowry you beauty
Shane Lowry
of Ireland entered the third round of the British Open tied with J.B. Holmes at 8-under par. Several other contenders were within a few strokes, including a pair of Englishman, Lee Westwood and Tommy Fleetwood.
The 32-year-old Lowry rocketed past the competition with a course record 8-under 63, placing him four strokes ahead of Fleetwood for the lead, entering the final day at Royal Portrush. This meant he was 18 holes away from his first major championship.
"I just felt so comfortable out there and hope I do tomorrow," he told the Telegraph. "I have a tough 24 hours ahead of me, but there's nowhere I would rather be. I have a four-shot lead in an Open in Ireland. Tomorrow is going to be incredible no matter what happens."
And that is exactly what he did!
In addition, three Northern Irish golfers have previously claimed the Claret Jug. Rory McIlroy won in 2014 at Royal Liverpool, as did Darren Clarke in 2011 at Royal St. George's. Fred Daly also won at Liverpool in 1947.
Very special for Lowry and Ireland!
Justin did not have the best of weekends after his 65 on Friday, finishing the final major of the year tied 41, dropping just outside the top 50 in the world in 51st spot.

Get your kids into golf with the help of Target 36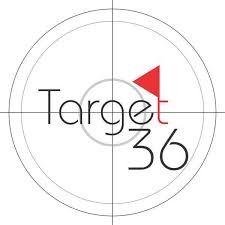 Kids are mainly introduced to golf, by a family member (father, mother, grandfather) or a friend and then along came Target 36! What a wonderful concept for young starting golfers... Kids get bored just standing on the range hitting balls (wise words my dad said) – like we all do. Normal golf courses are too long and difficult for them to play, sadly ending the fun factor very quickly. So, by the time the young guns are ready for the course this wonderful sport has lost so many of them, hoping to get them back later in life. Not anymore!

With Target 36 the course starts at

25m

, once the player scores 36 over 9 holes he moves on to the 50m course, then 75m, 100m, 125m and finally 150m. I can still remember the first time I teed it up in a competitive round those years in the Junior Foundation. Although my dad was there to support it was intimidating and scary.
Sadly, there was no easy way into competitive golf… That made last Sunday even more special for me when I walked with my son during his firs "competitive" round of golf and boy did he (and me) enjoy it! Pictured here with Justin is a great friend of mine Jeff Clause (smiling as always) and I cannot remember how many times he has said "remember boys, every great shot starts with a smile" these are such true words.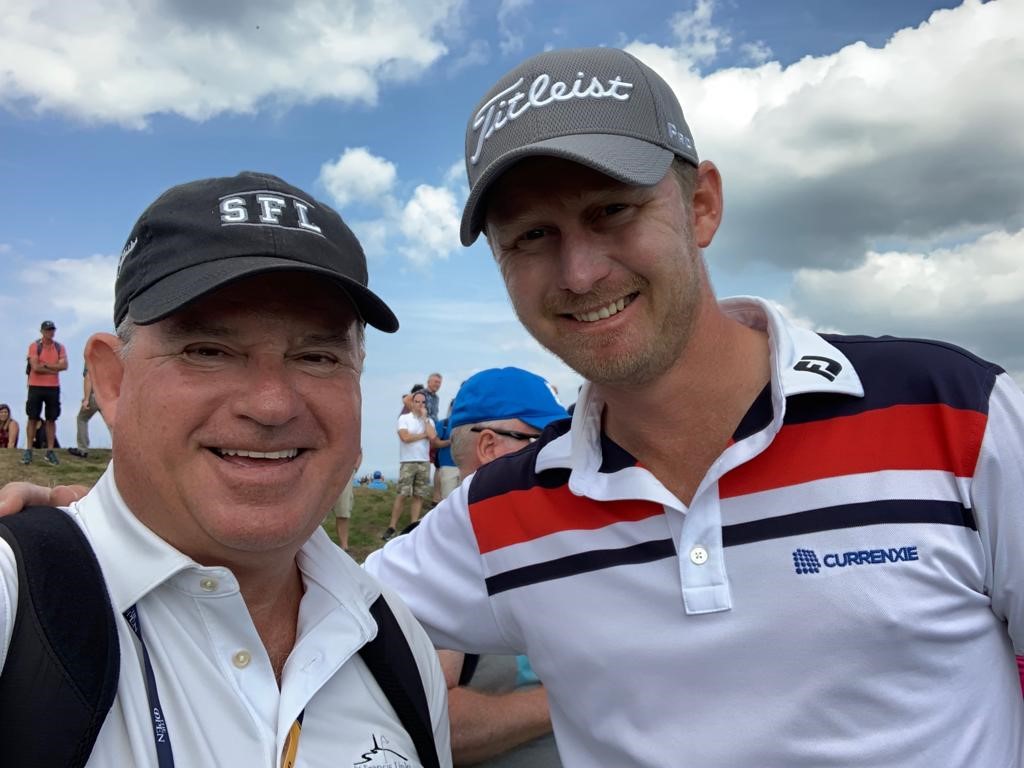 Everyone smiles when they get their picture taken with Santa Clause...

Yesterday it was smiles, smiles all around and we all loved it from the kids to the parents. I can go on and on about yesterday but I'm not going to, all I'll say is don't miss out on the next one if you missed yesterday's introduction – well done to all the kids! I'm still smiling today and can't wait to see you all again. #target36


Last week Wednesday round four of the Nashua Winelands Series was played, with a full field pegging it up in the

Betterball Stableford Six's format

. Stephen Stander addressed everyone (in Afrikaans) at prizegiving, while Stafford supported Justin at the Open. So, Stafford we can't wait for the next prizegiving, but more so your Afrikaans... Champions calculaters, regarding the format and playing the best golf on the day was

Arthur Johnson & Daniel Le Roux

, both shooting a quick 74 resulting in a score of 84 Stableford points, trumping Johan De Villiers and Jaco Spies who had 78 Stableford points.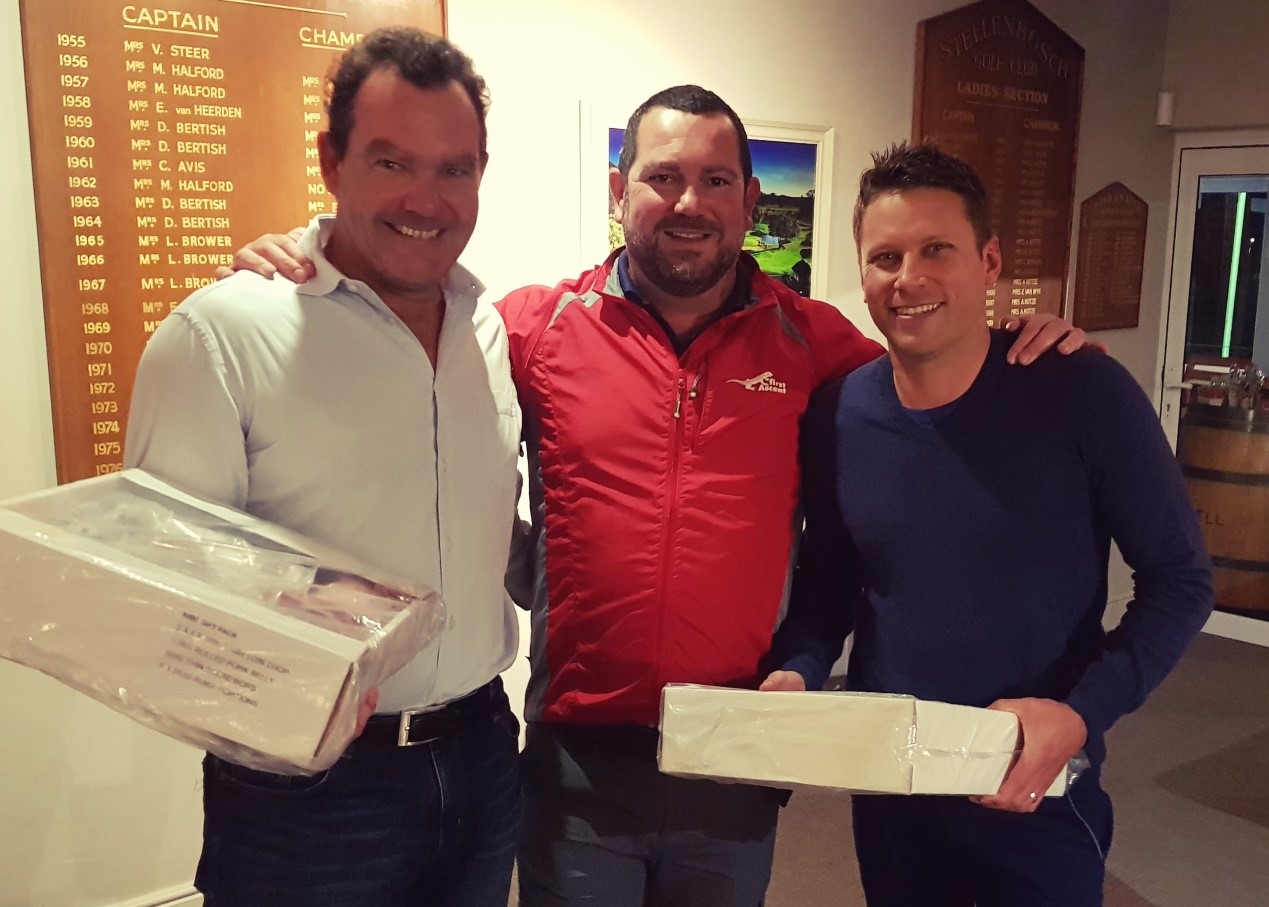 Arthur and Daniel with Stephen for Nashua Winelands
| | | |
| --- | --- | --- |
| Pos | Partners | Score |
| | | |
| 1st | C. Nel & F. Kieks | 284 |
| 2nd | N. Heerschap & D. Horn | 277 |
| 3rd | P. Van Coller & C. Van Coller | 273 |
| 4th | J. Mouton & F. Van Wyk | 253 |
| 5th | J. Hugo & K de Bruyn | 249 |
| 6th | F. Liebenberg & Marnus Raath | 243 |
| 7th | G. Jonas & L. Swannepoel | 213 |
| 8th | A. Crafford & T. Kotze | 210 |
| 9th | C. Potgieter & J. Roelofse | 207 |
| 10th | H. Husfeld & M. Kift | 195 |

Round five of the Group One Nissan Challenge will be played on Wednesday. That means we will have reached the halfway mark after this round… All culminating in December. It's quite scary to think that we have hit the halfway mark of the year with a packed calendar taking us to the end of the year. Here are a "few" events to look forward to...

August

Date

Event

3rd


6th
7th
14th
16th
21st
25th
28th


31st


31st

Cape of Good Hope Wine Series


Mary Queen of Scots
Group One Nissan Challenge
Nashua Six's
PRG vs Grey Collage
Harcourts BB Bogey Bisque
Monthly Mix Competition
ABC Security Alliance Stableford


Spring Cup (3 clubs and a putter) presented by Cluver & Markotter


Birdies for Balls launch
September

Date

Events

1st


3rd
4th


9th & 10th


11th
18th


22nd


25th
26th
Boland Mid Am Championship


Ladies Spring Cup


Nashua Six's
WP PGA 2 x 2 Challenge


Group One Nissan Challenge


Beyerskloof Alliance Stableford
Monthly Mix Competition
Harcourts BB Bogey Bisque


Stellenbosch Ladies Open Day presented by Medi Clinic
October

Date

Events

30th Sep to 5th Oct


2nd
6th
9th
16th
23rd
23rd
27th


30th

Vodacom Origins of Golf

.

Click here

for invite.
De Stell Cup @ De Zalze
(pm) to 9th (am) Hollowtining
ABC Security Alliance Stableford
Group One Nissan Challenge
Nashua Six's
Stellenbosch GC AGM (following prizegiving)
Monthly Mix Competition
Odd Bins (Alliance)
November

Dates

Events

4th - 9th
13th


13th


20th
24th


27th


30th
Abacus Eikestad Classic


De Stell Cup (Final course TBC)


King of the Shirts
Group One Nissan Challenge
Monthly Mix
Beyerskloof Alliance Stableford


Parent & Child Trophy (am) presented by Dr Hertzog and family
December

Dates

Events

3rd


4th
6th


11th


24th
31st


Ladies Xmas Day presented by Investec


Captains Day presented by Investec
Els for Autism Day
Group One Nissan Challenge Final
Xmas Eve Competition
New Year's Eve Competition
On the corporate day side the calendar is full from August to November on Thursdays & Fridays and we can only thank the loyal supporters during the year, as this puts the club in a very fortunate position.

Never fear with Louis near, there will of course be a fun event that we'll slip in every now and again on and off the golf course – making Stellenbosch GC everyone's destination of choice… It's all about the experience!

With 155 days to go before Christmas, lets enjoy the last bit of the year, as the saying goes: Time flies when you are having fun!

Let it fly,
Louis.




In Die Skroewe deur Riaan Gerber



Op die plaas Simonsig word al vir dekades van Suid-Afrika se beste wyne gemaak en

Frans Malan

was 'n ware pionier in die Suid-Afrikaanse wynbedryf. Later het sy seuns by hom oorgeneem op Simonsig.

Een van die seuns, Francois, is sedert 1985 'n lid van die Stellenbosch Golf Klub en sy geesdrif vir die spel neem net elke jaar toe. Hierso volg my onderhoud met hom.

VRAAG: Waar was jy op skool en aan watter sportsoorte het jy deelgeneem?
MALAN: Ek was op skool by Paul Roos. Rugby, krieket en later tennis by die Bottelary-tennisklub.

Lees die res van die onderhoud hier.