Please consider the environment before printing this newsletter.
Click here
to join the Zwartkop Country Club Facebook group.
A Tribute to Rodney Falkson by Stuart Bouwer

It was with deep sorrow that we heard of the passing of Rodney Falkson on the 9th August 2019.

Rodney was a true sportsman who loved outdoor sport. He was a wonderful cricketer, golfer, and bowler. His integrity and loyalty always shone through.

He joined Zwartkop 51 years ago and remained a member until his passing. He was a member of the Nomads Golf Club for over 40 years and must be of one of a few golfers who had a 400 game badge. He was also a member of the 21 club for over 30 years.

There can be no doubt of his love and passion for the game of golf. With his friends and fellow golfers, he enjoyed his Saturday golf at Zwartkop and went on many local and overseas tours.

We send our condolences to his wife Dorienne, his son's and grandchildren.We are going to miss you Rod. Rest in peace.
The funeral service will be held at 12h00 on Wed, 14th Aug at St Francis Church, 387 Albert St in Waterkloof.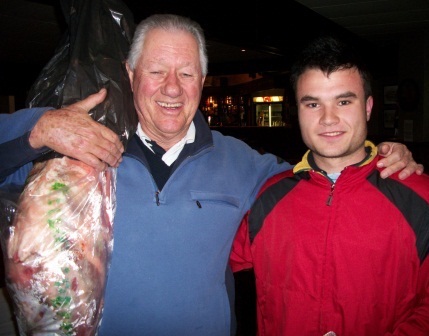 Rodney Falkson
We had some incredible feats by members over the weekend…
Hole-in-one
Johan du Plooy
had his first ever hole-in-one on the 7th Hole on Friday. As it was in an official competition and witnessed by at least three players, he also bagged a

Dream Vacations

holiday prize valued at R25,000! Well done Johan!

Best Round
Congrats to

Dody Leijenaar

who played her best round in years on Friday. She scored 40 points. Even her caddy said to her; "you must be having a good day because you have not said once that you are giving up".
Johan du Plooy

Dody Leijenaar
Biggest Blooper…



A feat that wasn't incredible – in fact one that would have been rather regrettable, was

Jacques van Schalkwyk

, who fell into the river on Thursday… Check out this video Dale did with him after his round.


Talking about the river



Our staff have been incredibly busy and have collected over 500 – yes 500 – refuse bags full of rubbish out of the river over the last week - and that is only between the 4th green and 8th greens! We have put a lot of effort and staff into the clean-up and while the progress is dis-heartening and never-ending, we hope you notice the difference.



From Jannie Coetzee, President of the Lions Club of Centurion Lifestyle



Zwartkop is home to the Lions Club of Centurion Lifestyle (LCCL).
It is where we meet socially, and also hold our monthly meetings (7pm every 3rd Monday of the month). The Club gives us free use of the facilities and along with its members, contribute generously towards our ongoing fundraising efforts.

The Lions Clubs put all funds raised from the public back into the local community and all annual administrative expenses are paid by the members themselves.

During the past few months, we have built water troughs and erected information boards at the Bishop Bird Park in Rooihuiskraal. At Club 21, a non-profit learning centre which specialises in the education and development of children with Down Syndrome in Doringkloof, we have built walls, relocated fences and cleared space within their property to create a secure playground for the learners. We recently held a fun "Christmas in July" lunch party at Irene Homes, an NPO facility looking after intellectually challenged women.

Many thanks to you all for making it possible to serve the needs of our Centurion community better.

Contact

Jannie

at

president@lionslifestyle.org.za

if you are interested in joining them.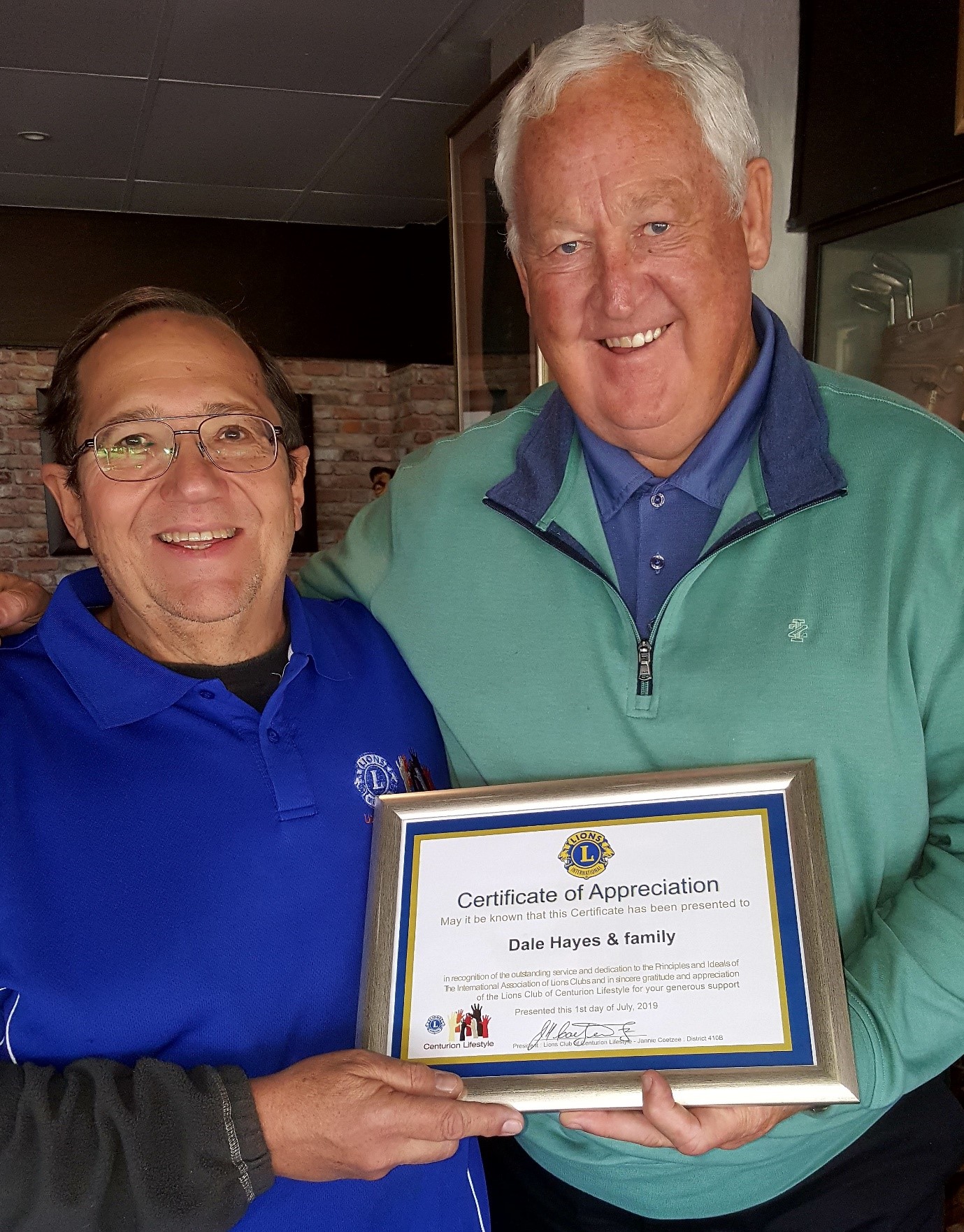 A Certificate of Appreciation from the Centurion Lifestyle Lions Club was handed to Dale in recognition of his ongoing contributions in support of the Lions Club and the Centurion community.

Practice with Purpose in August
Join

Elsabe

and

Justin

every

Wednesday from 12h00 – 13h00

in August as they focus on whatever you need help with, so anything goes!
Group Lessons Available for Adults & Kids!
We have a variety of classes available for junior and adult golfers. Chat to

Elsabe

to find out what would suit you best. Call

082-922-8408

/ or email:

elsabe@zwartkopcc.co.za

.

Jokers Wild Draw

Congrats to

John Ellis

, who won Friday's Jokers Wild draw. He took home

R1 364

, but couldn't find the Jokers card so the draw now stands at

R30 265

. It will be exciting to see what will be up for grabs when it comes for the draw on Friday!

Pop down for drink on Friday afternoon for a lively night of live music, and the draw will commence at

18h30

. We have a Gin Special on offer all month –

2 Beefeater Gins & 2 Tonics for R60

.

| | |
| --- | --- |
| | |
| | |
| | John Ellis |
New Members
We'd like to welcome the following new members to the Club -

Mr Arnold Mouton & Mr Christiaan Mouton

.

We wish you many happy years at Zwartkop. Please contact

Ian Hayes

or

Joseph Phiri

in the Golf Shop

(012) 654-1144

/

golfshop@zwartkopcc.co.za

, should you need any assistance at all in getting acquainted at the Club.



Zwartkop Hair & Beauty Salon



Call or WhatsApp

Idah

for Beauty Salon bookings on

067-297-3952

.

For the Hair Salon, you can make use of the online booking system –

www.hairbytracey.co.za

or WhatsApp

066-253-1540

.

Tasty Tuesday – PM & Half Price Pizza Tuesday Night!
Tuesday, 13th August
Tasty Tuesday includes a golf cart sharing & a pizza after golf! Members pay

R290

(prepaid greenfees pay

R185

); Affiliated Visitors pay

R370

and Unaffiliated Visitors pay

R470

.

It's Pizza Night! Bring the whole family down for a treat. T's & C's apply, including standard pizza's only & no take-away's. We'll have live music.
Open Day – AM Only / Zwartkop Company Challenge - PM / Wooster Wednesday – live music & unbelievable chicken flatties…
Wednesday, 14th August
Meat Day
Thursday, 15th August
Members pay

R260

, including comp fee and Affiliated Visitors pay

R280

, including comp fee.


Golf Day - PM & Jokers Wild Draw
Friday, 16th August at 18h30
Members Day - All Day
Saturday 17th August
Members - AM / Open Day – PM
Sunday, 18th August
Monday Madness / Golf Day – PM

Monday, 19th August
For Monday Madness, Members & Affiliated Visitors pay

R225

(includes golf & a golf cart on a sharing basis). Non-affiliated golfers pay

R335

)


Tasty Tuesday – All Day & Half Price Pizza Night!
Tuesday, 20th August

Golf Day – PM / Wooster Wednesday
Wed, 21st August
9-Hole Specials
Play 9 holes after 15h30 - the price includes a cart & bottle of water.


Members R120

(No cart = R70) |

Visitors R150

(No cart R100) |

Juniors R100

(No cart R50).
Fun GNGU Events for you to participate in:



22 August

– Senior Women @ Pebble Rock


29 August

– Nomads @ Waterkloof

You can enter via the GNGU website (

http://www.gngu.co.za/draws/

)
Members Saturday Jackpot…


Join in the fun! One par three will be allocated as the "jackpot" hole every Saturday.
Members pay R20 to enter and any golfer that makes a two on that hole will share in 60% of the pot. If there are no two's then the pot will be carried over to the next week.

Every week, 20% of the pot will go towards a member that gets a hole-in-one on the jackpot hole. This will be carried over until a member achieves a perfect fluke on the jackpot hole. The other 20% goes to the Club.

A member, as mentioned above, is anyone who plays on that given Saturday – including corporates and guests of members.
Let us help you play better golf
This week Elsabe advises you on your rule options if you find the river with your tee shot on the second hole.