Spring is in the air and the festivities are hotting up…



Diarise these fun events we'd love you to be a part of:



Ladies Rosebowl Open


Thurs, 19th September
Bookings are going really well for the Ladies Open so don't delay in booking as you may miss out! Contact Sharon to enter on (012)654-1144 / sharon@zwartkopcc.co.za.


On Sunday, 22nd Sept we have a

lazy afternoon of music

planned…




Pitch & Putter Championship


Mon, 23rd September
Loads of fun on the Pitch & Putter Mashie Course. We'll have a Men's, Ladies, Senior and Junior Division with loads for fun prizes like an eclectic, Nearest the Pin, Hole in One, Most 2's.


On Wed, 25th September

Loki Rothman

is here for one-night only…
We can't rave enough about this unique South African talent.




Junior Pro Am


Thurs, 26th September
Juniors get to play with a PGA Pro! Make sure your kids don't miss out.


Brace Yourselves!

Starting on the 1st October there will be

no placing

on the fairways at Zwartkop.

This is so that we start to abide by the Rules of Golf and the new Handicapping system. Scores will no longer be accepted for handicapping purposes if there is placing allowed - unless there are very special circumstances in play.

Rule 1 in the Rules of Golf book says:

"Play the course as you find it and play the ball as it lies."



When you are preparing to play a shot from the fairway there are various factors that need to be taken into account, like the slope of the ground (is the shot uphill or downhill); the firmness of the ground; the wind direction; and very importantly, the lie of the ball. The only time a golfer should expect a perfect lie is on the tee!



Our new Boma is now open for business…



The newly opened Boma is available for small functions. You can contact Ina for details on (012)654-1144 /

admin@zwartkopcatering.co.za

.




We now have an ATM in the clubhouse!



Do you feel vulnerable every time you use an ATM? Well now, for the safety of our members and homeowners, there's an ATM you can use in the clubhouse. It situated at the door into Otway's.




League Update…

ZCC 2 lost 7½ / ½ to Cullinan away in the Mid-Amateur Scratch League but while that may sound very sided most of the games only ended on the 17th or 18th hole!

The attached pictures are from the ZCC 2 Junior League game against SADGB. ZCC won 5 & 3 and it was a wonderful battle between the youngsters. We are now just waiting to hear about the final results from GNGU to confirm if ZCC 2 will be the Group B league champions.




Jokers Wild Draw...




Shawn Rouse

won

R1592

in Friday's Jokers Wild draw but the Joker card still remains elusive! The pot now stands at

R46 305

!



Pop down for drink on Friday afternoon where we have live music going and the draw gets done at 18h30.
Zwartkop Hair & Beauty Salon

Call or WhatsApp Idah for Beauty Salon bookings on 067-297-3952 & for the Hair Salon, you can make use of the online booking system – www.hairbytracey.co.za or WhatsApp 066-253-1540. Book for beauty sessions by calling Idah on 067-297-3952.

Self Defense Course

Take note that we have a self defense course taking place at the Club on Sat, 12th October. Bookings through Sue on 082-498-1388 / secretary@lionslifestyle.org.za


Tues, 10th
– Tasty Tuesday - PM & Half Price Pizza Tuesday Night!
Tasty Tuesday includes a golf cart sharing & a pizza after golf! Members pay R290 (prepaid greenfees pay R185); Affiliated Visitors pay R370 & Unaffiliated Visitors pay R470.

Your kids can be a part of

Canvas Club Arts and Crafts Class

on Tuesday evenings, the class is at 18h00 for 30min and costs R50 cash, per child.

Call Yots for details & bookings on

078-509-8380

/

yots@canvas.club





Wed, 11th

– Open day - All day / Wooster Wednesday – live music & unbelievable chicken flatties…
| | |
| --- | --- |
| | |
Thurs, 12th
–

Meat Day

– Members pay R260 including comp fee & Affiliated Visitors pay R280 including comp fee.



Fri, 13th

– GMC Golf Day / Open Day - All day &

Jokers Wild Draw

at 18h30.



Sat, 14th

– Members Day - All Day.



Sun, 15th

– Members - AM / Open Day - PM.



Mon, 16th

– Monday Madness (Members & Affiliated Visitors pay R225 (includes golf & a golf cart on a sharing basis). Non-affiliated golfers pay R335)



Tues, 17th

– Tasty Tuesday – Golf Day - PM & Half Price Pizza Night!



Wed, 18th

– Open Day – All day / Wooster Wednesday.



9-Hole Specials

- Play 9 holes after 15h30 & the price includes a cart & bottle of water - Members R120 (No cart = R70); Visitors R150 (No cart R100) & Juniors R100 (No cart R50).



Lions Golf Day - 4 October



Diarise to be a part of the Lions Annual Golf Day and do your bit for our community!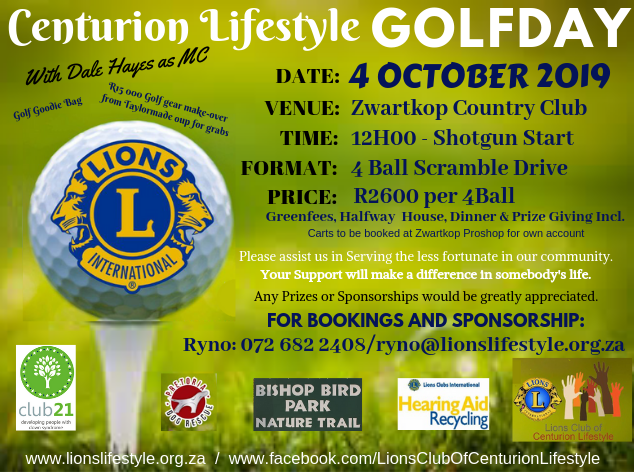 Fun GNGU Events for you to participate in
12th Sept – GNGU Senior Ladies @ Cullinan
22nd Sept – Nomads @ Akasia
22nd to 23rd Sept – GNGU Junior 54 Holes @ Services
25th to 26th Sept – GNGU Matchplay at Services
30th Sept – Junior 36-Holes @ Wingate

You can enter via the
GNGU website
.