What's that saying? It never rains but it pours…



Centurion had over 90ml of rain on Friday evening and into the early hours of Saturday morning, and of course the river burst its banks.

We are still cleaning up the front nine but the back nine is open for play today and all 18-holes will be open for play tomorrow.
Despite that we had a great week last week with Halloween Boss of Bar on Thursday and a fantastic

Beatles Tribute evening

with

Bobby Louw, Joe Parker and David Abbot

lifting the roof in Otway's.
Then on Saturday we packed out the clubhouse to watch the Boks win the Rugby World Cup. What a fantastic match and if the spirit in the clubhouse was anything to go by, the country as a whole must have lifted off! Let's hope this has a positive roll-out effect on our country.
November Par 3 Eclectic

We are challenging you to a Par 3 Eclectic Competition in November. Places are very limited so make sure you enter in the Golf Shop as soon as possible. Entry is free and the best total nett score on all the Par 3's in each division will play-off to win a Cleveland Wedge!

Zwartkop Nite Race Series – Race 1 – Wed, 6th Nov
You can still join us for tomorrow's Nite Race event – but we do recommend that you enter online to avoid the last minute queuing on the day! Enter online at

www.bouttime.co.za

.
Zwartkop Member-Guest – Sat, 9th November
Invite a non-member to play with you and let us show off our unique Zwartkop gees. Space is limited and it's going to be great fun!


Zwartkop Anniversary Mixed – Sun, 10th November
Grab a partner and join us for another fun, social Mixed event. Call the Golf Shop to enter on

(012) 654-1144

or enter online at

www.zwartkopcountryclub.co.za

.

We now have an ATM in the clubhouse!

Chris Delport's Captains Corner…
Thanks to the team that represented Zwartkop in the GNGU Inter-Club Challenge at Blue Valley. From left

Jan Oosthuizen

(76),

Platjie Claasen

(80),

Lourens Delport

(73) and

Chris Delport

(73).

Don't forget that the Club's AGM is on Tues, 19th November at 19h00.

All positions on the Advisory Board (Chairman, Captain, Vice-Captain & two Board Member positions) are up for renewal. Nomination forms are available at reception and must be handed in at reception before Mon, 11th November.

Congrats to…
Ryan Labuschagne on his christening on Sunday on the deck.
Jokers Wild Draw...
Congrats to Shaun Ellis who took home R2106 on Friday. The pot now stands at R90 805!

When, oh, when will somebody win? It's getting tight!
Pop down for drink on Friday afternoon where we have live music going and the draw gets done at 18h30.
Get in shape with Personal Training now at Zwartkop
Daphne Jacobs offers 1-on-1 sessions in the gym in addition to outdoor Boot Camp classes. Contact her for more details on

072-297-4937

/

daph01@icloud.com

.
New members

We'd like to welcome the following new members to the Club – Mr Francois Smit; Mr Pieter de Wet; Mr Timothy Matlala; Mrs Monique Wilson; Mr Danie Dreyer; Mr Johannes Vilankulu.
We wish you many happy years at Zwartkop. Please contact Ian Hayes or Joseph Phiri in the Golf Shop

(012) 654-1144

/

golfshop@zwartkopcc.co.za

, should you need any assistance at all in getting acquainted at the Club.
Zwartkop Hair & Beauty Salon
Tues, 5th
– Open Day – AM & PM &

Half Price Pizza Night

!

Wed, 6th
– Open Day – AM & Golf Day - PM /

Nite Race at 18h00

&

Wooster Wednesday

– live music & unbelievable chicken flatties…

Thurs, 7th
– Meat Day – PM - Members pay R260 including comp fee & Affiliated Visitors pay R280 including comp fee
Fri, 8th
– Golf Day – PM & Jokers Wild Draw at 18h30



Sat, 9th –

Members Chairman's Day /

Member Guest

– PM Field
Sun, 10th –
Members - AM &

Anniversary Mixed

- PM
Mon, 11th –
Monday Madness – All Day (Members & Affiliated Visitors pay R225 (includes golf & a golf cart on a sharing basis). Non-affiliated golfers pay R335)
Tues, 12th – TASTY TUESDAY – All Day & HALF PRICE PIZZA TUESDAY NIGHT!
Tasty Tuesday includes a golf cart sharing and a pizza after golf! Members pay R290 (pre-paid greenfees pay R185); Affiliated Visitors pay R370 & Unaffiliated Visitors pay R470.
City Wheels need your support for their Golf Day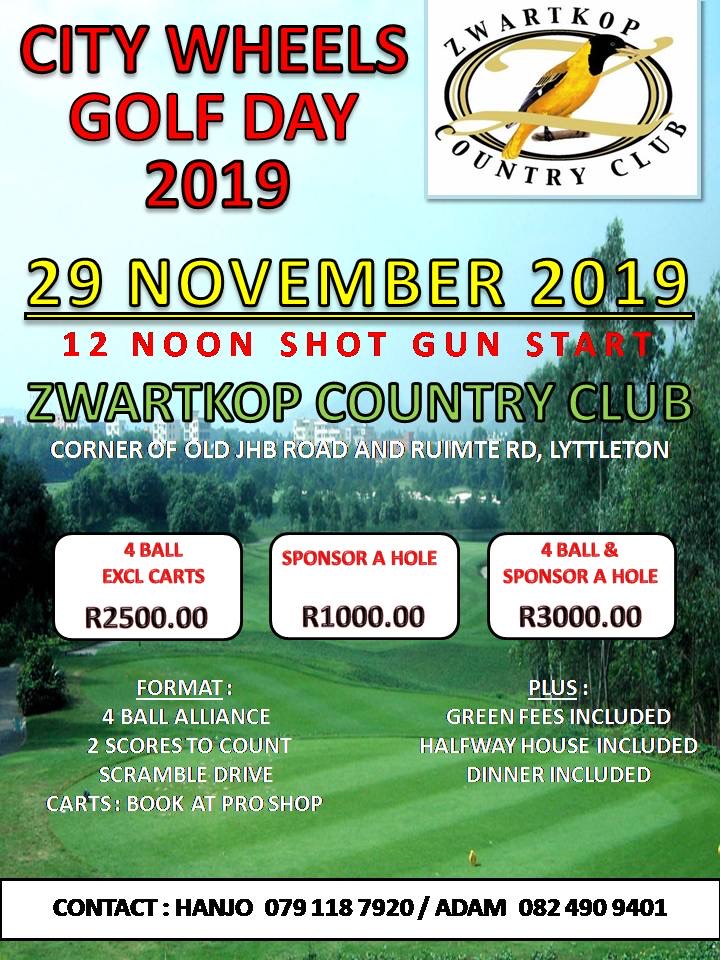 9-Hole Specials -

Play 9 holes after 15h30 & the price includes a cart & bottle of water - Members R120 (No cart = R70); Visitors R150 (No cart R100) & Juniors R100 (No cart R50).
Fun GNGU Events for you to participate in:
8th Nov – Senior Women @ Silver lakes
10th Nov – Anniversary Mixed@ ZCC/ SADGA @ Woodhill
16th & 17th Nov – Otway Hayes Senior Classic @ ZCC
24th Nov – Nomads @ The Els Club
26th Nov – Els Club Ladies Open
You can enter via the GNGU website.