Elsabe sent out a mail yesterday with the fun junior events that she and Justin have planned for the end of November and early December.



Tues, 25th – Par 3 Challenge

- Play the course as a Par 3 course


Thurs, 28th – Junior Pro Am

- Play with a PGA Pro


Mon, 2nd & Tues, 3rd Dec

- Junior Matchplay Championship – 54 holes (A, B, C & Bunnies Division)


Mon, 9th & Tues, 10th

- Junior Mystery Challenge
Here are details on the first two events: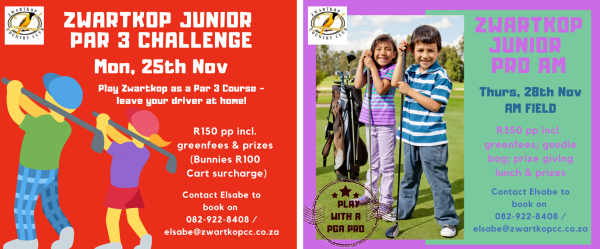 Please contact Elsabe for details and entries on

082-992-8408

/

elsabe@zwartkopcc.co.za

.
November Par 3 Eclectic
We are challenging you to a Par 3 Eclectic Competition in November. Places are very limited so make sure you enter in the Golf Shop as soon as possible. Entry is free and the best total nett score on all the Par 3's in each division will play-off to win a Cleveland Wedge!

Shots in the Dark – Thurs, 28th Nov
This event is exactly what is implied – both golf shots and drinks shots should be great fun.
We'll start at 18h30 and with illuminated golf balls, play 9-holes on the Pitch & Putter Course and 9-Holes on the putting green, with a few drink shots thrown in!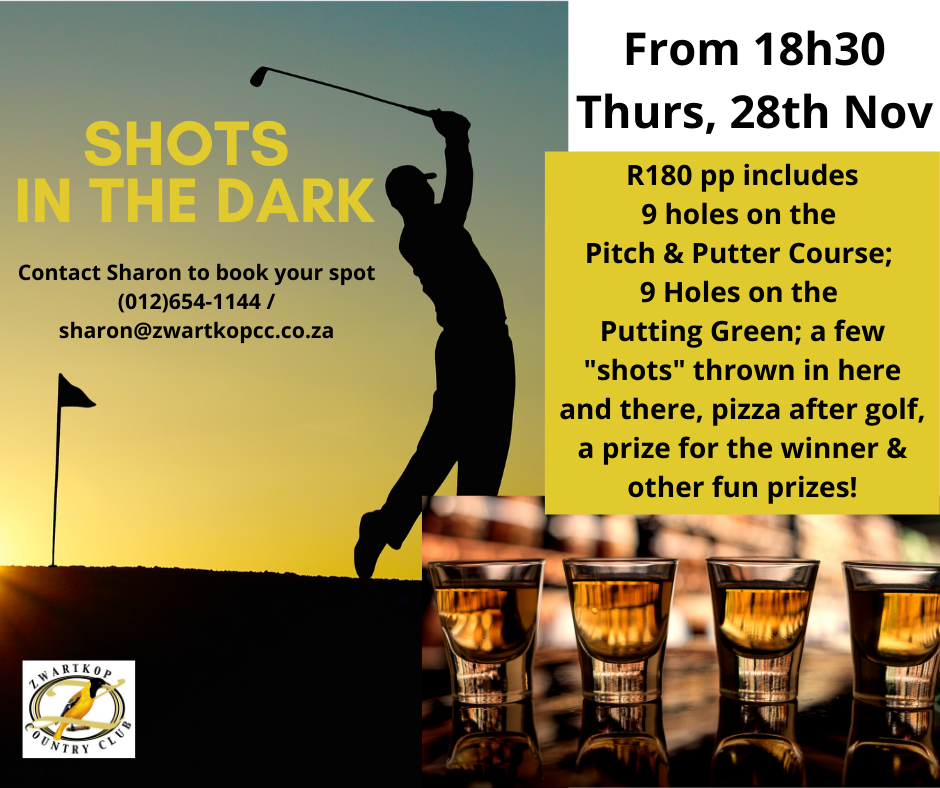 Congrats to the winners of the Zwartkop Nite Race Series



The first race in the new Series took place last Wednesday and it was great to see so many people hitting the fairways – be it to walk or run – especially our homeowners!



Here are the winners:


5KM Male Tiaan Dorfling (18:10.3) - & 10KM Male – Matthew Greer (36:13.6)
5KM Female- Annika Joubert (22:59.4) & 10KM Female – Sandra Mansvelder (43:09.7)

Check out all the photos on

Facebook

.


The next event takes place on

Wed, 4th December

!


Chris Delport's Captains Corner

This weekend we hosted the Otway Hayes Senior Classic with the top seniors in the Country competing for the coveted trophy.

At the GNGU Awards last week a couple of Zwartkop members were recognized:
William Skinner – Senior Golfer of the Year
Heidi Lee van den Bergh – Mid-Am Golfer of the Year
Chris Delport, William Skinner, Leon Scheepers and Robin Ashby - Winners of the A Division Senior Scratch League
ZCC 2 Junior Team - Wandre Snyman; Markus Kruger; Matthew Bennett; Abdul Malik Ebrahim; Ruan Oosthuizen; Johan Graaff; Phenyo Sebata & Lea vd Merwe - Winners of Junior League

Don't forget to join us at next week Club AGM. It's on Tues, 19th November at 19h00.

Congrats…

… to

Gerhard and Marleze Moller

who won the Anniversary Mixed on Sunday, on 39 pts!


…to Theo Muller who won the 5 litre bottle of KWV 5-year-old.

Jokers Wild Draw...





Lizel Beukes

took home

R2764

on Friday but did not find the Joker. There are now only 18 cards remaining, so the day is approaching when someone will win! This week there will be over R100,000 in the pot.

Pop down for drink on Friday afternoon where we have live music going and the draw gets done at 18h30.

Farewell


We are sad to advise that

Poppy Nduli

has resigned. She has long been a face at Zwartkop and will be missed by many.



New Members



We'd like to welcome the following new members to the Club:

Mr Zaeem Ebrahim, Mr Alan Botha, Mr Calvin Botha, Ms Sharon Cousins, Mr Jarrod Cousins, Mr Marc Bessinger, Ms Jenny Arnold, Ms Leia Bessinger & Mr Gerhard Moller

.

We wish you many happy years at Zwartkop. Please contact Ian Hayes or Joseph Phiri in the Golf Shop

(012) 654-1144

/

golfshop@zwartkopcc.co.za

, should you need any assistance at all in getting acquainted at the Club.



Zwartkop Hair & Beauty Salon



Win a dream vacation when you make a hole-in-one on the 7th Hole…


The holiday is valued at R25, 000.00, is subject to availability and is out of school holidays only. Holes-in-one must be made during an official competition with at least 3 players in the group)
Tues, 12th – Open Day –
AM & PM &
Half Price Pizza Night!
Wed, 13th – Open Day –
AM & Golf Day - PM &

Wooster Wednesday

– live music & unbelievable chicken flatties…
| | | |
| --- | --- | --- |
| | | |
Thurs, 14th – Meat Day –
PM - Members pay R260 including comp fee & Affiliated Visitors pay R280 including comp fee /
Zwartkop Company Challenge - PM



Fri, 15th – Golf Day

– PM &

Jokers Wild Draw

at 18h30
Sat, 16th – Members -
AM /

Otway Hayes Senior Classic

– PM
Sun, 17th – Otway Hayes Senior Classic –
PM & Open Day - PM
Mon, 18th – Monday Madness –
AM (Members & Affiliated Visitors pay R225 (includes golf & a golf cart on a sharing basis). Non-affiliated golfers pay R335) / GNGU Development League - PM
9-Hole Specials -
Play 9 holes after 15h30 & the price includes a cart & bottle of water - Members R120 (No cart = R70); Visitors R150 (No cart R100) & Juniors R100 (No cart R50).

Fun GNGU Events for you to participate in:
16th & 17th Nov –
Otway Hayes Senior Classic @ ZCC


24th Nov –

Nomads @ The Els Club


26th Nov –

Els Club Ladies Open
You can enter via the

GNGU website

.
Say it with Srixon
Buy a dozen Srixon Golf Balls of your choice and get your name printed free of charge. Text colour is limited to black only. The final date for orders is the 1st of December 2019 and all paid orders will be completed and delivered to Zwartkop Country Club Golf Shop by the 12th of December 2019. Once you have filled out
this form
, please make an EFT payment to secure your order. Once orders are completed, you will receive a phone call to notify you that your order is ready for collection in the Golf Shop.