This week's newsletter is packed full of winners again, from international tournament victories to our coaches being recognised by their PGA peers. Enjoy.

BSI Graduate wins Congo Open
Stephane honours BSI with his victory



Congratulations to BSI PGA Diploma graduate,

Stephane van Neer

on winning the Congo Open last week with scores of 72,68 (-4).

After his win, Stephane commented; "I just want to say a massive thank you to the BSI team. I couldn't have done it without what you taught me and I'll always be grateful".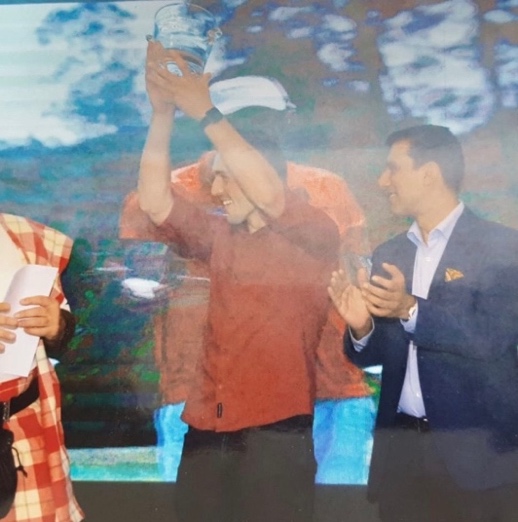 Stephane van Neer
Murray and Martin add prestigious PGA awards to their names
We're delighted to announce two PGA award winners amongst the BSI family. BSI PGA Diploma graduate,
Murray Smit
has won the Western Cape PGA Coach of the Year Award, and BSI Coach,
Martin Briede
has won the Gauteng Central PGA Coach of the Year Award.
Murray spent seven years at BSI in total; completing his PGA Diploma in 2012, then enrolling in our Elite Academy for a couple of years before joining our coaching staff. Martin, a PGA Master Professional, has been on our coaching staff since 2015. The awards are voted for by PGA members in each specific region.
| | |
| --- | --- |
| | |
| | |
| Murray Smit | Martin Briede |
| | |
Take the first step in your golf journey
A quick reminder of our upcoming Open Days at the BSI Campus at Huddle Park;
Saturday, 17th October
– Full-Time Junior Academy with Cambridge education (Grades 8 to 12)
Saturday, 7th November
– PGA Diploma, Greenkeeping & Academy Programmes (Post-matric)
To join us on either of these days, meet the team and find out more about the programmes, please contact
info@bsisports.com
to book. Limited spaces available.
Who's in it to win it?
Congratulations to
Matthew Higino, Mangezi Maswanganyi
and
Heinrich Prinsloo
, who came out on top in our medal last week with scores of 71 on the East Course at Royal Johannesburg & Kensington GC.
In our
Junior Academy
section,
Bernard Meyer
won the BSI Junior Medal with a score of 74 on the East Course at Royal Johannesburg & Kensington GC.
In our
Global Medal
, Junior Academy student,
Pranay Kapur
won with a round of 74 at
Borrowdale Brooke, in Harare, Zimbabwe
. The Global Medal is played between the BSI students who are not able to return to South Africa at the moment.
Thabang has the confidence to achieve his golfing goals


Name:
Thabang Tlou
BSI Programme:
PGA Diploma (Class of 2016)
Current Position:
Brand Ambassador AVC
Previous Positions:
Apprentice to John Dickson at Els Club, Copperleaf 2017–2018; Club Builder and Fitter at Cool Clubs South Africa 2018-2019
Here's what Thabang had to say about his experience at BSI:
"The coaching staff are great. They are all there to help you become a better athlete. Being exposed to a very good practice facilities at Huddle Park and having the privilege of being a member at Royal Johannesburg & Kensington GC. BSI's PGA Diploma studies are the best in the country and the academy really gave me that student-athlete feeling.

With mental sessions with Mark, I learned the dynamics of being goal driven not only in my career, but also for how I live my life. Through the academy, I've learnt to believe in myself and my talents more, believing in the process of becoming a better athlete through hard work and mental toughness.
For new students joining up: trust the process, stay in the present and enjoy your time at BSI."

Contact
info@bsisports.com
to apply for our prestigious junior, college or academy programmes. Limited spaces available for January 2021 enrolment.
Looking for a College Scholarship to USA?
Your dream golf career starts here
We get approached by a lot of college recruiting agents, but our friends at
Aspire Atlantic
are by far the most knowledgeable and ethical that we have found. They are hosting a free webinar entitled
How to win a sports scholarship to a USA University
at 6pm on October 21st.
Click here
to register.
Master your bunker shots
Struggling out of the bunker? BSI Coach
Christopher Wright

,
explains how to execute an effective greenside bunker shot that flies high and lands softly.
Follow us on social media


Thank you to our sponsors!