Rest in Peace, Doc Oosthuizen


We hope you make that tee time up in the sky!



Zwartkop is saddened to hear that Doc Oosthuizen passed away on Tuesday. Doc, a renowned vet in the area, was also a legend here at Zwartkop. He was an Honourary Life Member, with over 40 years of membership under his belt. He will be missed by so many of the members and staff.


Vydhir Singh had this to say:

"Rest in Peace Doc. Although I only had the pleasure of knowing you for just a short few years, you quickly become one of my favourite people I have known with your great humour and love for life. I hope that I can become just half of the true gentleman you were. You will be greatly missed by all of us at Zwartkop Country Club and the Saturday School will never be the same without you."

Block off Saturday, 19th and Sunday, 20th September
Yes, we will still hold

Clubs Champs

this year!



• A Division

(HI 6.0 & under for men & 6.5 & under for ladies): Stroke play


• B Division:

(HI 6.1 – 14.9 for men & 6.6 – 15.3 for ladies): Stroke play


• C Division:

(HI 15.0 upwards for men & 15.4 – 36.0 for ladies): Individual Stableford

Depending on COVID-19, we may have to downscale our original grand intentions for a "big bash", but hold thumbs – worst case scenario is, we will get your rounds in!


Click here
for all the details, which also serves as your entry form. You can complete that and send it, along with the entry fee proof of payment, to Sharon on

sharon@zwartkopcc.co.za

.

That gives you time to brush up on your game and if you have any tweaks to sort out, get in touch with Elsabe –

082-922-8408

or Justin

082-925-0236

sooner, rather than later.



Singles Club – Sunday, 16th August


Calling all single figure handicappers!

Contact Chris to get involved in Singles Club.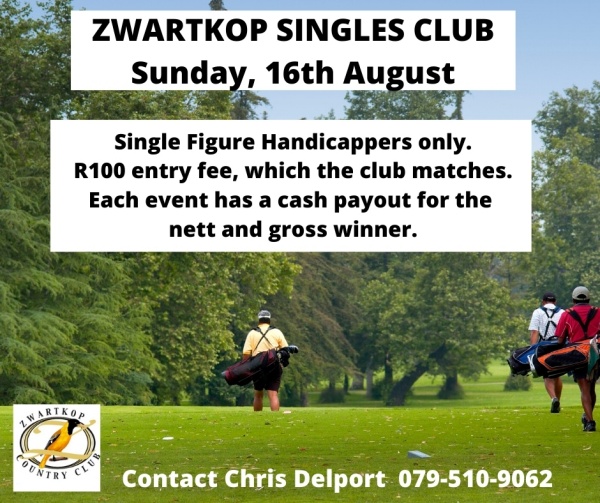 Wingate / Waterkloof / Zwartkop Alliance



We have an alliance between ourselves; Waterkloof and Wingate, which allows you to play at their courses at member's rates. Please do remember to follow the Rules when using the Alliance:

• Bookings can only be made by our golf shop staff so contact Joseph, Vusi or Happiness and they will make the booking on your behalf.

Please do not arrive

at Wingate or Waterkloof without an advance booking having being made by our staff!
• Bookings are subject to availability and can only be made one week in advance for games Monday to Friday and Sunday.
• Bookings for Saturday afternoons can only be made the day before.
• Saturday mornings are excluded from the arrangement.

Take your game to a whole new level

This week Elsabe is on the 12th tee and talks you through changing your ball shape by adjusting your shoulder alignment

Elsabe Hefer is the Head Teaching professional at Zwartkop. She has been a PGA Pro for 20 years and is one of their Top 20 Teachers.

Junior Order of Merit competition


Our Junior Golf School is played on a Saturday afternoon. Call Justin for details on

082-925-0236

and get your kids out on the course for a fun but competitive afternoon which is guaranteed to improve their game.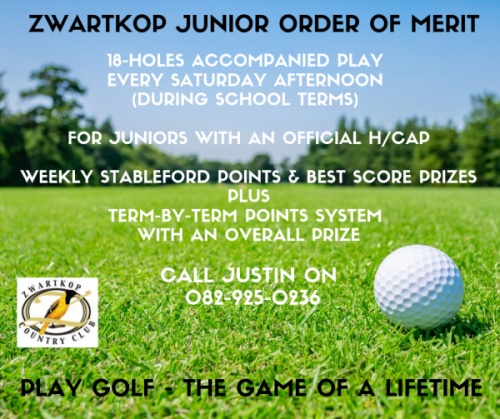 Grade 12s – What are you up to next year?




We might just have the answer for you…



Contact Joanita Verster – 083-277-6526 / mentor@golfmanagementcampus.co.za for a tour of the facilities and a chat on how we can make your future within the golf industry a reality!


Calling all Juniors!


Sign up a new Junior Member and we will give you

6 Srixon AD333 Golf Balls.

The new member gets

free membership

and only pays for their SAGA Handicap Card and Affiliation Fee.

Dale Hayes
Zwartkop Country Club

Cleveland Junior Golf Set Specials

Small – R1999

plus

free membership plus a free golf lesson

Medium – R2999

plus free membership plus a free golf lesson





Large – R3499

plus free membership plus a free golf lesson

Reserve yours >

New stock just arrived!
FootJoy
,

adidas

and

Puma Shoes

– new styles and colours both spiked and spikeless!
Zwartkop branded Leather Gloves
Buy 3 for
R630
and get the
fourth glove free!
Are your clubs making the game harder?
Struggling with a fade or wild slice off the tee?
Your driver shaft could be making it difficult for you to square the club face at impact.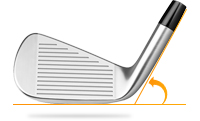 Do you fear the prospect of hitting a long iron on your approach?
Playing with the right lie angle helps to improve accuracy and ball striking with your irons.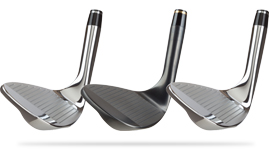 Are you using one wedge for all shots within 50 metres?
Having several types of wedge bounce and grind at your disposal will help you get up and down in fewer shots.
A better playing experience
Once we know your game and club setup, we'll advise you on simple changes you can make to transform your golfing experience. Golf should be a joy, not a struggle. Let's talk about your game.
Contact us >
Golf can enrich childhood
Golf courses are safe environments that offer children exercise, friendship, learning, accomplishments and fun. It's a place where they can make positive memories and connections for life.
Our lives have become fast-paced and disconnected. Saturated with screens and information. For our children, it's only going to get more hectic and pressured. Let's encourage them to spend time away from that pressure and more connected with friends and the outdoors.
Give them the gift of golf
If you have a child or grandchild, getting them into golf could be the greatest gift. If you'd like to know more about junior golf opportunities, then please,
Contact us >


This mail was sent to {{contact.contact_email}} by The Club - and is provided as a service for the members and guests of Zwartkop Country Club and the customers of the Zwartkop Country Club Pro Shop and has been supported and sponsored by advertisers in this mail and my partner suppliers:




RetailTribe: Unit 8, Blaauwklip 1 | Blaauwklip Office Park | R44 | Stellenbosch | South Africa | +27 (0)21 880 2693