This week we have two sets "On the Wall"
These are stunning. These are Epon AF-Tour Irons and Wedges. These were fitted with Oban CT-125 Shafts and Shimada Tour Wedge Shafts for a little extra spin and stopping power.


And these are the first set of Cleveland Golf ZipCore Wedges that we've built. These have Oban Oi83 Graphite Iron Shafts ready to help this customer knock the ball close to the cup.


If it seems like we fit a lot of Oban shafts, we do. It's not by design, or because we have some weird agreement with them, it's just that they fit many golfers that seem to walk in the door. Do you know another popular shaft that appears to get fit a lot? KBS Shafts get a lot of play here too. They have such a wide range for many golfers, and they are a favorite among the customers here. With over 400 options, we can offer anything to fit your swing and how you desire to play our favorite game.

And let's be honest, who wouldn't want options to make sure the right shafts are fit for your game? You won't go wrong

here at The Golf Station

!
Not having much success with hybrids
"I'm a higher handicapper that just can't get along with hybrids and fairway woods. I keep trying, but I'm done. I'm spending money on lessons and more equipment, and I'm not having much success. I've switched companies and tried everything. I think I'm ready to go to big chunky irons, even in the long irons. I'm committed, and my instructor at home keeps trying to get me to try more hybrids. Can you recommend something to me?"
–

P

.
I guess if I can't talk you out of it and get you to use hybrids or high lofted fairway woods, I won't totally try, but I'm obligated to one last time. Please, one last time, try a 7-wood or a 9-wood. I know what you're trying to do: You're trying to make the game easier, and you're probably not having very much fun. Essentially you have a few options, but I caution you:

Please make sure you're fit for a shaft

where you can generate some speed to help get the ball in the air. You have options from Callaway (Mavrik Max or Big Bertha), TaylorMade Sim Max OS, PING G710, Cleveland Launcher HB, or the UHX irons. The list goes on with almost every company. A stock shaft may not be the best for you to generate the speed you need to return it through the shaft to the ball to generate ball velocity.

So, whatever you do, please go get fit just to try to get the best equipment for you. If you don't have a fitter locally you trust, please give us a call, and we can walk you through it over the phone. Trust us; we do it all the time.

Help needed? >


We are here to help you have a better game
We know the choices can be dizzying, but we here at The Golf Station can help you figure out what works best or help what you have work better. With the help of our master fitter and instructor Tim Brantley, we can help narrow things down to what will work for you and explain why what you think should work, won't. He'll back it up with facts and give you viable options. I can promise it will be educational and will challenge you to think differently about what you thought you knew. Tim knows his stuff.
Give us a call at

817.595.4653

and prepare for something different.
Get Golf Station Fit!

Call us now >
You deserve sharper
How's your stopping power?
The biggest difference between scratch and bogey golfers is not fairways or greens in regulation. It's the ability to get up and down with fewer shots. And to do that, you need easy access to spin.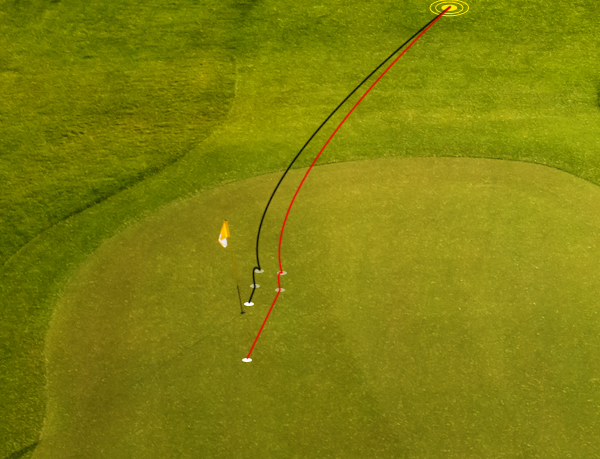 From 40 yards out, your priority is to get as close to the pin as possible. If you're playing with a worn wedge, your ball can roll out an extra 10- to 15-feet. That makes it more difficult to get up and down.
Experience the difference
New wedges launch lower, spin more and stop sooner. If you think your wedges are causing you to lose stopping power and drop shots, then when we next see you, let's talk about it, or we can also

Start a conversation now >
Par 3 strategy


Got a tee-up strategy?




How you tee up on par 3s can be the difference between a solid par or birdie and a struggle to minimize the damage to just a bogey.

Distance is affected
Teeing up too high can cause you to strike the ball high up on the club face and lose ball speed. So even if your club selection was spot on, you'd still fall short of the green.

If you're taking a short iron on a par 3, tee your ball up lower, think level with the blades of grass. With a long iron, you'll want to go fractionally higher, as though the ball is lying atop a fluffy fairway.
Finding the best angle
Position yourself at a spot on the tee box that gives you the best angle into the green. You'll need to base this on your natural shot pattern as well as the wind direction and strength.
Hit more greens
Let's schedule some time on the course and help you make better decisions that will put you into more scoring positions.
Let's play 9 >

This mail was sent to {{contact.contact_email}} by Tim Brantley and is provided as a service for the members and guests of The Golf Station and the customers of the The Golf Station Pro Shop and has been supported and sponsored by advertisers in this mail and my partner suppliers:


To ensure delivery, please add timb@greensidegolfer.retailtribenews.com to your contacts.


RetailTribe: 15851 Dallas Parkway | Suite 600 | Addison | TX 75001 | +1 214 561 8681