Creativity is a word we don't readily associate with the profession of golf. But it's a skill we need to appreciate if we want to grow the game.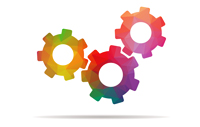 Golf communities need the invisible cogs.
Those who can ensure the tee sheet has the correct names at the right times with the expected privileges delivered.

The people that ensure the journey from parking to the 1st tee is
unimpeded and smooth, with the appropriate levels of recognition.

The invisible hand that ensures any trials and tribulations out on the course are of the golfer's own making.
These are just some of the many pathways that must be supported and served during any day at the golf club.

All of this is delivered by the invisible cogs that work long hours serving the community every day. The post-COVID boom in rounds has only added to the stresses and strains.
"This golf club couldn't run if I wasn't here"
is an exhausted plea that I have heard many times.

You're right. We see you. We recognize you. We applaud you. Please don't stop. You are vital, critical. We need your unwavering delivery.

But the under-resourced operations, stretching, stressing, and straining the cogs, often also ignore the creative. In most cases ignores the creative.

That's why the management's demand to try and fill Tuesday morning with breakfast covers and golf will usually result in a 'special', a poster, and a Facebook advert. It's not creative. It doesn't even usually work. It's the least challenging attempt to lever the cogs.



Subscribe
Legally Privileged Disclaimer
Internet communications are not secure and therefore RetailTribe does not accept legal responsibility for the contents of this message. The information in this email and any attachment to it is confidential and is intended for the addressee only. Any unauthorised disclosure, use or dissemination of the contents in part or whole is prohibited. If you are not the intended recipient please return it to the sender and delete it. Any views or opinions presented are solely those of the author, and do not necessarily represent those of RetailTribe unless otherwise specifically stated. This email and attachments have been screened and are believed to be free from any virus. However, it is the responsibility of all recipients to ensure that they are virus free. This email was sent to you by RetailTribe. RetailTribe will not accept any liability for any damage caused by a virus. If you no longer want to receive this email, please
unsubscribe here
.