Members and Guests

The Club
Dear Member,



2021 League Update





Junior League


Our Junior league sides, both playing in the C-Division this year, are doing very well halfway through the season. The Bushwillow side is currently tied in first position and our Firethorn side is just two points behind. The teams only have two games left for the season and we are hoping that they will finish strong to get into the B-Division for 2022. The next fixture will be on Sunday, the 6th of June. The Firethorn side will be hosting Parkview at home and our Bushwillow side will travel to Johannesburg Country Club. We wish them the best of luck with the last couple of rounds.

Mid-Am League
Our two Mid-Am sides just past the halfway point of the season. Our Firethorn side hosted Ruimsig Golf Club on Saturday and managed a great 6.5 – 1.5 win at home. The team is currently leading the A-Division on 9 points after 5 games. With five remaining games left for the season, which only one will be on home soil, it is going to be a very tough finish to the season.
Our Bushwillow side played away this past Saturday. They came up against a very strong Eagle Canyon side and, unfortunately, the result did not go our way. Eagle Canyon walked away with the win. It has been a difficult last three games for the side and they could not manage a single point out of one of the games, but with five games left for the season (three will be played on Bushwillow), we are confident that the team will get back to their winning ways and finish strong for the season.
Betterball League
The Betterball Leagues are close to the end of their season and only have three games left for the year. It has been a hard season and the standard of golf within the league has definitely improved over the last couple of years. Games are very close and the final results will come down to the last pairings out on the course. To our captains and players, thank you very much for your support and commitment to the season so far. The leagues are not over yet and we know that the sides will do their best and end the season on a high note. Standings after Sunday's results as follow:
Firethorn Side:
Bushwillow Side:
Creek 9:
Scratch League
Our Scratch League is only one week away and we are very excited for this year's season. Within our scratch squad, we have 32 players with a handicap of 0 or less (plus handicap golfers) and the depth within the squad will make it very difficult to select the right combination of players for our three sides. We would like to wish all our players the best of luck. As we mentioned in the meeting, the managers will ensure that the sides selected are selected for one main reason, and that main reason is to win our Divisions.
Click here
for the 2021 Scratch League Fixtures.
Congratulations to all the winners of the Mixed Pinehurst this past weekend!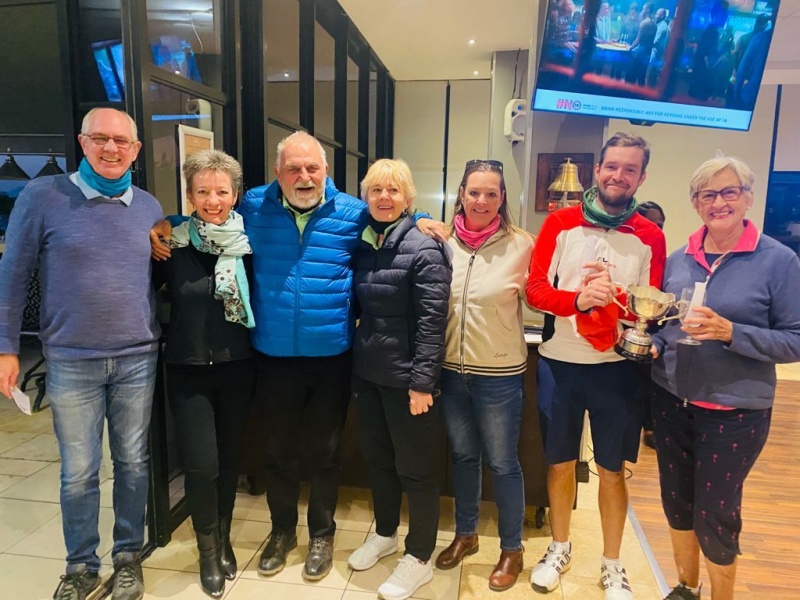 Richard Smith & Alice Taylor (2nd – 69), Uli & Gaby Lubeck (3rd – 70), Debbie Gillings (Ladies Captain), Ryan Wingrove & Heather Vogt (1st – 66)
Mom's Night Off Special for Tuesday, 25th May.
Beef Cottage Pie
R80
·
Baked savoury mince, topped with creamy mashed potatoes served with a Greek salad and mild dressing
Brinjal Parmigiana
R60
·
Layered brinjal & Napolitano sauce bake, topped with grated parmesan cheese, served with a garden salad
Anthonij Rupert Wyne has partnered with Randpark Club for a delectable four-course dinner featuring wine pairings from Cape of Good Hope Wines, Anthonij Rupert, and L'Ormarins ranges -
click here
to view the menu.
Book today - Only a few seats still available!

IAM 360 is an International Student Management Company and they assist students (Grade 11 & 12's) with their search of scholarships to Colleges/Universities within the USA, based on their academic, sporting, and or cultural preferences.
Jared Venter, one of our Randpark members is an official Talent agent for IAM360.
IAM360 host a series of online webinars, so if you have considered overseas study in general or looking to pursue your sport at an overseas level.
Please get in touch with Jared on
079 898 8449
or
click here
to register your details to receive your exclusive link to the next online webinar.
Have a great week
Stay Safe, Healthy & Happy!
The Randpark Team