Members and Guests

The Club
Dear Member,


Entries are open.

Click here

to BOOK!

Payment for your entry must be completed online for your entry to be valid.



If you have any issues please contact

011 215 8600

, Leanne at

clubevents@randpark.co.za

, Tracy at

functions@randpark.co.za

, or Gaby at

events@randpark.co.za

to assist you.



Your Weekday Club Championship Includes:




•

Two days of golf – PM field on both days


•

Warm-up buckets at the Range with Inrange


•

Hospitality station at registration


•

Prize-giving Dinner on Friday, 2 July from 17h00


•

Win your part of prizes sponsored by Global Golf


•

A chance to win R10 000 for a hole-in-one on 17th Firethorn & 13th Bushwillow

The total cost for a great time at the Club with friends and family is only R295 pp, which includes your entry and dinner.



Additional Dinner for Guests:


We would like to invite your family to join you for Prize-giving Dinner on Friday, 2 July from 17h00 with informal seating due to Covid compliance
Additional Cost: R150 pp | Children under 12: ½ price



Tournament Conditions (entries are limited to 120 players):


Format
Strokeplay (Nett prizes) & Individual Stableford
Two rounds of 18 holes
Tees
Strokeplay: MEN - WHITE & LADIES - BLUE (both courses)
Stableford: Any tee box, handicap must be adjusted accordingly

All handicaps will be calculated on Monday, 28 June 2021. This will be the official handicap for the tournament. The printout of the handicaps will be available in the golf office.
The closing date for entries will be Monday, 28 June 2021 at 17h00, or once all available entries have been booked. No late entries will be accepted.
Any player cancelling after the closing date of entries will be charged the competition fee.
Members must be in good standing to participate.
The field is limited to 120 players. A waiting list will be created once the limit has been reached.
All players (except juniors) will be allowed to make use of a golf cart.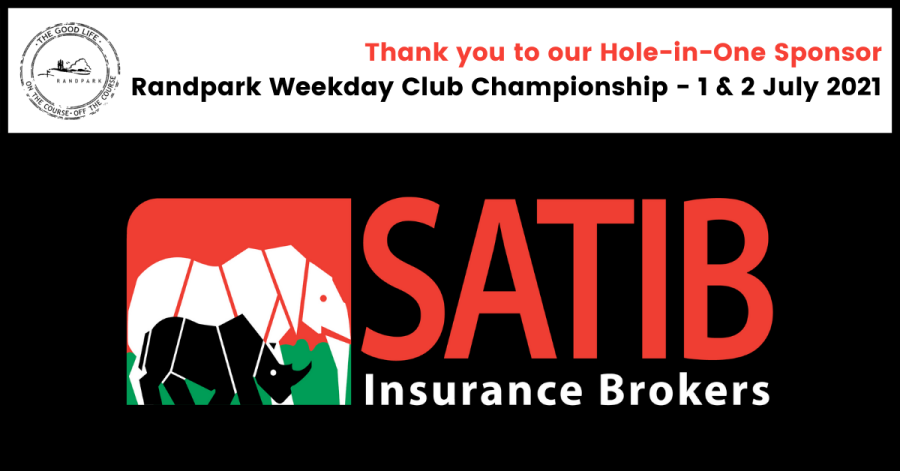 Saturday Booking Procedures
Over the last couple of months, we have been fortunate to have full fields on Saturdays, especially with the cold winter mornings the last few weeks. As we have mentioned in a previous newsletter, the winter tee sheet does limit the tee-off times, as we need to cut some of the early and late tee-off times due to bad light. This has come with a lot of challenges, especially to accommodate the requested times on a Saturday. We had a very good meeting within the department and we will be implementing the following changes to the booking procedures for a Saturday. Please take special note of the requested times in the information below:
We continue to look at ways to improve our interaction with members. We have found that email is members' preferred means of requesting tee times. We have three ladies managing the bookings, Gugu Sikhosana, Nokuthula Dlamini, and Simphiwe Simango. Unfortunately, they do work on a rotational basis, which means that they will not be able to deal with your booking if they are off on a weekend. To ensure that this process is managed properly we request that all three ladies be included in the email(s), as well as the golf director, Rikert Schalkwyk. This will ensure that the person on duty is able to assist, on time.
•
Early requests for bookings for Saturdays, AM, and PM, will henceforth have to be submitted by email. You are requested to indicate your preferred tee-off times in your email(s).
•
All booking emails must be sent to Rikert Schalkwyk at
golf@randpark.co.za
, and to all three booking ladies at
enquiries@randpark.co.za
,
admin@randpark.co.za
, and
golfadmin@randpark.co.za
.
• Saturday AM bookings: bookings for the Saturday AM field may be sent from Thursday 12h00 onwards, i.e., 16 days prior to the requested booking Saturday.
• Saturday PM bookings: bookings for the Saturday PM field may be sent from Friday 12h00 onwards, i.e., 15 days prior to the requested booking Saturday.
• Booking requests will be addressed on a first-come, first-served basis. Any booking request that is received before the requested booking times (as above) will be moved to the back of the booking list.
•
We can, obviously, not guarantee that your requested time will be available. We will, however, try to get you times in accordance with, or approximate to, your preference.
•
Competing requests for particular tee-off times will be addressed as explained above. However, the Club reserves the right to apply a rotation of the prime times and the courses to attempt to ensure that everybody is treated fairly.
•
Please also understand that the booking ladies do their best at all times to accommodate members, but they deal with a lot of bookings each week. We, therefore, request that you finalise your players, as best possible, at the time that you submit your booking request to avoid, as far as is possible, last-minute changes.
The above procedures will be implemented from Thursday, the 17th of June 2021.
Level 1 Rules of Golf
The Rules of Golf are covered in 24 simple rules. Yes, 24. That does not sound like a lot of rules, but I promise you it can get very technical, especially applying the correct ruling and penalty when it comes to a ruling. We have asked our members in the past to try some of the
quizzes
on the R&A website; they consist out of 18 questions (multiple choice) and three difficulty levels, beginner, intermediate, and advance. We would encourage you to test your knowledge by trying out the
quizzes
that are available. The R&A website also includes the option for any golfer to complete a Level 1 exam on the rules of golf. The programme will cover the basics of the rules of golf and after you have completed all your education, there is a 50-question test at the end. Pass the test and you will be rewarded with a Level 1 online certificate stating that you passed the test. It is very easy and free to sign up. There is no time limit to complete the 13 sections and can be done in your own time, however, the last exam does have a time limit of 60 minutes to answer 50 multiple questions. Take your time with the
exam
; the questions and answers can very tricky.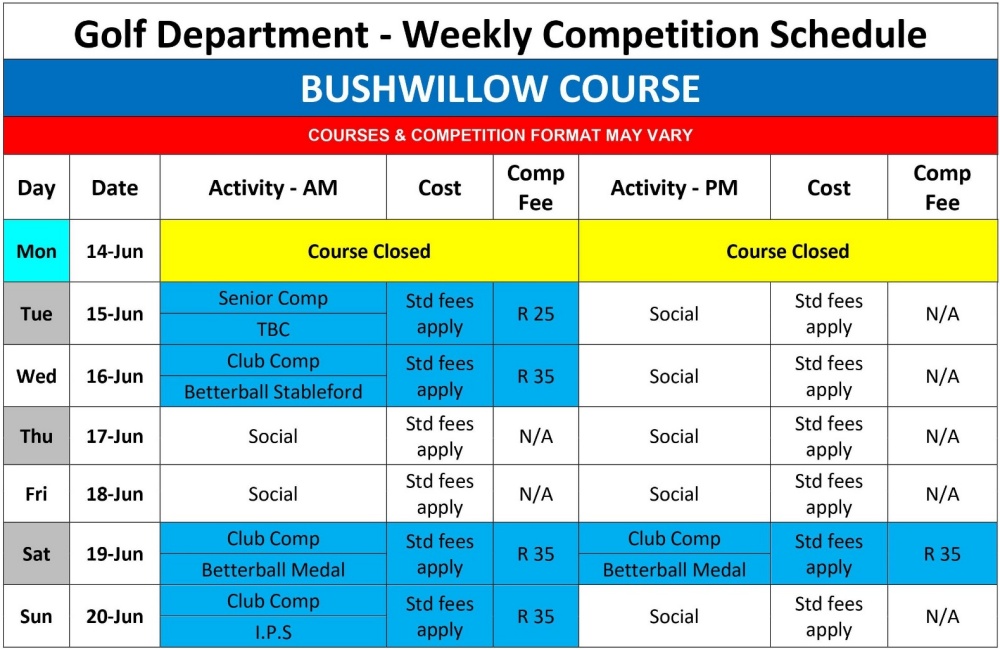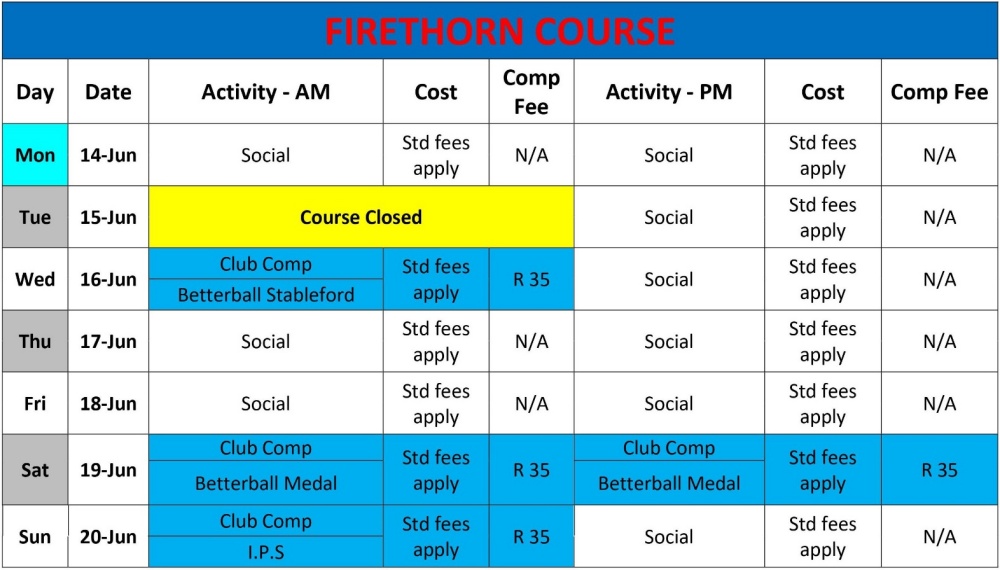 We are now well into winter and have the perfect solution for those chilly winter mornings and late afternoons. Come down to the Randpark Golf Shop on the 26th of June and join us for a day where we will be exhibiting some of our winter outerwear at great promotional prices.
Join the WhatsApp Group
Receive Randpark news updates via WhatsApp in two easy steps:
1. Add Randpark as a contact on your phone:
082 052 4767
.
2. WhatsApp us your first and last name. If you ever want to stop receiving event news, simply send us a WhatsApp with the message "STOP".
Please note: the WhatsApp number is operated from a computer and is unable to receive any phone calls. Please contact the Club on 011 215 8600 for assistance.
MOM'S NIGHT OFF specials to choose from this coming Tuesday:
•
Potato & Leek Soup served with freshly baked rolls -
R25
•
Garlic Mussel Pot, half shell mussels cooked in a creamy garlic sauce, served with steamed rice -
R90
•
Pork Bangers & Mash, topped with sautéed onions, served with a rich brown gravy -
R60
All main courses served with a complimentary garden salad.
Click here
to book your table.
Have a great week
Stay Safe, Healthy & Happy!
The Randpark Team