This past weekend, we measured winds close to 30km/h, and if that was not bad enough, the mercury only reached a mere 16 degrees on Saturday. These windy, cold conditions made playing out on the courses very difficult and reflected in the scores.

A few members popped into the office and were curious whether their score was good enough to be considered for a prize. We advise players to always hand in their scores as results are only final once all scorecards are submitted.

Rule of the Week



Submitting a scorecard for Club Competitions:



Today, we are also going to look at the basics when it comes to submitting a scorecard for a club competition. Over the last couple of weeks, we have noticed players are not filling in all the information on their submitted scorecards.

What are the marker's responsibilities?


•

All players full names (Name and Surname) must be filled in.


•

The Club policy is to ensure members account numbers are also on the scorecard – if you do have a visitor in your fourball, the affiliated Club or HNA number must be on the card.


•

Handicap Index (HI), Course Handicap (CH) and Playing Handicap (PH) must all be on the scorecard next to the players' names.


•

All scores on each hole must be completed.


•

The player and marker's signature must be on the card before submitting the scorecard.

What is the penalty for submitting the wrong score on a hole or wrong scorecard?

Under Rule 3.3b(3) if the player returns a scorecard with a wrong score for any hole the following will be implemented:


• Returned score higher than actual score:

The higher score for the hole will stand.


• Returned score lower than the actual score or no score returned:

The player is disqualified.

However, there is an exception to the rule –

Failure to include unknown Penalty

.
If one or more of the player's hole scores are lower than the actual scores because he or she excluded one or more penalty strokes that the player did not know about before returning the scorecard:


•

The player is not disqualified.


•

Instead, if the mistake is found before the close of the competition, the committee/scorer will revise the player's score for that hole or holes by adding the penalty stroke(s) that should have been included in the score for that hole or holes under the Rules.

This exception does not apply:


•

When the excluded penalty is disqualification or,


•

When the player was told that the penalty might apply, or was uncertain whether a penalty applied, and did not raise this with the committee/scorer before returning the scorecard.



Click here

for more information on this rule.

We would again like to challenge our members to take part in the
Rule of Golf Quiz
. On the R&A website, members can also complete a Level 1 Rules of Golf Course (you even get a nice certificate if you pass); there is no time limit to complete the modules, but there is an hour limit to finish your final exam (1 hour). The level 1 course is free to everyone, and members can create an account by going to the
following link
.
We have reached maximum capacity (88 players) for the
CGGU/Randpark Open Foursomes
on Sunday, the 29th of August. If you want to go onto the waiting list, please contact Leanne at
clubevents@randpark.co.za
or
011 215 8600
.
Entries will be limited to the first 120 paid entries. Participants must be 50 years and older on the day of the tournament. Entries close on the 6th of September, and the draw will be done on the 7th of September.
Entry Fee: R200 (incl. hospitality stations at registration, comp fee, gift and warm-up buckets at the Range)
Tee Times: Sat, 11 Sept, Bushwillow PM Field 11h14 – 13h06 off both tees;
Sun, 12 Sept, Firethorn AM Field 06h30 – 08h30 off both tees
Halfway House: Grab & Go – players own account
Sunday Prize Giving Lunch: Optional at an additional cost of R150 pp
Registration:
Click here
or contact Leanne on
011 215 8600
|
clubevents@randpark.co.za
Enter the
Windhoek 5 Star National Pairs
at Randpark on Saturday, 28th of August, and stand a chance to win an entry into the Regional Playoff.
Format: Betterball Stableford
Cost: Normal Saturday Competition Fee will apply
Prizes: Stand a chance to win an entry into the Regional Playoff worth R5000. The winners of each Regional Playoff will be flown to Cape Town to play in the Final at Pearl Valley Golf Estate
•
One overall winner per course
•
All day through the field competition
•
Normal Club Prize-giving will be at 14h00 (morning field) and 18h00 (afternoon field)
•
Saturday booking procedures will apply. Please ensure you and your playing partner are both available, if required, to take part in the regional final (date to be confirmed)
Due to popular demand, we have opened Bushwillow as Firethorn is now fully booked!
This Week's Food Specials
Sit down or take-away from 5 pm to 8 pm. Take-away must be ordered with your service host.
Mom's Night Off on Tuesday

Garlic Mussel Pot - R90
Half shell mussels cooked in a creamy garlic sauce, served with steamed rice
Mozzarella, Basil & Sundried Tomato Stuffed Chicken - R110
Served with a fresh Greek salad and a mild vinaigrette
Beef Lasagne - R80
Layered with a white sauce, topped with mozzarella cheese and Napolitano sauce
Thursday's Curry Night
Spicy Chicken Curry Meatballs - R90
Simmered in a spicy tomato cream sauce, served with bay leaf fragrant Basmati rice
Durban Style Fish Biryani - R100
Hot and spicy, with yellow rice, topped with boiled eggs and fresh coriander leaves
Durban Style Beef Curry - R110
With potatoes and carrots, served with Basmati rice
All curries served with poppadums, sambals, chutney, desiccated coconut, mango achaar and spiced tomato chutney.
You can also order your Club-favourites from Monday to Saturday between 11 am and 7pm and Sunday between 11 am and 4 pm for take-away collection.
Click here
to view our take-away menu. Contact
011 215 8600
to place your order.
Printer Cartridge Recycling with 123mds and Randpark Club
We may still look like the new kid on the block, calling the shots by inviting you to partake in something other than a great round of golf ...
As important as it is to play a round of golf with the members of Randpark Club, is how important the environment is to us ... now that's very important!
123mds, an Authorised Partner of Kyocera Document Solutions South Africa, is participating in the Kyocera Recycling Programme extended to all Kyocera Partners.
123mds invites all Randpark Club members, together with Carbon Footprint Recycling, to help battle against e-waste by disposing of empty laser and copier toner cartridges, ink cartridges, and waste toner bottles in the proper manner.
The idea was borne out of the need to keep hazardous materials out of landfill sites. Printer cartridges in their decomposed state are hazardous.
Carbon Footprint Recycling creates concrete-based products such as dustbins, vegetable planters and benches out of the recycled cartridges.
Recycling printer cartridges is the right thing to do and there are other benefits, such as job creation and reducing waste that is sent to landfills.
Some interesting facts:
•
Hundreds of thousands of cartridges are sold into the market every month and less than 20% of these are recycled.
•
An average of 1,3kg is added to the landfill each time a laser cartridge is thrown away.
•
It takes 3,8 litres of oil to make a laser printer cartridge.
•
Put all the cartridges sold in one year end-to-end and it would circumnavigate the earth 3 times!
Recycle your printer cartridges with 123mds, Kyocera and Carbon Footprint Recycling by:
•
Bringing your empty cartridges to the Club and putting them in the collection bin in the main reception area.
•
Contact us via email at
carmen@123mds.co.za
or alternatively
click here
for more information on this recycling programme.
Recycling is the right thing to do for our environment.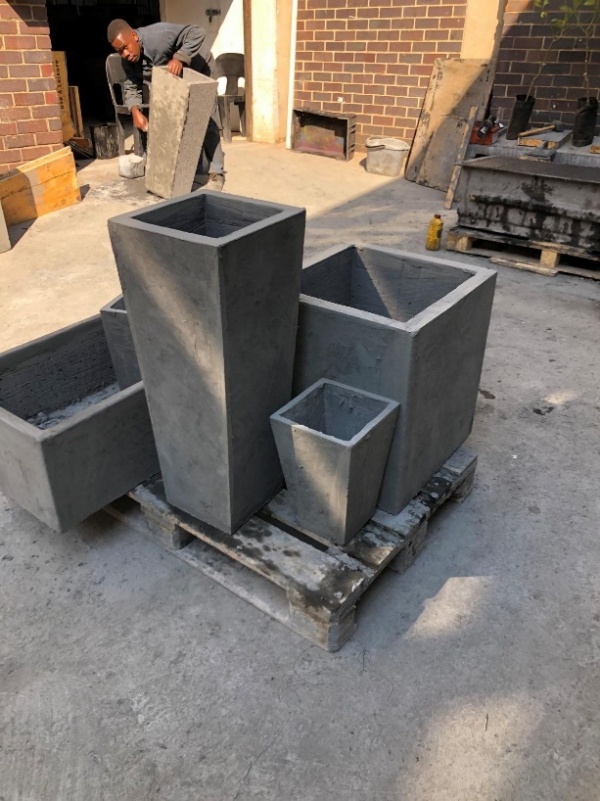 Carbon Footprint Recycling creates concrete-based products such as dustbins, vegetable planters and benches out of the recycled cartridges.
Click here
to book your table and
click here
to view the menu.
Have a great week
Stay Safe, Healthy & Happy!
The Randpark Team