Influencing the industry to appreciate the power of engagement.

I have often used a diagram (below) I stole from David Colclough (PGA of GB&I) to present to prospective employers the large revenue opportunity PGA Professionals offer their business.

I was at it again last week with a leader who I wanted to persuade to employ PGA Professionals at 26 locations. He had some uncomfortable questions for me.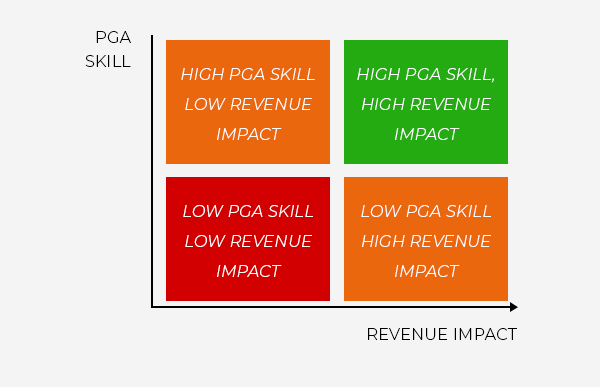 After I'd presented the benefits a PGA Professional would offer his business, he asked a question with three parts:
a) "Ian describe for me the 'PGA skill' you're talking about and what might make it 'high' or 'excellent'?"
b) "Then tell me who trains them in that skill and to what level on the chart that training takes them to?"
c) "Finally list for me the 26 Professionals who you think might take up a role that drives my golf business".
How would you have answered that question? Where, online, would you send someone asking that question, to get the answers?

So, I have a question for you in three parts:

a) Given the answer you would give to part a above, what skill are you working on, and how are you developing it?
b) If your current employer was asked: 'how do you utilize your PGA skills'; what would they say?
c) And do you have a success story with metrics that we can turn into a story to be published?



Subscribe
Legally Privileged Disclaimer
Internet communications are not secure and therefore RetailTribe does not accept legal responsibility for the contents of this message. The information in this email and any attachment to it is confidential and is intended for the addressee only. Any unauthorised disclosure, use or dissemination of the contents in part or whole is prohibited. If you are not the intended recipient please return it to the sender and delete it. Any views or opinions presented are solely those of the author, and do not necessarily represent those of RetailTribe unless otherwise specifically stated. This email and attachments have been screened and are believed to be free from any virus. However, it is the responsibility of all recipients to ensure that they are virus free. This email was sent to you by RetailTribe. RetailTribe will not accept any liability for any damage caused by a virus. If you no longer want to receive this email, please
unsubscribe here
.