I would like to thank members for the overwhelming support, this past week, whether it be through messages, emails, and phone calls, or in person. I am truly excited about the opportunity and what lays ahead, and it will be very difficult to leave Randpark when the time comes. This Club and the members have given me the opportunity and the support over the years, which I will always be grateful for.

Please click here to view the Annual report, including the Annual Financial Statements for the financial year ending 2021.
SAVE THE DATE
Please diarise the below date for the Club AGM:
Monday, 25th October 2021
We look forward to seeing you there.
We always encourage communication between our members and the Club. If you have any comments or questions, please don't hesitate to either contact our CEO, Francois Swart at ceo@randpark.co.za or our Club Captain, Derek McGowan at captainslog@randpark.co.za.
Around the World – Your Passport to Party
Click here to view the photos taken at the Captain's Golf Day & Dinner last Friday.
Receive Randpark news updates via WhatsApp in two easy steps:
1. Add Randpark as a contact on your phone: 082 052 4767.
2. WhatsApp us your first and last name. If you ever want to stop receiving event news, simply send us a WhatsApp with the message "STOP".

Please note that this WhatsApp number is operated from a computer and, unfortunately, is unable to receive any phone calls. Please contact the Club on 011 215 8600 for assistance.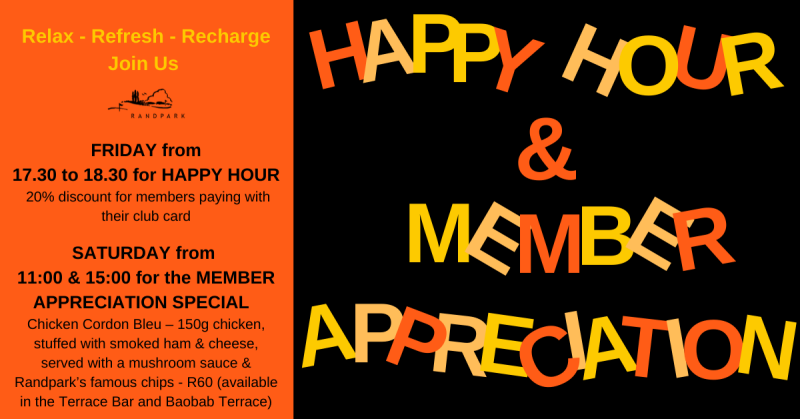 Congratulations and Good-Luck to Kim Turgut and Cara Ford on their selection to represent Gauteng in the 60th South African Women's Inter-Provincial Championships at Rondebosch Golf Club from the 4th to the 8th of October!

It's hard to believe that we are about three months away from Christmas (93 days to be precise), and I am sure a lot of our members can't wait for the December holidays. A year-end function is par for the course before all the golfing schools leave on vacation. A few schools have already secured their dates, so if you have not booked your function at the Club, please ensure you meet with either Gaby or Leanne to avoid disappointment.

We had a quieter week on the courses, with only one golf day on Tuesday, but our courses are still very busy with groups and visitors during the week. We would like to remind our members again to please look after the courses. Roger and his team will always ensure that the courses are in the best condition before the start of each round, and it's up to each and every player to ensure they remain that way.
• Please rake the bunkers – this is probably the biggest concern currently. All the rakes are back, and players must please rake the bunkers after playing their shot. We can all agree that the most annoying thing is to hit a bad shot, yes, you get penalised if you are in the bunker, but to get there and the ball is lying in someone else's footprint, making the shot even tougher or impossible to play.
• Divots on the short holes are not being filled. We have divot mix sand available on all short holes. Always take your sandbag to the tee box to ensure you fill your divot; it does not matter how big or small it may be.
• The greens are a bit firmer than normal this time of year, and does make it more difficult to spot your pitch mark on the putting surface, but take your time and look for your pitch mark. If you can't find your own pitch mark, repair the others that you might come across on the greens.
• Golf carts must not go past the sign boards before the greens, and must proceed in the direction indicated on the sign. All cart GPS units will warn you if you are too close to the "NO GO ZONES", and players must divert to the cart paths immediately.
General Dress Code for Golfers and Walkers During Golfing Hours
We have noticed over the last couple of months that a lot of non-golfers are walking with golfers during their round. The dress code must be followed at all times, even if they are not playing golf, and golf attire must be worn. We encourage all non-golfers to dress accordingly and adhere to the dress code standards of the Club at all times.
• No tracksuits
• Closed shoes must be worn – no beach slops or sandals
• No denim shorts or trousers
• No running shorts, athletic shorts, draw-string trousers, draw-string shorts or sun tops
Please note that as of the 23rd of September, we will no longer be allowing single golf cart rates. Normal member discounts will still apply.
With the Ryder Cup to be hosted by Team USA at Whistling Straits this coming weekend, we are delighted to offer you a very striking pair of FootJoy ProSL Golf Shoes, in the colours of Team Europe!
The FootJoy ProSL Golf Shoes are of the most comfortable shoes on the market, and we think FootJoy got this design spot on!
Visit us in the Golf Shop to try on your pair, while still available. Don't miss out!
Don't forget to hand in your scorecards on Saturday, and stand a chance to be one of the lucky Johnny Walker Black winners!
We will be doing Member Attendance Lucky Draws during prize-giving.
AM Prize Giving - TWO bottles of Johnny Walker Black!
PM Prize Giving – ONE bottle of Johnny Walker Black!
You must be present during prize giving to be eligible
Sponsored by Ubuntu Resource Management and CTL Group Holdings (Pty) Ltd
It has been another extremely busy project week on the courses. The bunker sand top-up is nearing completion, and now it's a matter of getting the sand to settle and compact as much as possible.

We are busy levelling the back of the 15th on Bushwillow, as well as extending the lower senior tee on the 17th on Firethorn. This will give much-needed extra teeing ground, and different angles into the green.
We are also improving the pathway from the 1st green to the 2nd on Bushwillow, and completing the paving from the new 8th bridge to the 9th tee.

The major project for the week was our dump cleanup; we hired a massive wood grinder and processed over 400m2 of mulch, which will be used to create compost, and mulch various areas on the course.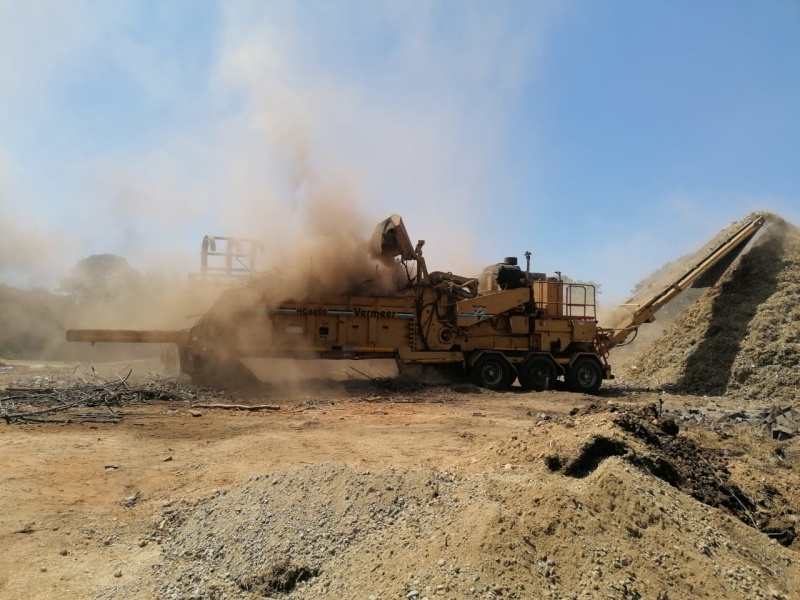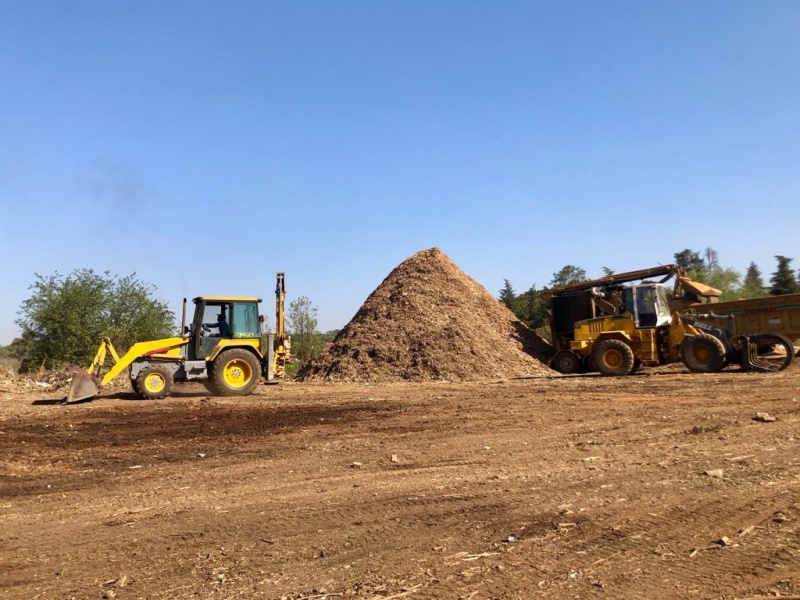 Sit down or take-away from 5pm to 8pm. Take-away must be ordered with your service host.

Spicy Spanish Paella R95
With mussels, chicken strips, peas, red peppers, white wine, tomato concasse, chorizo sausage and curried yellow rice, topped with a grilled prawn and lemon wedge
Beef Curry R110
North Indian Amritsar Chicken Masala R90
Overnight marinated, cooked in creamy tomato curry sauce and served with basmati rice
All curries served with sambals, chutney, cucumber raita & mango achaar.

You can also order your Club-favourites for take-away collection Monday to Saturday between 11am and 7pm and Sunday between 11am and 4pm. Click here to view our take-away menu. Contact 011 215 8600 to place your order (Mon-Sat 11am-5pm and Sunday 11am-4pm).
Have a great long weekend
Stay Safe, Healthy & Happy!
The Randpark Team
This mail was sent to {{contact.contact_email}} by Randpark Club and is provided as a service for the members and guests of Randpark Club and has been supported and sponsored by advertisers in this email and our partner suppliers. For any queries contact us on 011 215 8600.

Sent on behalf of Randpark Club by
RetailTribe: Unit 8 | Blaauwklip Office Park | Stellenbosch | 7600 | 021 880 2693