I would like to thank the committee and members of Randpark Club for the opportunity to lead this amazing team during the transition period, while we are in search of our new General Manager. I am very excited for what the future holds for Randpark Club, and know it will be great! Please do not hesitate to contact me for any information you might need, or just to say hello.

We have a very busy four weeks coming up, with the CMASA Conference, various golf days and functions, as well as the Joburg Open load-in, which will start from today. Please keep an eye out for all the communication we will be sharing, as more information becomes available.

Happy golfing,
Albert

We always encourage communication between our members and the Club. If you have any comments or questions, please don't hesitate to either contact our Acting General Manager, Albert Clack at clubops@randpark.co.za or our Club Captain, Arthur Heinrich at captainslog@randpark.co.za.

1. We understand the impact the preparation and the tournament have on members, which is why we have gone above and beyond to look after you the week before and the week of the tournament. Please note that Firethorn will now only close after the morning field on Saturday, the 20th November and will remain closed until Sunday, the 28th November. Bushwillow will be open from the 18th of November until the 21st of November, and it will be for members only. We will not be able to book all members on the Saturday or Sunday, so please try and arrange to play the Thursday or Friday, if you are flexible and can assist the Club and other members by playing on another day.
2. Last year, we offered a special arrangement for the week, where the Club paid for one (1) complimentary game for all, paid-up members, with unlimited tickets at selected peer clubs during the tournament week. We are extending the same offer this year. The Club will once again pay for one (1) complimentary game for all, paid-up members, with unlimited tickets.
3. Please click here for more information on reciprocity.
4. It is important to note that the Club will book tee times for members, at one of the agreed clubs, subject to availability for a weekday or weekend round. Only green fees will be covered. Any additional costs like carts, halfway, etc. will be for your own account.
5. As we communicated in Monday's newsletter, NO CARTS will be allowed on Firethorn from Monday, 15th November until after the Joburg Open. Our booking ladies will try their best to ensure that if you do require a cart during this time, you are moved to Bushwillow, but as we are all aware, tee-off times are limited.
6. Marshalls for Joburg Open – we are still looking for members to assist with marshalling during the tournament. The list is up at reception, and if you would like to volunteer, please add your name to the list. Please note that we will only be using 20 marshals per day. For any additional information, you can contact Rikert on golf@randpark.co.za.
7. Pro Shop closure – please note the Pro Shop will be closed from Thursday, 18th November. Check-ins and Pro Shop services (limited stock) will be moved to the Kiddies Play area up in the member's bar. Bax and Greg will pre-check in all players before their round. All carts need to be settled before proceeding to the cart pick-up point.
8. The Driving Range will close on Sunday, the 21st November at 16h00 – the last bucket will be sold at 16h00.
9. We will also host a Play it like a Pro Competition on the Monday, post the tournament, if the tournament finished the Sunday. As before, members will have first option to play on Firethorn, on the 29th November. Bushwillow will be open for social play.
10. Obviously, we know that there are still restrictions on spectators and how this tournament will be run, due to the Covid-19 regulations. First and foremost, there will be 2000 spectators allowed during the tournament. The Club will receive a member allocation of tickets per day, and these will be issued on a first-come-first-served basis when available. There will be no members or spectators allowed in the clubhouse, as the restrictions limiting the number of people in the clubhouse to 750 makes it very difficult, given the fact that we must accommodate the players, caddies, all officials, together with the European Tour, Sunshine Tour, media and TV crew.
11. There will be a lot of traffic around the course and construction taking place over the next couple of weeks. We apologise for the noise levels around these areas. In the event of the contractors interfering with play, please make it known that you wish to play by whistling or shouting "Fore", so that they are aware that you want to play. We are trying to limit their presence on the course as much as possible, but your cooperation would be appreciated.
12. We will keep members informed as more information become available. In the meantime:
13. We ask that all players appreciate the significance of this event, and show the necessary consideration to the below requests:

• Cart users to please drive on the fairway as much as possible and not in the rough. From approximately 20m from the green, we ask that you proceed directly to the cart path, park your golf carts on the path, and walk to the green to finish the hole.
• We want to keep our courses clean, please don't litter or flick cigarette butts into bunkers or around the green.
• Pitch marks on the greens do influence the smoothness of the greens, so we kindly ask that you repair your pitch marks, even if it is just a small dent from a shorter approach.
• Divot repairs are quite scarce in these modern times, but we ask that you do make use of your sandbag to fill your divots in the fairway. It drastically speeds up recovery of that damaged area.
• Please don't forget to rake the bunkers, as this is probably the biggest challenge we are facing at the moment.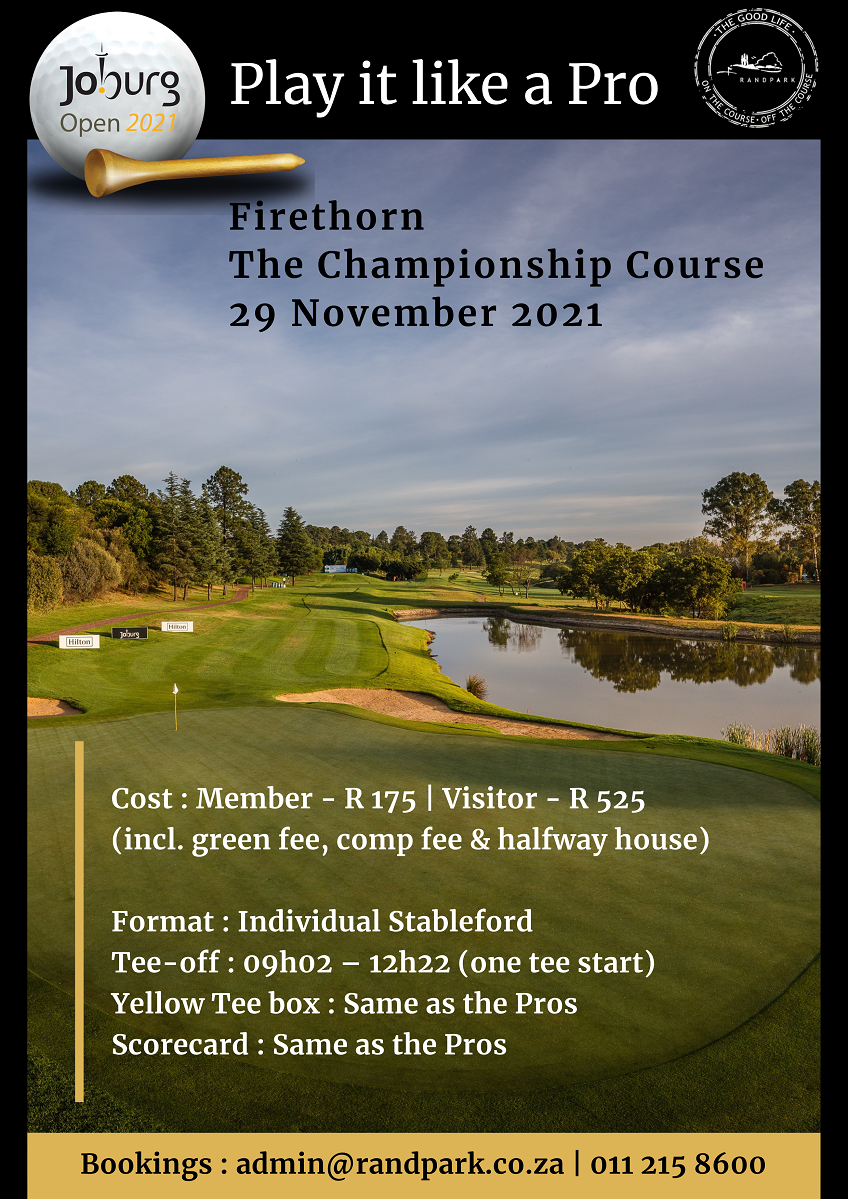 The Best of Joburg Readers' Choice Award – Best Golf Course
We have won The Best of Joburg Readers' Choice Award – Best Golf Course for the ninth consecutive year!

Congratulations to the entire team who made this possible, and thanks to everybody that voted for us.
We've had a number of requests from our members regarding Halaal Food. We would like to invite you to please contact Albert on clubops@randpark.co.za with more information on your requirements.
Did you know – the Randpark App has the functionality where you can give feedback on various locations at the Club? Please use this function if you have anything to report.

Once you have logged onto the Randpark App on your mobile device please follow these steps:
Click the three MENU bars in the top left hand corner.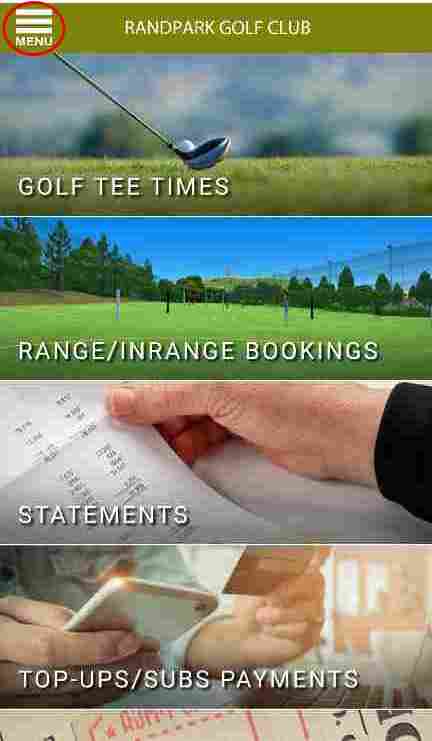 Click on 'Club Feedback' in the dropdown menu.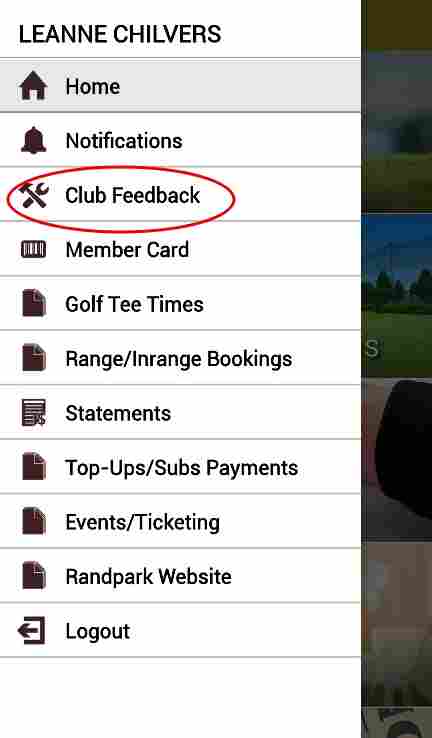 Select the location you would like to give feedback on in the dropdown menu.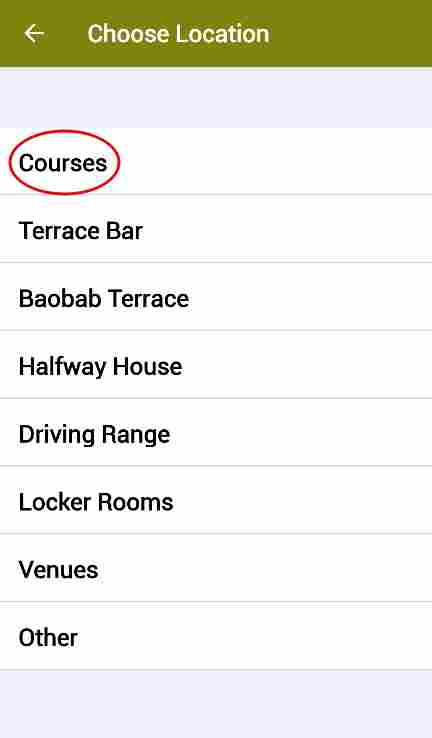 Click on 'Problem Description'.
You also have the option to add a photo – click on 'Add Photo' – you can take a photo with your phone or upload one from your phone.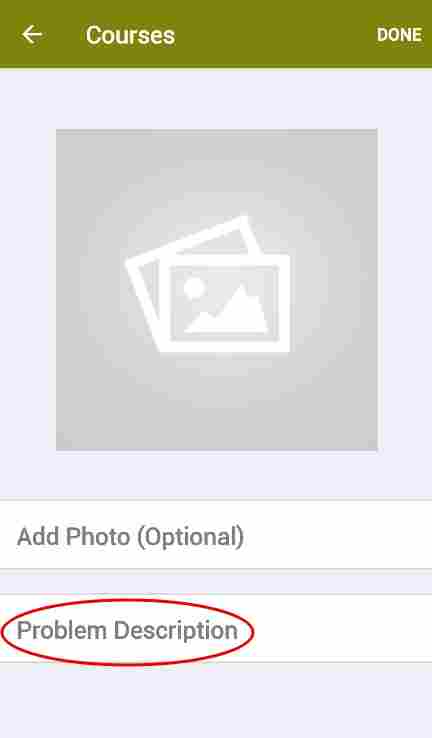 Another window will open where you can type your text (TEST). Click 'DONE' in the top right hand corner.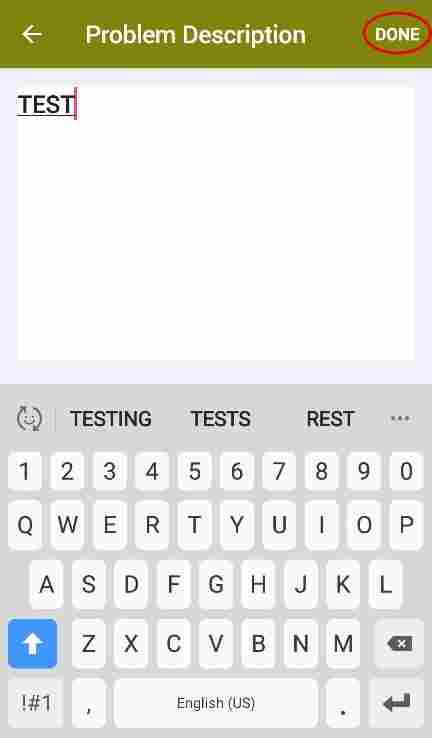 An email will open up [To Albert Clack]. Click the arrow to send.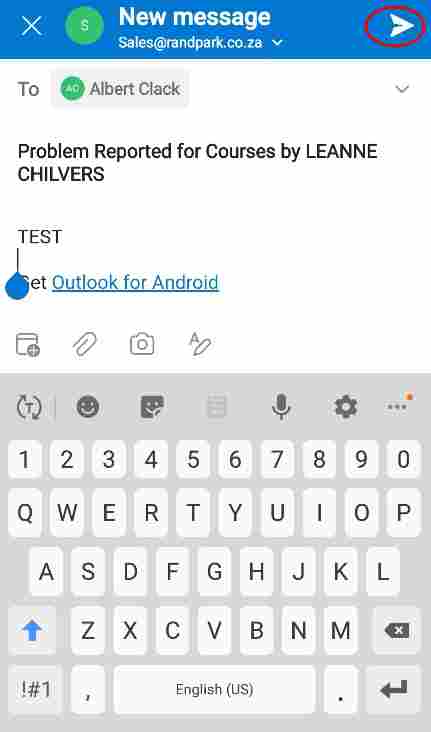 Kyocera's game-changing range of intelligent A3 MFP TASKalfa devices
Kyocera's two new A3 colour multifunctional printers: the TASKalfa 3554ci and TASKalfa 2554ci deliver exceptional quality without the wait, featuring print speeds of 35 PPM and 25 PPM respectively, and scan speeds of up to 274 ipm. The new high-end document processor features a scanner input capacity of 320 pages and 274 ipm.

The TASKalfa devices boast an improved ID card copy function, while implementing continuous MFP security updates, thus ensuring that confidential documents receive the most up-to-date protection. This enhanced security, features seven security attributes, which include confidentiality, integrity, availability, authenticity, accountability, non-repudiation and reliability.

Kyocera's latest AI technology enables users to emphasise or overwrite the handwritten parts of a document, without changing the format or image when scanning.

These versatile units are the ideal partner for today's ever changing business environments. With reliable performance, the latest security, highly productive intelligent features and reduced maintenance needs, this MFP is always ready to deliver the results customers are counting on.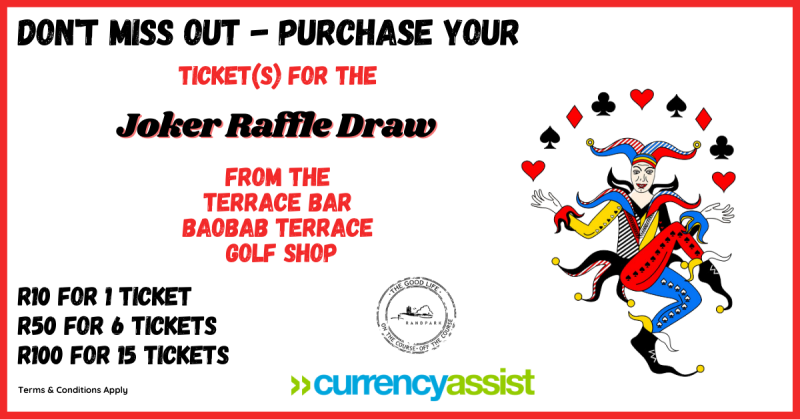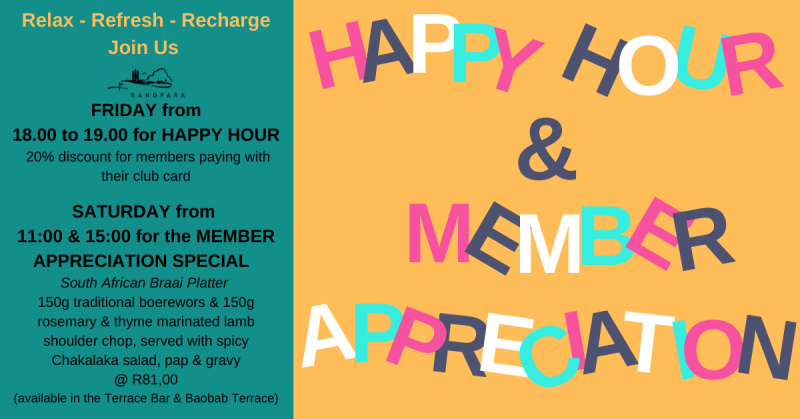 The annual International Cup will take place this coming Saturday. We have a total of 11 countries playing this year, and we are very excited to see who will walk away with the trophy.

The teams are:
• North Korea
• Thailand
• India
• Mexico
• Ireland
• South Africa
• USA
• Scotland
• Zimbabwe
• Seychelles
• Netherlands

Please note there will be some fun prizes on the day, as well as for the teams: Best Dressed and Best Decorated Cart/Golf Bag/Pull Cart.

The format will be a Betterball Stableford – all three Betterball scores will be added up and the team with the most combined points will be declared as the 2021 International Cup trophy winners.
INTERNATIONAL DAY 2021 - DRAW
Ist tee
10th tee
Time
Teams
Teams
12:10
North Korea 1
Thailand 1
India 3
Mexico 2
12:18
Ireland 1
South Africa 3
South Africa 1
USA 2
12:26
Netherlands 1
Seychelles 1
Scotland 3
Zimbabwe 3
12:34
Thailand 2
Mexico 3
Seychelles 3
North Korea 2
12:42
Zimbabwe 2
Seychelles 2
Ireland 3
USA 3
12:50
USA 1
India 1
Thailand 3
Netherlands 3
12:58
North Korea 3
Ireland 2
Zimbabwe 1
Scotland 1
13:06
South Africa 2
Scotland 2
Netherlands 2
India 2
13:14
Mexico 1

Members are hereby reminded of the procedures that need to be followed at all times:
• NO SLIP = NO CART. Members must please ensure they pay for their cart with Bax or Greg before a cart will be allocated to you.
• The indemnity book must be completed with all the required information and must be signed.
• Any damages caused will be for the player's account.
• Please drive with care, this includes the parking area.
• When proceeding to get your clubs in your car, or to drop off your clubs after your round in the parking area, please take extra care when driving in this area and adhere to the rules.
• Please do not leave carts in the parking area, all carts should be returned to the cart pick-up point.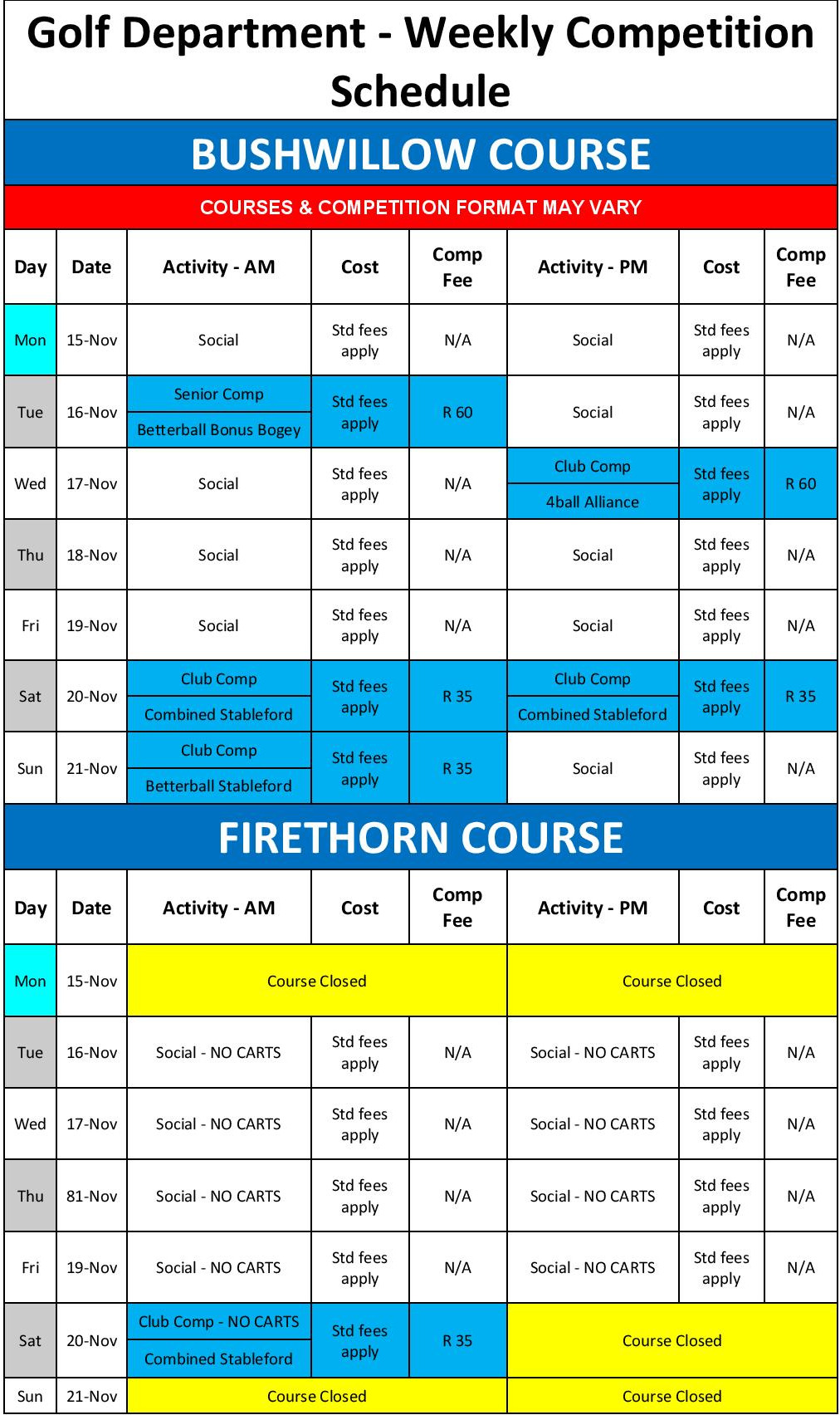 Don't forget to hand in your scorecards on Saturday, and stand a chance to be one of the lucky Johnny Walker Black winners! We will be doing Member Attendance Lucky Draws during prize-giving.

AM Prize-giving – ONE bottle of Johnny Walker Black!
PM Prize-giving – FOUR bottles of Johnny Walker Black!

You must be present during prize giving to be eligible.

Sponsored by Ubuntu Resource Management and CTL Group Holdings (Pty) Ltd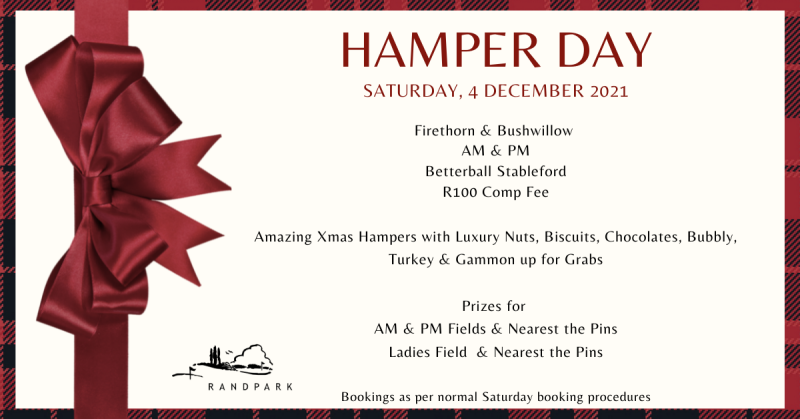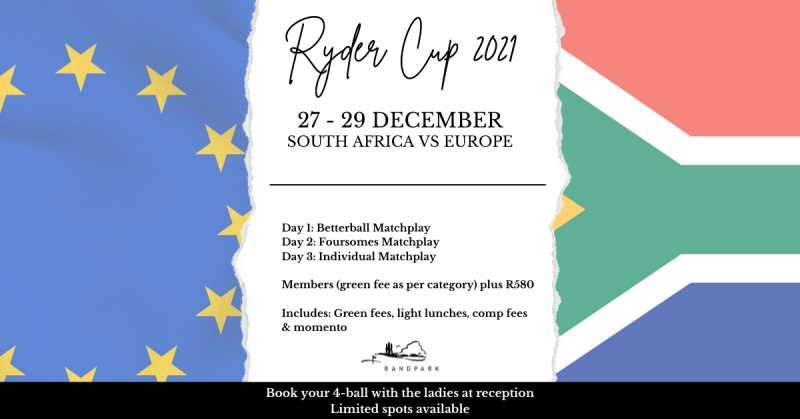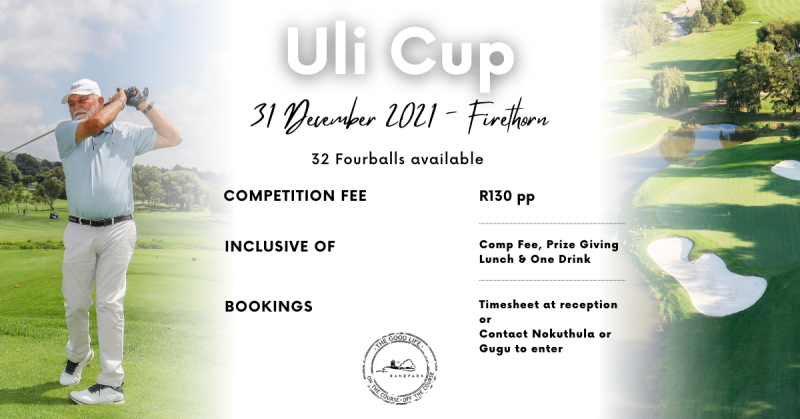 After a week of stable electricity supply (apart from loadshedding), a functional pump house and 46mm of rain, things are looking a lot better on the courses, especially Bushwillow.

Our main focus has been on the Firethorn course in preparation for the Joburg Open. Old tree stumps that were ground away have been patched, as well as a few worn out areas. There is also a team clearing litter from the rivers after the heavy rain on Sunday night. Low branches are being trimmed, and we are spraying our final fertiliser applications on the fairways and tees. New bollards are being installed to minimise the negative effect of golf carts in the prime playing areas.

On Bushwillow, we have also been patching worn areas with the grass that was removed from the new cart path from the 5th green to the 6th tee, which is currently under construction.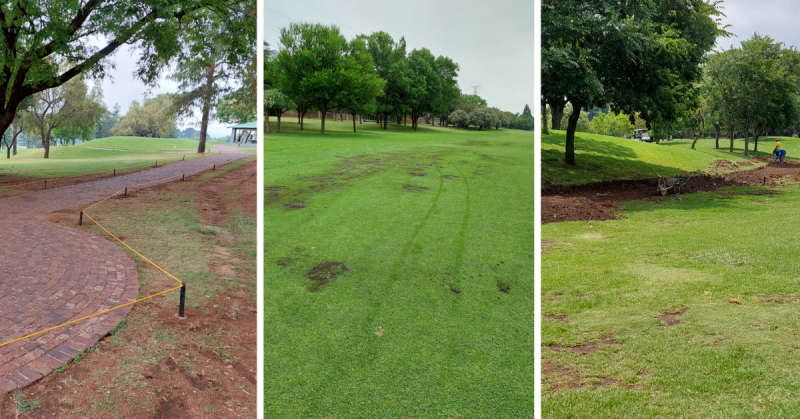 Whether your game is cricket or rugby, join us to watch the latest matches live. Cheer on your team and enjoy a bite to eat or refreshing beverage, while soaking up the atmosphere!

Cricket:
Thursday, 11 November at 4pm Pakistan vs Australia
Sunday, 14 November at 4pm Final

Rugby:
Saturday, 20 November at 5.15pm SA vs England
Thursday Curry Night Specials
Sit down or take-away from 5 to 8 pm. Take-aways must be ordered with your service host.

Indian Pork Curry – R95
Served with cumin basmati rice
Lamb Biryani – R45
Tossed with brown lentils, cumin rice and crispy potatoes

All curries served with cucumber raita, sambals and poppadums.

You can also order your Club-favourites for take-away collection (Mon-Sat 11 am to 7 pm and Sun 11 am to 4 pm). Click here to view our take-away menu. Contact 011 215 8600 to place your order (Mon-Sat 11 am to 5 pm and Sun 11 am to 4 pm).
Members:
Adults at R382.50 | Children under 12 at R191.25 | Children under 5 FREE

Non Members:
Adults at R425.00 | Children under 12 at R212.50 | Children under 5 FREE

For bookings, please call 011 215 8600 or email enquiries@randpark.co.za.
Have a great weekend
Stay Safe, Healthy & Happy!
The Randpark Team
This mail was sent to {{contact.contact_email}} by Randpark Club and is provided as a service for the members and guests of Randpark Club and has been supported and sponsored by advertisers in this email and our partner suppliers. For any queries contact us on 011 215 8600.

Sent on behalf of Randpark Club by
RetailTribe: Unit 8 | Blaauwklip Office Park | Stellenbosch | 7600 | 021 880 2693