Influencing the industry to appreciate the power of engagement.

Yesterday we promoted the use of skills challenges to create engagement with golfers. If you missed the email yesterday,

If you read through that email, you'll see that a skills challenge gives you the chance to invoke at least 4 (and maybe all 6) of Robert Cialdini's Six Principles of Persuasion.

If you haven't watched the video explaining the six principles, hit the link below. If you have watched it, then you can't watch it too many times, so hit the link.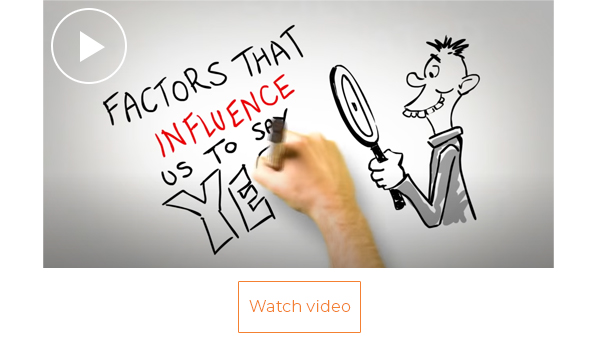 In yesterday's email we had some recommendations. Here's how they relate to four of the principles.
LIKE
As much as asking the golfer questions about how they feel about a subject provides you with intelligence to enable a personalized proposition, it also makes you more likeable. People naturally feel positive towards someone who shows an interest in them, especially how they feel about something.

AUTHORITY
We always recommend that you use your expertise to provide value in a skills challenge. It reinforces your authority position as the expert guide. You're the PGA Professional.

RECIPROCITY
By providing free value in the skills challenge, you're offering something to the golfer. Now they need to reciprocate and pay attention to your proposition. They are more likely to say yes.

COMMITMENT & CONSISTENCY
Whatever the skills challenge is, by taking the challenge, the golfer is trying to identify as 'able'. As a good putter; or good pitcher; depending on your challenge.

Then, as we recommend, you don't try and CONVERT them into a full program, but into a smaller commitment. A logical next step. An assessment for instance.

And it doesn't take much effort to also invoke the other two principles of scarcity and social proof (consensus).

And that's why we love playbooks with engagements built around skills challenges.



Subscribe
Legally Privileged Disclaimer
Internet communications are not secure and therefore RetailTribe does not accept legal responsibility for the contents of this message. The information in this email and any attachment to it is confidential and is intended for the addressee only. Any unauthorised disclosure, use or dissemination of the contents in part or whole is prohibited. If you are not the intended recipient please return it to the sender and delete it. Any views or opinions presented are solely those of the author, and do not necessarily represent those of RetailTribe unless otherwise specifically stated. This email and attachments have been screened and are believed to be free from any virus. However, it is the responsibility of all recipients to ensure that they are virus free. This email was sent to you by RetailTribe. RetailTribe will not accept any liability for any damage caused by a virus. If you no longer want to receive this email, please
unsubscribe here
.