Are we under-achieving, if we measure the number of golfers who invest in coaching?

If you, the golf coach, can connect the golfer to the greater goal of how they experience the game in total, rather than a technical or handicap improvement, you will create a much stronger emotional, game-changing, even life-changing relationship. These sort of connections move you to what Kevin Roberts describes as a Lovemark.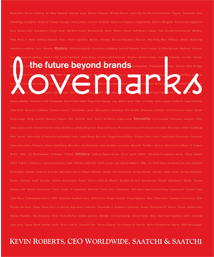 If you read Roberts' book – Lovemarks – you'll see that he probably goes further, much further, than the Review 24 research showing that an emotional connection increases word-of-mouth marketing impact by 300%.

He describes that emotional connection as fundamental to word of mouth, loyalty AND margins.

I would strongly recommend each golf property having a copy of this book and having every PGA Professional on property read it. Everywhere Roberts refers to a "brand", think of yourself, the golf coach or professional.



Subscribe
Legally Privileged Disclaimer
Internet communications are not secure and therefore RetailTribe does not accept legal responsibility for the contents of this message. The information in this email and any attachment to it is confidential and is intended for the addressee only. Any unauthorised disclosure, use or dissemination of the contents in part or whole is prohibited. If you are not the intended recipient please return it to the sender and delete it. Any views or opinions presented are solely those of the author, and do not necessarily represent those of RetailTribe unless otherwise specifically stated. This email and attachments have been screened and are believed to be free from any virus. However, it is the responsibility of all recipients to ensure that they are virus free. This email was sent to you by RetailTribe. RetailTribe will not accept any liability for any damage caused by a virus. If you no longer want to receive this email, please
unsubscribe here
.