Are we under-achieving, if we measure the number of golfers who invest in coaching?

There are those, many at country clubs with members, who might feel that their great service or product and discreet word of mouth are their most effective marketing tools. They're absolutely right. They are.

But does that exclude the opportunity to make a 'hero' out of a member, whether they're a student of yours who's just become the club champion, or a new golfer who has worked hard to get to the first rung of the Ops36 ladder?

Mike Aldrich, at Blue Grass Yacht & Country Club in Tennessee, makes a point of making heroes out of his members, including a student who became the club champion: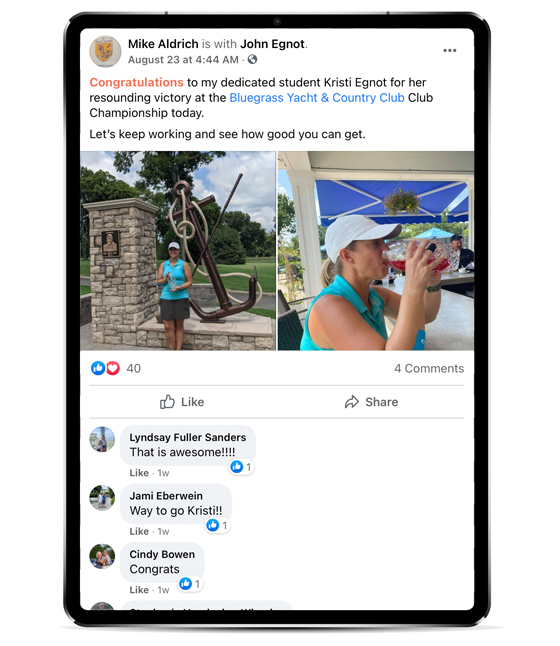 This is an example of someone using two of the eight steps from the word-of-mouth marketing strategy we listed yesterday.

A student winning the club championship does a lot to validate Mike's coaching product for good golfers. The club champion is likely to be a person of influence. And there's the emotion of success in a game we all know is so hard.

Mike regularly creates great content celebrating his club and the achievements of his members. How many stories of success or accomplishment have you published in the last 30 days?

Missed the 8 steps to a word-of-mouth marketing strategy?




Subscribe
Legally Privileged Disclaimer
Internet communications are not secure and therefore RetailTribe does not accept legal responsibility for the contents of this message. The information in this email and any attachment to it is confidential and is intended for the addressee only. Any unauthorised disclosure, use or dissemination of the contents in part or whole is prohibited. If you are not the intended recipient please return it to the sender and delete it. Any views or opinions presented are solely those of the author, and do not necessarily represent those of RetailTribe unless otherwise specifically stated. This email and attachments have been screened and are believed to be free from any virus. However, it is the responsibility of all recipients to ensure that they are virus free. This email was sent to you by RetailTribe. RetailTribe will not accept any liability for any damage caused by a virus. If you no longer want to receive this email, please
unsubscribe here
.