We received a massive downpour on Friday afternoon with a total of 90mm falling in a very short time. The strong winds blew many trees over and wreaked havoc with the bunkers washing the sand off all the faces and creating dams everywhere. The river flooding left its typical litter along its banks and blocked the bridges. Although it is never nice to close the course on a Saturday it did give the course staff a chance to start putting things back together, pushing sand back up the nearly 120 bunkers is a massive task and does take time. The team also managed to clear the bridges and clean up the litter from the banks of the river. The large trees that fell down is another big task and will be cleaned up during the week, unfortunately we lost 2 big willow trees on the 16th and 18th hole on Firethorn.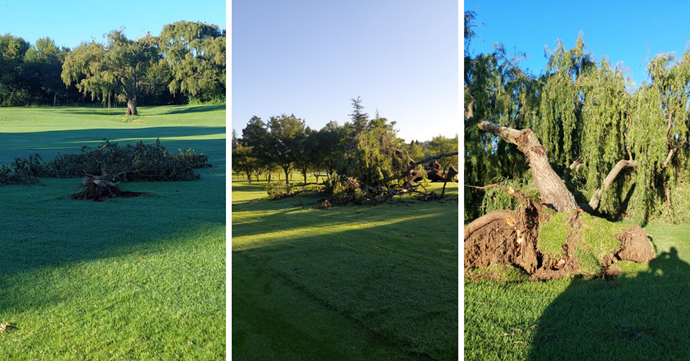 There are still a few bunkers that are out of play on Bushwillow, these will be repaired as soon as they dry out.

The chipping green has germinated but the heavy rain did manage to wash some seed into the low areas making germination a bit uneven. The 7th green is progressing with good growth but still needs some time to close fully. The excessive rains are not helping the black layer under the surface which has a negative effect on the turf health.

In an effort to improve playability and make an easier walk for golfers with trolleys, we have mown all the par 3s down to semi-rough height of 20mm. They used to be mowed at 50mm rough height once a week. Not only will this make the area look better, but will also takes pressure of our limited rough cutting machinery.

Rainfall statistics

January to December 2021 = 860mm
September 2021 to current = 719mm

General course care and time keeping

Over the last couple of weeks we received a lot of feedback from members and guests with regards to players not taking care of the courses and not adhering to tee off times and pace of play. Members are hereby reminded:
To repair your pitch mark and two others when on the green.
Fill up your divots with the sandbags provided.
Please rake the bunkers.
Arrive on time for your tee off time – failing to arrive on time or at the last minute will have an effect on, not only your game, but also the players behind you.
Keep up with the fourball in front of you – if you lost time looking for a ball or had a bad hole, it's your responsibility to make up for the lost time.
Play ready golf at all times.
Be considerate of other players in the field.
Respect the marshals on the course – if you are asked to speed up play that means you are out of position and need to make up for lost time.
Respect following golfers that are playing and please do not confront slow golfers – rather call the marshal or manager on duty to attend to the problem, they are here to assist you.
Weekend check-ins

We would like to remind our members that we are still doing pre-check-ins during weekends. A compulsory competition fee will be deducted off your club account on Saturdays and the Sunday AM field (R35). Members are reminded to ensure they have sufficient funds available in their account and if you are asked by the starter to pay the comp fee to either pay immediately or after your first nine.

We are aware that some members are still not receiving the communication via sms. If you are not receiving the sms messages please email your name and updated contact number to Patricia at sales@randpark.co.za.
Thank you to everyone who took part in our competitions this week and congratulations to our winners. Take a look at the latest results.
Joker Raffle & Member Attendance Draws
Due to the courses being closed on Saturday we had no draws.

You can purchase your tickets for the Joker Raffle Draw in the Terrace Bar, Baobab Terrace or the Golf Shop and Vern will be selling tickets on Saturday from 12am to 2pm and then again from 4 to 6pm.

Get one ticket for R10, six tickets for R50, or really increase your chances with 15 tickets for R100!

Sponsored by
Don't forget to hand in your scorecards on Saturday and stand a chance to be one of the lucky Johnny Walker Black winners! We will be doing Member Attendance Lucky Draws during prize-giving.

AM Prize-giving – ONE bottle of Johnny Walker Black
PM Prize-giving – ONE bottle of Johnny Walker Black

Sponsored by
You just have to be present when the draws take place. AM draws will be done after the morning field prize-giving (2pm), and PM draws will be done after the afternoon field prize-giving (6pm).

We look forward to seeing you there!
Upcoming club competitions
View this week's Competition Schedule for both Bushwillow and Firethorn in the link below.
We are here to make your Valentine's Day extra special

ROMANTIC PICNIC ON THE COURSE
From 15h30
Bring your own blanket
Includes a luxury picnic box & bottle of Ken Forrester Petit Wine
(Crackers, crostinis, nuts, pretzels, biltong (or salami), preserve, large Camembert heart and 3 other cheeses, seasonal fruit, sugar heart cookies, brownies, caramel shortbread cookies, peanut brittle and chocolate truffles)
Cost per couple : R800

4-COURSE DINNER FOR TWO ON THE TERRACE
From 17h00
Cost per couple : R750
View Menu
Life entertainment by Andrew Lawrence from 5.30pm
10% Discount for members
Only Pre-Bookings with payment accepted
Please support the 123MDS KimiTri Team Fundraising Dinner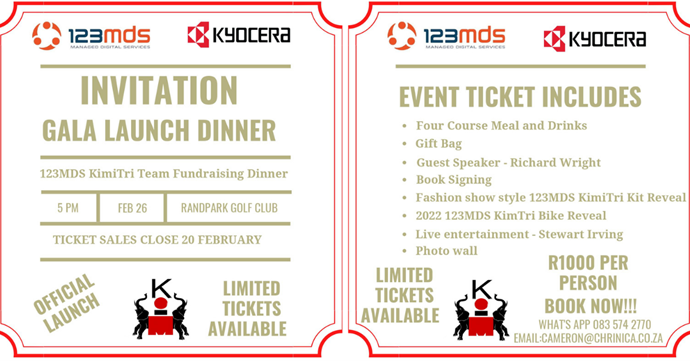 KimiTri was started by Malcom Horn and Cameron Kiloh after the passing of Kim Kiloh from cancer. Malcom being Kim's fiancé and Cameron Being Kim's brother, decided to complete an Ironman event in her honour. After a few discussions with some like-minded people they decided to create a group of athletes to complete the event not only in honor of Kim but to raise funds and awareness for cancer patients in need of assistance. This little idea grew and grew into the KimiTri brand of today that proudly has 14 athletes competing in a multitude of events as well as an additional 18 non-athlete members who assist in all the fundraising and awareness campaigns.

You spoke and we listened

Sihle's Sunday Buffet Lunch is back, from 6 March @ 12pm (1st Sunday of every month)
Adults R250
Children under 12 Half Price
Members receive member's discount
Bookings essential, please contact reception 011 215 8600

Have a great week
Stay Safe, Healthy & Happy!
The Randpark Team
This mail was sent to {{contact.contact_email}} by Randpark Club and is provided as a service for the members and guests of Randpark Club and has been supported and sponsored by advertisers in this email and our partner suppliers. For any queries contact us on 011 215 8600.

Sent on behalf of Randpark Club by
RetailTribe: Unit 8 | Blaauwklip Office Park | Stellenbosch | 7600 | 021 880 2693