The Randpark App has many different functionalities

Once you have logged onto the Randpark App on your mobile device please click the three MENU bars in the top left-hand corner.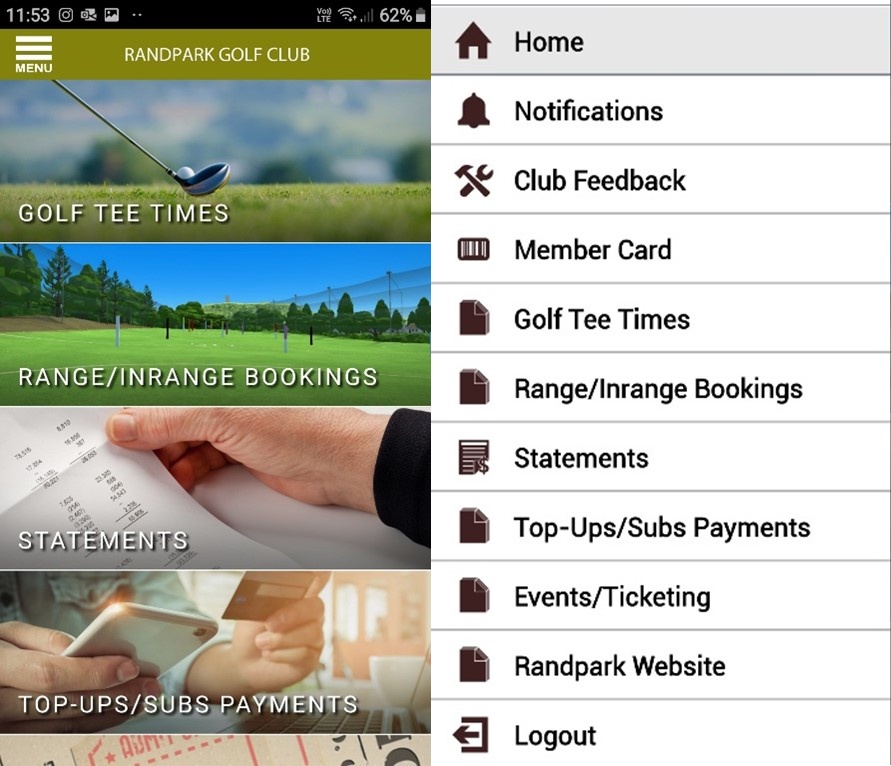 Home:
Will re-direct you back to the screen with the tile layout as per the 1st image.
Notifications:
Important club updates and the newsletter link will be communicated via notifications.
Club Feedback:
- Select Choose Location if you would like to give feedback on in the dropdown menu.
- You also have the option to add a photo – click on Add Photo – you can take a photo with your phone or upload one from your phone.
- Click on Problem Description and another window will open where you can type your text.
- Click DONE in the top right-hand corner.
- An email will open up [To Albert Clack], click the arrow to send.
Golf Tee Times:
Make your golf tee time bookings
Range/Inrange Bookings:
Make your range/inrange bookings
Statements:
You will have access to your
- Levy account
- Account Summary
- Under Statement Period you can view your chits by selecting the month dropdown
- Help lets you view a tutorial video
Top-Ups/Payments:
You can top-up your levy account or pay your subs (this is done via MyClubAccount)
Events/Ticketing:
Book and pay for our special events
Website:
Visit the Randpark Club website .
If you have not yet registered on the Randpark App, please click here for a step-by-step guide.
For any assistance please don't hesitate to contact Felicia on 011 215 8600 or marketing@randpark.co.za.

We always encourage communication between our members and the club. If you have any comments or questions please don't hesitate to either contact our Acting General Manager, Albert Clack at clubops@randpark.co.za or our Club Captain, Arthur Heinrich at captainslog@randpark.co.za.
Good Vibes – Good Life

HAPPY HOUR on FRIDAY from 18.00 to 19.00
20% discount for members paying with their club card

On SATURDAY from 11:00 & 19:00 you can join us for our MEMBER APPRECIATION SPECIAL
Garlic Mussel Pot - half-shell mussels cooked in a creamy garlic sauce served with steamed rice for R 67,50
(available in the Terrace Bar & Baobab Terrace)
The cards are in your hands

If you have not yet purchased your ticket for the Joker Raffle Draw in the Terrace Bar, Baobab Terrace or the Golf Shop, don't despair. Vern will be selling tickets on Saturday between 12h00 and 14h00 and then again from 16h00 to 18h00.

Get one ticket for R10, six tickets for R50, or really increase your chances with 15 tickets for R100!

You just have to be present when the draw takes place. The AM draw will take place after the morning field prize-giving (14h00), and the PM draw will take place after the afternoon field prize-giving (18h00).

We look forward to seeing you there.

Sponsored by
Enter the Attendance Lucky Draw

Don't forget to hand in your scorecards on Saturday and stand a chance to be one of the lucky Johnny Walker Black winners! We will be doing Member Attendance Lucky Draws during prize-giving.

AM Prize-giving – ONE bottle of Johnny Walker Black!
PM Prize-giving – ONE bottle of Johnny Walker Black!

Sponsored by:
Stay in touch with our WhatsApp group
We want to keep you informed

Receive Randpark news updates via WhatsApp in two easy steps:
1. Add Randpark as a contact on your phone: 082 052 4767.
2. WhatsApp us your first and last name. If you ever want to stop receiving event news, simply send us a WhatsApp with the message "STOP".

Please note that this WhatsApp number is operated from a computer and, unfortunately, is unable to receive any phone calls. Please contact the Club on 011 215 8600 for assistance.
Keeping up with our winners

Golf results

Thank you to everyone who took part in our competitions this week and congratulations to our winners. Take a look at the latest results.
South African Stroke Play Championship
Congratulations

Well done to Dechlan Bennett and Grant Labuschagne, they both qualified to play in the upcoming Championship at Randpark from the 21st to 24th of February. Good luck guys!
SA Women's Amateur Stroke Play Championship & SA Amateur Championship Qualification

Good luck

We would like to wish Valda Ford, Cara Ford, Kim Turgut, Casey Twidale, Stefan Jacobs and Grant Labuschagne all the very best for this weekend at Royal Johannesburg & Kensington Golf Club.
Knock-Outs

The draw for the 2022 Knock-Outs was finalised on Tuesday and is up on the noticeboard downstairs opposite the HNA terminal. The reason the date for the Individual knock-out has been moved one week out was due to the number of entries received and to give the players an extra week to plan accordingly. We apologise for the short notice, but all dates below will remain unchanged for the rest of the year.

We would like to encourage members to try and arrange to play before the dates or on the dates provided below. The Club will make bookings on the scheduled dates for the players but if you do plan to play before the set date, please inform the ladies so that we do not double book you over that weekend. A kind reminder that NO extensions will be granted – No exception. Once again, we would like to remind our members participating of the dates set out for each round and the courses:

Men's Individual Knock-Out:
• Round 1: 19th Feb - Firethorn
• Round 2: 19th Mar - Bushwillow
• Round 3: 14th May - Firethorn
• Round 4: 18th Jun - Bushwillow
• Round 5: 30th Jul - Firethorn
• Semi Finals: 27th Aug - Bushwillow
• Finals: 17th Sep - Firethorn

Men's Betterball Knock-Out:
• Round 1: 5th Mar - Firethorn
• Round 2: 2nd Apr - Bushwillow
• Round 3: 7th May - Firethorn
• Round 4: 25th Jun - Bushwillow
• Round 5: 6th Aug - Firethorn
• Semi Finals: 10th Sep - Bushwillow
• Finals: 22nd Oct - Firethorn

Ladies Individual Knock-Out:
• Round 1: 19th Mar - Bushwillow
• Round 2: 18th Jun - Firethorn
• Round 3: 30th Jul - Bushwillow
• Round 4: 27th Aug - Firethorn
• Finals: 15th Oct - Bushwillow

Ladies Betterball Knock-Out:
• Round 1: 2nd Apr - Bushwillow
• Round 2: 25th Jun - Firethorn
• Round 3: 6th Aug - Bushwillow
• Finals: 10th Sep - Firethorn

*MIXED KNOCK OUT DATES AND COURSES TBC*
7th Green - Firethorn

The recovery of the 7th green is taking longer than expected. The rain (38mm) from last weekend did set us back a bit, but the beautiful sunshine over the last week is definitely helping the process to get the green back to where it was.

The green will still be out of play for the next week and will only re-open on Friday, the 11th of February. The temporary green will still be in play and the two-putt rule will apply once on the temporary green.
Upcoming Club Competitions

View this week's Competition Schedule for both Bushwillow and Firethorn in the link below.
Stealth Driver from TaylorMade

The new 60 layer carbon face has people excited and a little sceptical, but we can assure you that this is the best driver that TaylorMade has released to date. The team in the shop are proud to announce the official launch date of the new Stealth driver is Friday, the 4th of February.
We will have the Stealth driver available in the store as well as fitting heads in our fitting centre at the range. Book your fittings now with our Pros at the range and be one of the first people to try out the new Stealth driver.
Our Thursday Specials

Join us by sitting down or grabbing a take-away from 5 to 8 pm. Take-aways must be ordered with your service host. Take a look at this Thursday's options :

Butternut Ravioli tossed in a creamy basil sauce garnished with fresh basil leaves – R 70
Beef Lasagne topped with a Napolitano sauce & mozzarella cheese served with an Italian side salad – R 105
Mild & Spicy Jamaican Jerk Marinated Chicken served with creamy bacon penne – R 95

Pasta dishes served with grated parmesan, crushed garlic and fresh chopped chilies.
Celebrating National Beer Day
With ZAR - South Africa's top new premium beer brand

Their easy-drinking Premium Lager and Lite beers will be available to sample on Saturday and we'll be running specials on both products moving forward.
Valentine's Day Extra Special

Romantic picnic on the golf course
Join us from 15h30 (bring your own blanket)
Includes a luxury picnic box and bottle of Ken Forrester Petit Wine
(crackers, crostinis, nuts, pretzels, biltong, preserve, large Camembert heart and three other cheeses, seasonal fruit, sugar heart cookies, brownies, caramel shortbread cookies, peanut brittle and chocolate truffles)
Cost per couple: R800

4-Course dinner for two on our terrace
Join us from 17h00
Cost per couple: R750
(Menu available on request)
10% Discount for members
Bookings close at 4pm on 9 February
Only pre-bookings with payment accepted
Have a great weekend
Stay Safe, Healthy & Happy!
The Randpark Team
This mail was sent to {{contact.contact_email}} by Randpark Club and is provided as a service for the members and guests of Randpark Club and has been supported and sponsored by advertisers in this email and our partner suppliers. For any queries contact us on 011 215 8600.

Sent on behalf of Randpark Club by
RetailTribe: Unit 8 | Blaauwklip Office Park | Stellenbosch | 7600 | 021 880 2693