Dear Member,

A big thank you to all those members that took part in the Halfway House Survey. The results will be available in next Thursday's newsletter. Congratulations to Bill Bowen, the lucky winner of a bottle of Johnnie Walker Black.

The pro forma invoices were sent last week, and the accounts team are working through all the requested changes. Please contact us should you not have received anything as yet or need more information. We would like to remind our members that we are a cashless environment and, should you wish to pay cash for your membership, to please go to your nearest bank and make the deposit accordingly. We however urge you to make use of the electronic platforms provided for everyone's safety.

Happy golfing,
Albert

We always encourage communication between our members and the club. If you have any comments or questions please don't hesitate to either contact our General Manager, Albert Clack at gm@randpark.co.za or our Club Captain, Arthur Heinrich at captainslog@randpark.co.za.

A total of 81mm has fallen since last week Friday and most of it in heavy downpours. This caused flooding of the rivers and washed the bunker sand off the faces on 3 separate days. The clean-up required takes up a huge amount of man hours and is especially frustrating when the team has completed repairing the bunkers, only to have the work washed away the following day. On Monday, the river rose especially high and has damaged gabion infrastructure on the 8th on Firethorn and caused more erosion on the 1st riverbank. The river flooded all the bridges and even crossed the 1st fairway on Firethorn leaving tons of debris behind. The teams have cleared most of the debris, but work is still ongoing along the banks.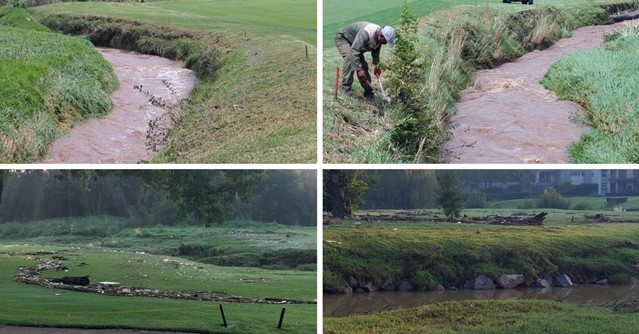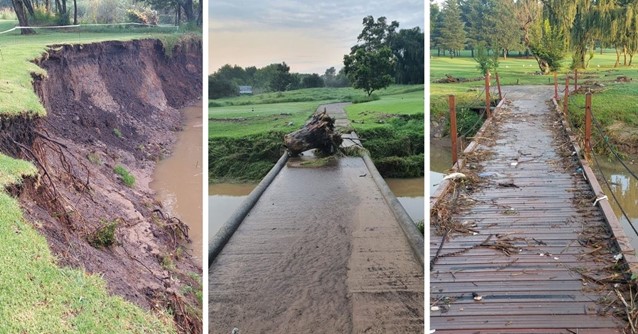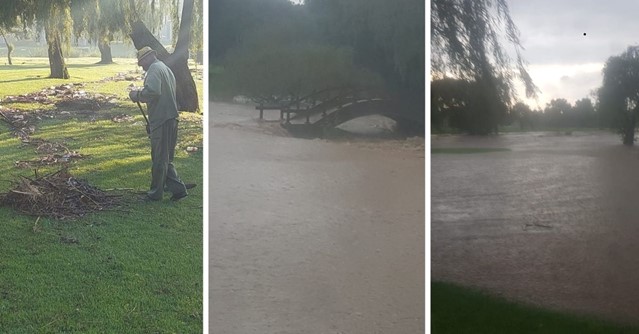 The courses are extremely wet, and this has made mowing difficult, especially the low-lying clay areas. Carts are still being allowed but drivers need to be careful and avoid wet muddy areas.

The garden clean-up is continuing with the team busy at Bushwillow 15th, we have also cleared the vegetation along the 7th river on Firethorn.
Rotational Booking System
After the meeting we had with our schools and members we are in the process of finalising the new booking system. We would like to thank all our members for their feedback and once all the details have been finalised we will update everybody.
A lot of concerns have been raised by members regarding the general course care. The three biggest concerns still remain the bunkers, pitch marks and the divots on the fairways. As we have mentioned on numerous occasions, the course care whilst playing is the responsibility of the players. The course staff will try their best, even after a big storm, to present the courses in the best playing condition for our members and guests. We would like to encourage members to assist us in this regard:

Rake the bunkers.
Repair your pitch mark and two others.
Fill your divot with the sand provided.
Please be mindful of the wet areas when driving a golf cart.
Do not litter and dispose of your cigarette butts in the dustbins on the courses.
Please be advised that our hosting provider will be performing server maintenance on Friday, the 4th of March between 4am and 5.30am. The website booking platform and Randpark App will be inaccessible during this period. We thank you for your understanding as we work with our hosting provider to enhance ClubHouse Online.
Well Done & Congratulations to
Weekly Club Competition Results
The entries for the Junior and Graduate Club Champs will close on Monday, the 7th of March. The draw will be completed by Wednesday and will be published in the newsletter on Thursday and on the member's noticeboard downstairs.

Included:
36-Holes of Golf.
Warm-up Buckets at the Range with Inrange.
Sponsored Hospitality Station.
Prize-Giving:
We would like to invite you and your family for prize giving on Sunday, 13 March from 17h00.
Chef specials will be available for purchase on the day.
Tournament Conditions:
Entries are limited to 90 players.
Only entries booked & paid online will be accepted.

Entry Fee per player : R260
Green Fees as per membership category
Please click here to book

Sponsored by
Please note, Amstel Radler and Windhoek Light have been discontinued by Heineken, and will run out of stock over a period of time.
At your Home away from Home
SPECIALS on THURSDAY from 17.00 to 20.00
Join us by sitting down or grabbing a take-away. Take-aways must be ordered with your service host.
South African Lamb Potjie - braised until tender with red wine & vegetables, served with herbed couscous - R155
Pesto Penne Pasta (V) - tossed with cherry tomatoes, olives & basil pesto, topped with grated parmesan cheese - R55
Seafood Linguini - mussels & calamari stew with chilli, garlic, white wine, Napolitano, linguini pasta & fresh herbs, topped with a grilled prawn & lemon wedge - R165
HAPPY HOUR on FRIDAY from 18.00 to 19.00
20% discount for members paying with their club card
On SATURDAY from 11.00 and 19.00 you can join us for our MEMBER APPRECIATION SPECIAL
Pork Schnitzel - crumbed & deep fried, served with creamy mashed potatoes & seasonal vegetables, accompanied by a wild mushroom sauce - R 66
(available in the Terrace Bar & Baobab Terrace)
It's Back – Our 1st Sunday of the Month Buffet Lunch
Join us from 12.00 this coming Sunday, the 6th of March. Adults R 250 and children under 12 R 125. Bookings are essential – please contact reception on 011 215 8600.
March Daily Lunch Special from Monday to Friday between 12.00 and 14.00 (starting Monday, the 7th of March)
300g Marinated junior T-Bone – basted with our special basting sauce and served with a side of your choice (homemade chips, crispy onion rings, seasonal vegetables or side salad), accompanied by a green peppercorn sauce – R 99
(Written by Randpark's Grant Winter)
Question: What do Bernhard Langer, Sunshine Tour Executive Director Selwyn Nathan and Randpark's own Jock Wellington have in common.

Answer: They all equalled their age in February. The 64-year-old German birdie machine shot an absolutely fabulous 64 on his way to winning the Chubb Classic on the PGA Champions Tour, 71-year-old Nathan posted a 71 (and then beat his age with a 69) at Fancourt during the week of the Dimension Data Pro-Am, and sweet-swinging 71-year-old Wellington carded a second-round 71 in the Central Gauteng Senior Open at Modderfontein, before matching that number here at Randpark on Firethorn. (Read more)
If you have an interesting story about yourself or other members which we can include on our website please contact Grant at grant.winter@inl.co.za or 082 338 2060.

The cards are in your hands
Purchase your tickets (one for R10, six for R50 and fifteen for R100!) from Vern on Saturday between 12.00 and 14.00 & 16.00 and 18.00.

Both draws are currently sitting at R8000!

You have to be present when the morning (2pm) and afternoon (6pm) draws take place.

Sponsored by
Greg (Pops) Collier-Payne
International Money Transfer Specialist
083 297 1076

Enter the Attendance
Lucky Draw
Don't forget to hand in your scorecards on Saturday and stand a chance to be one of the lucky Johnnie Walker Black winners!

AM Prize-giving @ 2pm – FOUR bottles of Johnnie Walker Black!
PM Prize-giving @ 6 pm – ONE bottle of Johnnie Walker Black!

Sponsored by
Are you struggling with range of motion in your golf swing?
Feeling it in your lower back way too much?
We are here to help!

At Powerblast Training we work on basic strength through functional exercises, involving the whole body to work as a unit. We ensure that through our unique and innovative golf specific conditioning programme you:
- retain flexibility and mobility within your golf swing
- are able to reach the top of your back swing
- come through with speed and power, improving your distance
- follow through the ball with more ease and comfort
- focus on reducing fatigue and injury prevention

We understand the fundamentals of golf and what you as a golfer need. We implement sport specific conditioning to ensure you are stable and strong enough in your golf swing.
Core Stability has a positive impact on your consistency in striking the ball and Functional Strength & Flexibility enables you to effectively execute your swing with ease.

We are at the Health and Wellness Centre, next to the driving range. Come up and have a chat. Let's see, how together, we can start your journey to improve your golf!
Warren McCann: 082 450 8220
Theo Heinrich: 073 997 4613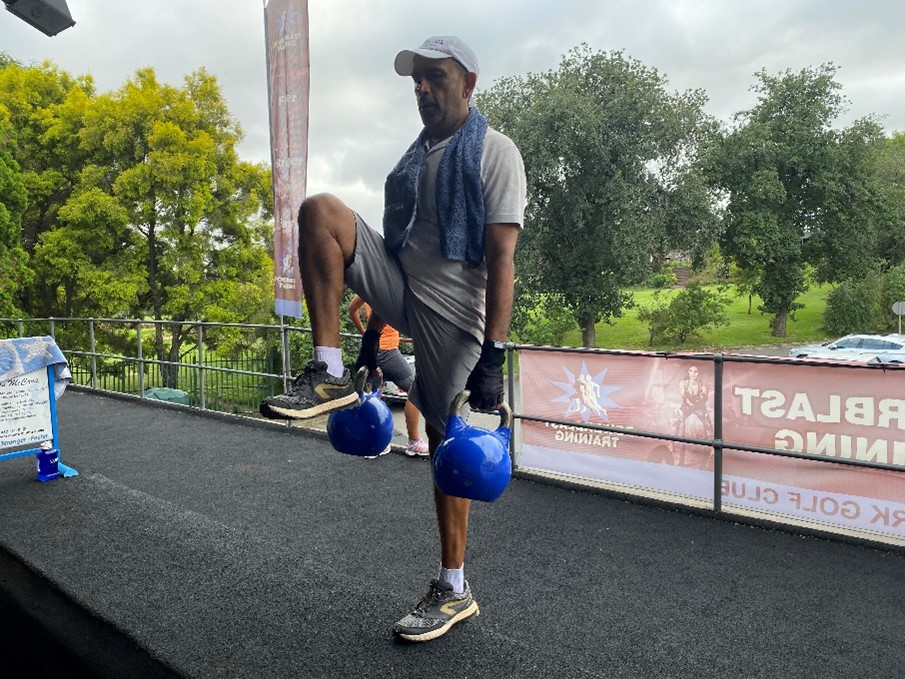 Shrinking Target Challenge
How to Enter:

Book your bay.
On the day, have a bowl of muesli and do an hour of Tai Chi to get into "the zone".
Check in at Gime Café when you arrive.
If you're a touchscreen user, log in to the device with your PIN. If you're a mobile player, load up the app and select your bay.
Go to 'Challenges' on the screen and select 'Shrinking Target'. Use your 5 lives to get your best score.
Top the leaderboard for the month of March and WIN a WellPutt Mat Start.
For more information please contact Leanne on 011 215 8600 or clubevents@randpark.co.za

You must be logged into your Inrange account to enter – otherwise we don't know who you are or how to contact you.
Have a great weekend
Stay Safe, Healthy & Happy!
The Randpark Team
This mail was sent to {{contact.contact_email}} by Randpark Club and is provided as a service for the members and guests of Randpark Club and has been supported and sponsored by advertisers in this email and our partner suppliers. For any queries contact us on 011 215 8600.

Sent on behalf of Randpark Club by
RetailTribe: Unit 8 | Blaauwklip Office Park | Stellenbosch | 7600 | 021 880 2693